If Tiktok is any indication, more and more homeowners and designers are electing to go eclectic. It should come as no surprise. Given the noise around maximalism, the time has never felt more right to buck the paradigm and indulge in some stylistic hedonism. The style, characterized by a rich intermix of periods and design styles, sounds simple to execute, but as many designers will tell you, the line between harmonious and hodge-podge is a thin one. To help, we've rounded up a gorgeous collection of eclectic interiors teed up by top designers. Read on to discover what makes them work and score essential tips for pulling off the look!
Where did the Eclectic Design Trend Start?
While it's hard to pin eclectic design to a specific timeline like Cottagecore or Dark Academia, Kelly Wearstler, an early adopter of Tiktok, is an undisputed torch-bearer of the movement. Her style-agnostic interiors, which pair unlikely suitors such as Brutalism and Postmodernism, lay a blueprint for eclectic rooms with their focus on unifying color, artistry, and scale. Similarly, creatives like Athena Calderone, whose much-publicized Brooklyn brownstone juxtaposes Bellini sofas and Neoclassical mirrors, have made the style feel more accessible to the masses by teeing up identifiable pieces with budget-conscious counterparts. As for why the movement has gained momentum as of late, it's worth noting that if you're making the decision to undertake an eclectic interior, you're signing up to be a peacemaker of sorts. In turbulent times, feeling the power to command harmony among disparate forces—even if it's simply among furniture in your own home—can feel wholly satisfying.
What Makes Eclectic Design Different from Maximalism?
With their focus on color and statement-making, it can be difficult to discern a maximalist living room from an eclectic living room—and in truth, hybrids are common. Maximalist interiors, however, tend to put a greater emphasis on pattern, as well as more conventional silhouettes that hark to a more affable era. (Hence, the grand millennial sub-trend that maximalism birthed.) Pleats, fringe, and tufts are all attributes better left to maximalism. Alternatively, sculptural silhouettes and isolated bolts of unapologetic patterns are better suited to eclecticism.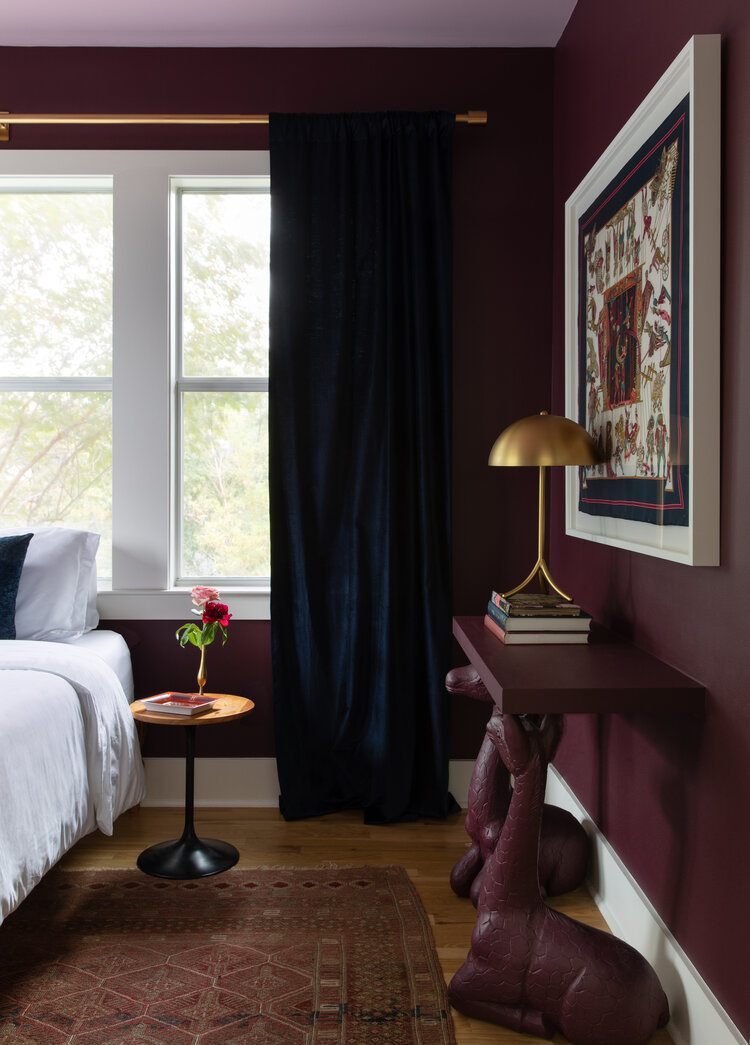 What are the Essential Elements of Eclectic Design?
Eclectic interiors aren't just about mixing a set of Chinese Chippendale dining chairs with a Parsons table and being done with it. The backdrop of an eclectic interior is every bit as important as the furniture and decor—as is a focus on sculpture and playfulness.
1. Clad Every Surface
When you're looking to weave together non-homogenous elements, tying them into a colorful and wild, all-encompassing tapestry can garner success. To create that tapestry, treat your eclectic room like a jewel box and clad every surface. Apply wallpaper to the walls. Dress the floors in parquet or herringbone patterns. Deck the fireplace surround in a decorative stone. Paint the moldings. Keeping a tight edit on the palette when choosing surface materials means you'll hone cohesion rather than chaos.
2. Source Sculptural Specimens
Sculptural furniture defies stylistic categorization—and as a result, it partners well with just about anything. Eclectic designers leverage this, routinely employing sculptural chairs, sofas, and lighting to make easy work of the mix and match game. Some sculptural pieces that are always down to mingle? Hans Wegner Papa Bear chairs, Arne Jacobsen Egg Chairs, and Vladimir Kagan Cloud Sofas. For the ultimate marriage of sculpture and artistry, consider something even more unexpected, such as a beaded Yoruba chair hailing from Africa.
3. Wrap it in Whimsy
In truth, pairing a Neoclassical commode and a hot pink Mondrain-inspired art piece requires a sense of humor. Part of why eclectic interiors captivate—and perhaps seem so pertinent at this day in age—is their sense of playfulness. Stoke the imagination by introducing whimsical elements to your eclectic living room or bedroom. Be it a giraffe console piece painted the same aubergine color as your walls, an oversized orb sculpture on the floor, or a collection of Arthur Court animal decanters, an element of humor signals that the discordance among the time periods and styles in your space is as intentional as can be.
What are Some Easy Ways to Integrate Eclectic Design into Your Space?
At their core, eclectic rooms are theatrical. But don't let that adjective detour you if you're hemmed in by a budget. There are simple ways to integrate eclectic design into your space. Whether you let these ideas stand as sole elements, or slowly build a layered interior around them, they're anchors that can make a room sing.
1. Lovingly Restore a Louis
When you consider the silhouette of a Louis XVI settee, it becomes clear why they're excellent candidates for eclectic rehabs. Their framework is traditional, while their upholstered insets are oblong and modernistic-feeling. Their upholstered portions are also expansive but not massive, making them a low-stakes place to take a textile risk. To cue up the most impactful dichotomy, choose a textile that leans almost abstract. In particular, shibori or African mud cloths can speak volumes.
2. Introduce a Couch with Couture-Level Clout
Especially if you harbor Wearstler-grade design ambitions, a statement sofa can be a worthy first investment. A good portion of eclectic interiors' identity relies on their ability to merge sculpture with functionality. A sectional with artistic clout knocks out both simultaneously. Consider anything from a Ligne Roset Togo sofa to a B&B Italia Bellini Sofa to a De Sede Terrazza sofa. Blocky yet rounded, these sofas set the groundwork for a rich intermix to be built around them.
3. Pair a Tulp Table—with Virtually Anything
In truth, you couldn't alienate a pedestal table like Knoll's Tulip Table if you tried. If you're set on an eclectic interior, but your budget prevents a sofa-sized splurge, consider a Tulip Table. A workhorse that will partner with Art Deco pieces and Postmodern alike, consider a Tulip Table your eclectic design hall pass.
Lead photo by Gieves Anderson, at the home of Athena Calderone