For decades, minimalism has reigned supreme in the interior design world. With the revival of Mid-Century Modern architecture in the late nineties came the re-emphasis on neutral colors, clean lines, and nominal furnishings. While minimalism will never truly go out of style, the recent rise in demand for all things granny chic—vintage wallpaper, chintz, and pleats aplenty—indicates that the pendulum is swinging back toward a more-is-more aesthetic. Although the most compelling maximalist interiors are undoubtedly wild, they also integrate careful curation to create visual cohesion and balance. Read on to discover how you can successfully emulate the maximalist method and create the delightfully over-the-top home of your dreams.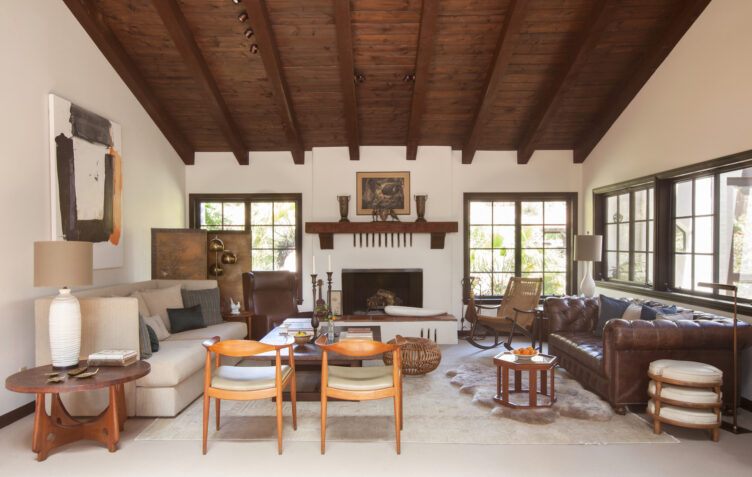 Do maximalist rooms have to showcase a traditional aesthetic?
No! The soul of maximalism lies in juxtaposing different styles and feelings, making any aesthetic a potential contributor to the aesthetic. Consider mixing and matching styles that naturally share elements—Danish Modernism and Southwest interior design, for example, each share an emphasis on smooth curves and wood furnishings, making them a perfect duo to experiment with.
Additionally, even though color is considered to be an underlying tenet of the maximalist style, rules were meant to be broken. Designers like Sean Anderson and Sarah Walker have perfected the art of "the busier, the better" with subdued—some might even say "restrained"—color palettes. How do they pull off monotone maximalism? By packing a room with texture and shapes, such as an array of wood tones, leather upholstery, and shapely rattan elements.
Although Mid-Century Modern accents are usually synced minimalism, these designers prove that your maximalist dreams can be realized within any aesthetic. Partner a leather lounge chair with an overarching floor lamp and Noguchi coffee table. The result is a chic, softened space that still maintains maximalist principles.
What are some easy ways to pull off maximalism?
With maximalism, every horizontal and vertical inch of your space presents an opportunity to stand out—and that includes the walls. Consequently, installing a funky wallpaper can be an easy jumping-off point to full-on maximalism. Wallpapers splashed with colorful paisley prints, foliage, animal prints, or even chintz-like cartoon figures can set a bold tone. To follow in the steps of the most renowned designers, also layer art over wallpaper.
Other simple ways to make your space more maximalist include incorporating a gallery wall—filled to the brim with fun and funky art, photos, and personal mementos. When arranging the pieces of your gallery wall or your furnishings in general, pack in pattern. Pair together patterns that have similar movement and color for optimal effect.
Above all, remember: there is no wrong way to approach maximalism. It's all about showcasing what you love and how much you have of what you love. Don't hesitate to push the boundaries; layer mismatched textiles, incorporate every art piece you can get your hands on. In a phrase: Make. A. Scene!
How do you approach color in a maximalist room?
While maximalism presents a thrilling opportunity to fill your home with the garish and glorious, it's important to cultivate a color theme that unites your decorative elements. The guiding principle of working with colors in interior design is the 60-30-10 rule: 60 percent of your space should share a dominant, usually neutral or subdued shade; 30 percent should go to bolder, secondary color; 10 percent should go to an accent color—your most daring and vibrant shade.
A harmonious color theme can make unalike items appear related. For instance, the red Chinoiserie lamp in the eclectic room above feels synchronized with an ebullient rug and Neoclassical console thanks to a cohesive color theme. This is where a mood board could be especially helpful in designing a maximalist room, where a surplus of pattern and shades could visually overtake.
How do you avoid visual overload in a maximalist room?
A no-fuss way to achieve maximalist style is to incrementally add pieces to an already furnished space. With a collector-like curation, inch your way to pure maximalist perfection by slowly incorporating elements like unique collectibles, treasured books, travel souvenirs, family heirlooms, and accent pillows. By taking a more measured approach, the gaps in your space are slowly revealed, making it easy to shop with purpose. As you browse vintage and antique shops, flea markets—and even Chairish!—you can amass items that perfectly fill these voids.
Shopping slow also allows you to hold out for those personalized items that really make a room. Think: a uniquely-shaped lamp, a handmade, one-of-a-kind rug, or a piece of oversized art that evokes an emotional response. If you already own plenty of accessories, consider a bookcase or étagère, display cabinet, or wall-mounted shelf to proudly exhibit your doodads. Open shelving is a great way to showcase your items while still maintaining a level of organization and order.
Your Cheatsheet to Creating a Maximalist Mood…
Achieving a compelling maximalist interior requires careful curation, visual cohesion, and balance
Maximalism is all about mixing and matching styles in new and exciting ways
Funky wallpapers, a gallery wall of your favorite art, and curated pattern pulling are all sure-fire ways to achieve maximalism
Color schemes do wonders in joining disparate styles. Follow the 60-30-10 rule where 60 percent of your space is dedicated to your dominant color, 30 percent to your secondary color, and 10 percent to your accent color
To avoid visual overload in a maximalist room, opt for a collector-like curation and incorporate elements into your space slowly
If you're looking for maximalist inspiration, look to designers like Sean Anderson, Miles Redd, Brockschmidt & Coleman, and Michelle Nussbaumer who specialize in the style
Featured image: Design by Meredith Ellis Design / Photo by Grey Crawford