Chances are you've heard murmurs about cottagecore. In truth, you'd have to be living in an off-the-grid, bucolic cottage not to have heard about the cottagecore trend. While the style has been steadily gaining traction for years (here at Chairish, we've been on the trail of English cottage style as early as 2018), it's recently come into full bloom, transitioning from TikTok and Instagram sensation into a real editorial design style with legs. While it may be tempting for seasoned designers to discount the style as influencer ingenue, there are plenty of reasons to get behind it. Here, we break down the essentials of the cottagecore house. Plus, we delve into the origins of the cottagecore movement and uncover why it might just be the defining style of the Zoom era.
How Did Cottagecore Get Its Start?
English cottage interiors have long enchanted—Beatrix Potter, anyone? In the 2012 New York fashion insider Amanda Cutter Brooks famously decamped from Manhattan to an arcadian escape on the outskirts of Oxfordshire, England. The subsequent revamp of her country estate was well chronicled by an array of outlets, sparking a mini cottage craze. Pleated lampshades, rouge-ish floral prints, and general come-undoneness were heralded by practitioners from all over.
These glimmerings helped launch a full-fledged trend when the shelter-in-place orders of 2020 hit. Faced with the proposition of spending endless hours at home, the cottage lifestyle carved out by urbanites-turned-homesteaders such as Cutter Brooks spoke to newly-minted homebodies. Sequestered indoors with little to do but slave over sourdough, turning one's home into a utopian cottage hideaway took on the aura of self-care. As the cottagecore aesthetic popularizes, it's beginning to fuse with the English cottage style of the decade past. Influencers like Paula Sutton have assumed the torch, merging rollicking English style with a sense of whimsicality and accessibility. Simultaneously, cottage masters like Jeffrey Bilhuber and Rita Konig continue to inspire.
3 Ways to Capture Cottagecore Allure
Flock it With Florals
During quarantine, a country cottage lacking a brimful garden was hardly worth its salt. Harvesting your own bouquet was—and remains—an essential element of the cottagecore lifestyle. Given the movement's fascination with florals, channeling chintz and its many derivatives indoors is highly advisable in a cottagecore house. Much like a garden, the more blooms that permeate a cottagecore room, the better. In fact, some might even say going rogue with botanicals is the name of the game.
That said, if you're nervous about cross-pollinating different floral patterns in a room, take a lesson from the pros. In the room above, teed up by the undisputed princes of chintz, Jason Oliver Nixon and John Loecke of Madcap Cottage, the duo mixes botanical patterns with similar compositions to keep the look cohesive. You might also notice the tight edit they keep on color. Shades of brown, green, dusky rose are put on repeat, while solid blocks of yellow—see the crownmolding, the settee piping, and the throw pillow on the bed—are used to buffer the prints.
A Note of the Eccentric
Formally recognized as a counterculture, it's no surprise that cottagecore embraces a chord of eccentricity. Rather than opt for all-out outlandish, work in accents that deepen cottagecore's fairytale narrative. In the room above, John Derian, a maestro of spinning wonderlands if there ever was one, shows how eccentric accents can be organically incorporated into a cottage-centric space. A rustic horsehead levitating just below a mercury glass orb pendant cues up a dichotomy that feels both old-world and dreamlike—the framework for any fairytale in a nutshell.
Elsewhere in the room, Derian puts a surrealist spin on botanicals. In addition to live flowers, fabric hollyhocks and a foraged branch wrapped with tangled brambles play with guests' perceptions of what's real and what's not. While these sorts of eccentricities can be interwoven into any room, they feel especially apt in a cottagecore setting that's meant to evoke a dreamlike escape.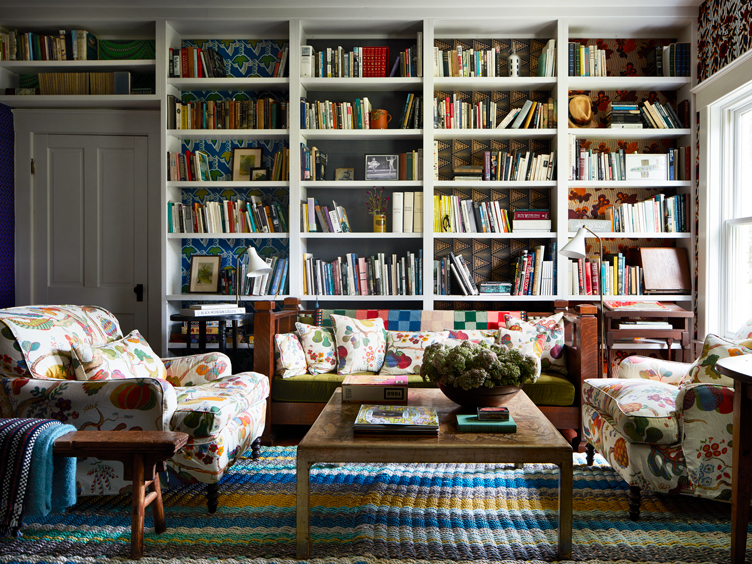 Hone a Hobbyist Hodgepodge
Whether a cottagecore lifestyle is the result of a physical move to the bucolic boondocks or a housebound mandate, cultivating hobbies is essential to passing the time. Cottagecore houses bear the talismans of these hobbies, ranging from brimming bookshelves to kitchens filled with an arsenal of copper cookware. While more minimalist aesthetics might encourage tucking those knitting needles in a drawer, cottagecore encourages homeowners to rig up an artful way to display them.
While designers will always advise against all-out clutter, the cottagecore aesthetic encourages you to toe the line. Battle chaos with stealthy design moves. For instance, backing bookshelf shelves with vibrantly patterned wallpaper. Doing so can soften the visual hodgepodge created by book spines of varying colors and heights. Similarly, trays can corral specimens like geodes or shells on coffee tables. An antique side table with a raised rim can also do wonders for reigning in collected charms.
Lead photo by Stephen Kent Johnson / OTTO / Designed by RP Miller