We knew Athena Calderone was a gal after our own hearts when we first heard her gush about her love of vintage. "I have always been smitten by antique and vintage finds," says the entertaining expert, interior designer, and founder of the blog EyeSwoon. "There is something so special about a time-worn patina and the warmth and texture it adds to a space." To celebrate the publication of her first cookbook, Cook Beautiful, Chairish teamed up with this fellow design-lover to host a swoon-worthy dinner party, attended by a slew of L.A.'s A-listers. Get an inside look at the evening and discover inspired ideas to steal for your next fête.
SHOP ATHENA'S CHAIRISH COLLECTION >>
The Venue
For such a fashionable invite list (and host), only a chic locale would due, so Athena turned to her friend, jewelry designer Irene Neuwirth, whose store is a design wonderland, dreamed up by the L.A.-based firm Commune. "It is clear Irene has a highly curated eye and a deep love of interior design," says Athena. "It is a space where your eye wants to wander and where you yearn to linger. It is cozy and highly styled at once and speaks to my overlapping passions of food and design brilliantly."

The Table
Athena didn't have to go far for the inspiration behind her table setting: "I really took inspiration from Irene's store itself," she says. "The store is studded with warm tones with a hint of brass, so the table followed suit. We chose vintage pink glassware and gilded flatware." Tableware from Casa De Perrin, place cards penned by calligrapher Anne Robin, and flowers by Kristen Caissie of Moon Canyon Design all adhered to the sense of autumnal abundance, effectively "offering the warmth of the season" says Athena.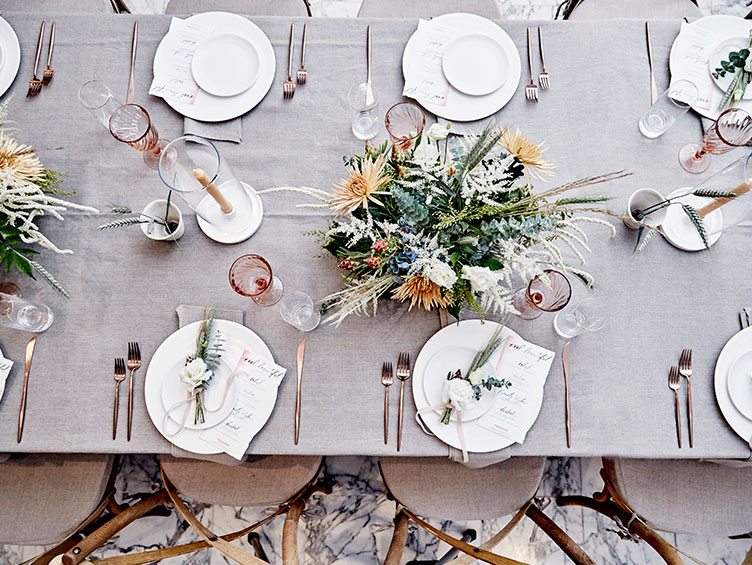 The Guests
Chairish's own Anna Brockway co-hosted the event and delivered the evening's welcome toast. Dear friends of both Chairish and Athena made for an insanely stylish set of dinner guests, including Nate Berkus and Jeremiah Brent, Garance Doré, actress Busy Philipps, fashion designer Clare Vivier, blogger Anne Sage, and many more.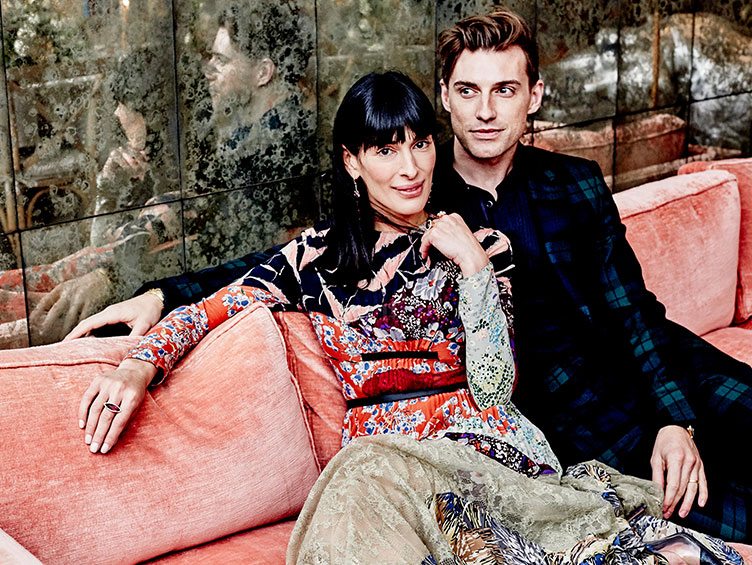 The Menu
Guest were served some of Athena's favorite fall recipes, all from her cookbook of course, including a grape crostini with tarragon and fresh ricotta, and a raw Jerusalem artichoke salad. For the entrée, she chose a dish that was both warming and close to her heart: stewed pork with squash and gremolata. "This dish is a true representation of my cooking style, as the gremolata adds visual intrigue thanks to its pop of color and texture, and it also elevates the flavor of the recipe, owing to its zippy notes," she says. The meal was prepared by renowned LA-based caterer, Blood Sweat + Butter. Athena brought her signature touch to the evening's cocktail as well. "I absolutely love tequila and am particularly smitten with the quality of the small-batch tequila made by my friends at Casa Dragones," she enthuses. The luxury tequila maker created an autumnal pear cocktail aptly titled "Beautiful Dragon" especially for the evening. The meal finished with a decadent butterscotch pot de crème swirled with a salted caramel tahini sauce and a pairing of Casa Dragones's Joven sipping tequila. A sweet and spicy end to an unforgettable evening.
SHOP ATHENA'S CHAIRISH COLLECTION >>
Photos by Jenna Peffley