As the leaves on the trees outside get ready to turn, we're turning over a new leaf here at Chairish, too; taking stock of the colors, styles, and shapes that we're feeling totally swoon-y for this fall. To get the ball rolling, our fabulous co-founder Anna Brockway is sharing the ten fall decor trends she's most looking forward to working. Ready to FALL in love?
SHOP THE FALL DECOR TRENDS ON CHAIRISH >>
1. Return to Traditional
Traditional furniture is having a moment…again. Anna shares: "We've been seeing a big return to traditional. This fall decor trend highlights softer palettes and neoclassical accents." Whether your vice is a French bergère or a Wedgwood teacup, this trend feels especially fresh in more idiosyncratic color-ways like mint and marigold.
2. Flora and Fauna
A bevy of prints hailing the botanical kingdom have us feeling keen for green this fall. "Chairish shoppers love to take a walk on the wild side, and we're seeing it in all things botanical and uninhibited," says Anna. For those with a green thumb, big-palmed plants like monstara and philodendron selloum are trending, while those looking for less demanding ways to integrate some green can turn to fantastical floral prints.
3. Sculptural & Whimsical Tables
On the table this fall: whimsical tables with a sculptural bent. "Whether it's plaster, wicker or glass, our shoppers are loving whimsical tables for their sophisticated wit," says Anna. Choose a brass hoofed table from a maker like La Barge for a dose of wit and elegance, or spring for a totally tongue-in-cheek piece like the John Dickinson table to usher in vibes of pure whimsy.
4. Golden Yellow
Radiant and decidedly cozy, golden yellow is lighting up our life this fall. Anna notes, "We're looking at fall through gold-colored glasses! This cheery and bright hue has caught our eye, and we don't see this sunny trend going anywhere anytime soon." We're especially loving golden yellow for possessing all of the sophistication and lux of traditional gold, without any of the pretentiousness. Whether you go big with a sofa or keep it minimal with a vase, this fall decor trend will lift your spirits and brighten up any room like a little ray of sunshine.
5. Painted Case Goods
A natural finish is always a classic, but this fall, we're looking to case goods painted in deep, saturated hues to bring a little extra vava voom to a room. Anna shares, "From modern to traditional, Swedish Gustavian to Chinoiserie, we're loving a good painted case piece." Just like you shouldn't feel bound to a style, don't feel limited to a solid color, either. Keep an eye out for textured finishes or metallic accents to really add some dimension.
6. Cubism
Make room for squares because cubism is making a comeback this fall, with 20th century masterpieces earning spots alongside pieces by newcomers in bold, poppy palettes. "We're seeing a return to this style of art, born in the early 20th century," says Anna. "Today's take on cubism is clearly influenced by the movement's founders, the likes of Picasso and Dali, who sought to depict the natural through abstract, geometric shapes."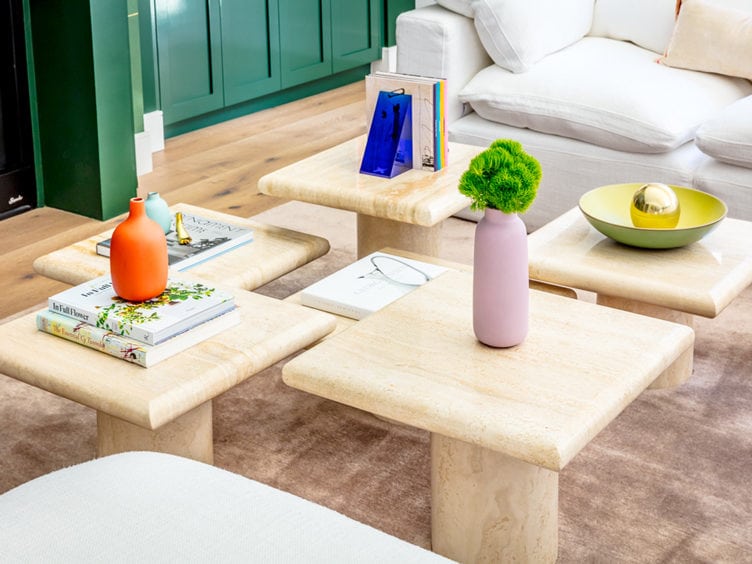 7. Travertine
Thanks marble, you've served us well, but it's time for a change and we're eyeing cool, monochromatic travertine to fill the void. "It's set in stone: we're gaga for travertine!" says Anna. "Quietly minimalist but with gutsy brown, travertine is the decor trend to complete your space this upcoming season." Utilize anything travertine, from a coffee table to bookends to bring a touch of the Coliseum chic to your home.
8. Scalloped Curves
News flash: we love curves in every shape and size! Anna says, "This fall it's time to embrace curves! We're particularly adoring scalloped seating and serpentine s-curves." When shopping this fall decor trend, keep an eye out for those little-somethin' details like channel tufting or piping. In addition to making a scallop shape feel just a little more special, these details will make your piece feel more in sync with the budding maximalist trend.
9. Flamestitch + Missoni
"Bring on the chic zig zag with flamestitch!" says Anna of chevron's lively (and surprisingly lesser-known) cousin. Perhaps made most famous by the design house Missoni, flamestitch feels both fresh and eclectic, making it a shoo-in for upholstery, pillows, and rugs. Part of what we love about flamestitch is that this fall decor trend that can be as subtle or as daring as you like (although as you know, we've never been one for subtlety). Look for monochrome flamestitch, similar to the cerulean one designer Summer Loftin used in her Atlanta carriage house above, for a more refined look, or choose a multi-color one in homage to true 1970s splendor.
10. Secretary Desks
Secretary desks are seriously underrated, and according to Anna it's high time they got their due! "These multitasking workstations are endlessly versatile and you can style one in virtually every room in the house," she says. Put your best foot forward and keep the clutter at bay in this all-in-one desk (which moonlights as both a display case and storage cabinet like it's no big thing). Many furniture designers have produced new versions of the secretary desk, though we're still partial to an antique or vintage piece saddled with a bit more history.
Lead image by Josh Thornton / Design by Summer Thornton