After you've spent a handful of years chasing antiques around the globe, it can be difficult to settle down just anywhere. But for antiques dealer and interior designer Summer Loftin, posting up in a quirky, boxwood-edged 1920s carriage house, located in Atlanta's historic Buckhead neighborhood, was a relative no-brainer. Although the carriage house clocked in at only 1,000 square feet, its architectural flourishes and ivy-draped courtyard stole Summer's heart from the get-go. "The carriage house has always been a gathering place for friends," says Summer. "Whether it's a cocktail party in the courtyard, or late-night design session." Inside, her love of antiques is on full display with a decor scheme that marries traditional style with a myriad of witty collections, whimsical folk art, and funky Americana-style relics.
SHOP SUMMER LOFTIN ANTIQUES >>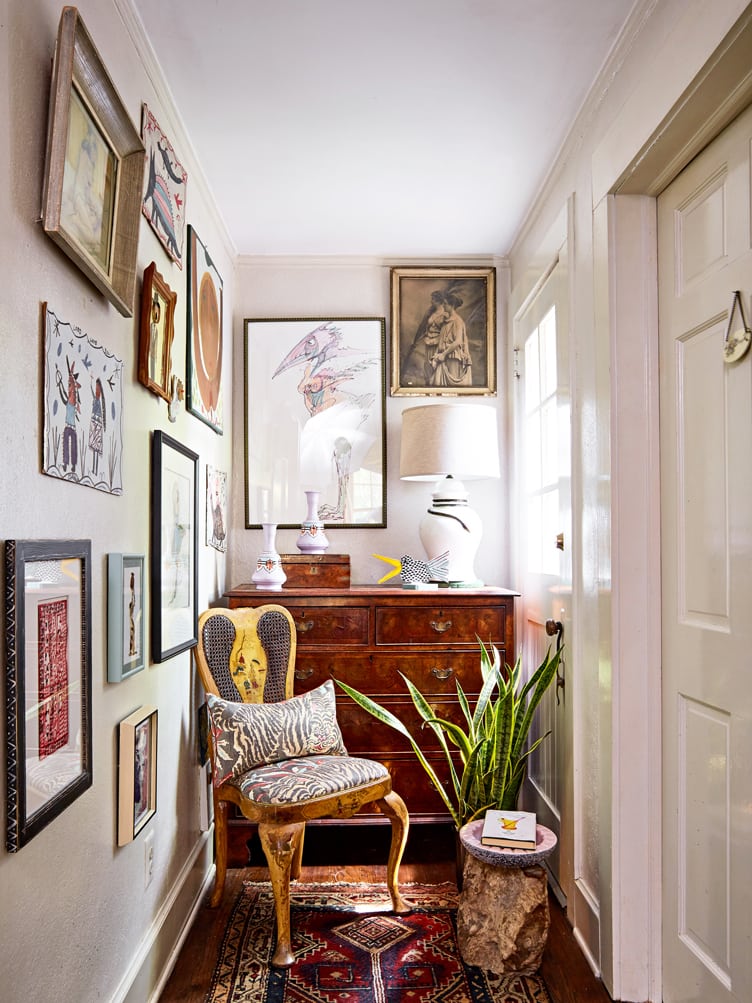 The Heart of the Home
"In small spaces, every inch is key," says Summer, and this especially true of the narrow alcove from which the house's two bedrooms, bathroom, and back door branch off. To make the most out of the space, Summer first selected a stately Georgian-era oyster burl chest in which she could stash extra bed and bath linens. Next to it, the chinoiserie chair covered in Jim Thompson's "Tiger, Tiger" print is no happy accident, either. Summer placed it there to extend the real estate of the bathroom. "The chair sits just outside the bathroom, so ladies can visit while prepping for a night out," she says. The walls are also utilized, displaying Summer's ever-growing collection of folk art, which includes works by R.A. Miller, Kip Ramey, Ben Smith, Mose Tolliver, Richard McKey, and Howard Finster.
A Patriotic Palette
Given that her home base is Atlanta, Summer is a huge fan of the Scott Antique Market. On one trip she located the massive American flag mirror, which now hangs over the sofa in the living room. "It wasn't until finding the amazing American Flag mirror that the new Americana design scheme came to be," says Summer. Working with a patriotic palette made the room's next few design decisions a bit clearer. "The blue sofa was love at first sight," says Summer. "I found it at a small auction house in Atlanta, and was drawn to the shape of the back." The sofa was re-covered in yet another Jim Thompson fabric. This time, a bright cerulean zig-zag from his Bargello line.
As for the elephant in the room—the mannequin decked out in a bejeweled dress and headdress? Summer says, "While at a flea market in small-town Mississippi, I spotted a few garbage bags hidden in a corner, with feathers coming out of them. Obviously, I was drawn in. Once I saw that it was a vintage Mardi Gras costume, I decided to make it a major part of my interior. At home in Atlanta, I visited a secondhand mannequin store—no, really, I did—to find the perfect model."
Sweet Southern Sips
In true Southern fashion, a bar is an integral part of Summer's living room. Rather than go for a bar cart, however, Summer selected a decoupaged console to display her collection of crystal decanters. "Decanters just beg to be in front of a window," Summer says. "I love the way light reflects off the crystal." While Summer rotates her collection frequently, one eternal constant is her first decanter, purchased from an antique store in England. "It has a music box and it plays music when lifted," she says. Adding another dose of whimsy, is the kangaroo folk art painting. Summer culled it from the set of the Billy Crystal-Bette Midler film Parental Guidance. "I was scouring the post-set sale when I found it," she says. "It was commissioned by Atlanta Folk Artist, Cornbread. I immediately knew it had to have a special place above my bar!"
An Inviting Guest Room
Since the carriage house has always had a revolving door of visitors, a functional and inviting guest room was a must. Summer highlighted function in the room with a hanging macramé chair and trundle bed to save space. Homey vibes were brought in courtesy of a gallery wall and an array of off-beat antiques. Among the first items Summer bought for the room were a pair of needlepoint nun pillows. To keep the palette moving in the same direction, she limited the gallery wall's palette to mostly grays and whites. "I found the Elton John portrait at an auction house," she says. "I thought it was especially appropriate since Elton's Atlanta residence is only half a block away." Of the red bathing suit, she says, "It's actually a signed sculpture!" And the bed coverlet? Yet another Jim Thompson fabric. This time a funky rolling wave pattern known as "Eastern Seas."
When asked what design advice she'd give to budding collectors, Summer says, "Always buy what YOU love. What you are naturally drawn to." With her carriage house a glowing example of what can happen when you do embrace your passions and whims, we'll gladly toast to that!