If there's one thing to know about interior designer turned artist William Rankin McLure IV, it's that he's always on the move, literally and figuratively. "My head is always moving," he says, and so is his ever-evolving decor, much to the delight of his over 50K Instagram followers. Despite settling into his current home (and first house!) less than six months ago, the Birmingham-based artist has already transformed what was a dated, '70s-style pad into a chic haven, using a riot of neutrals to create the perfect backdrop for his striking abstract art. This tastemaker's endless ingenuity is what budget-conscious decorating is all about. Go inside his personal haven, packed with one-of-a-kind finds, and don't miss the chance to shop the look, including his original artwork, in our exclusive collection!
SHOP WILLIAM'S CHAIRISH COLLECTION >>
Prepping The Canvas
Having previously lived in a loft with floor-to-ceiling windows, William knew any home of his had to have tons of light. "When I saw this house, it's nothing but windows, and it's got that center atrium in it, so it reminded me of the loft and the openness and light-filled interiors." Once he had the keys, William didn't waste any time tackling the house's biggest challenge: three different types of flooring material running throughout. William's solve? Bathe the entire house in white paint. "It was a cost-effective way to unify the house." Emphasis on "cost-effective," since Williams did all the painting himself. "The ceilings are the worst. The paint is all over your hair and your shoes. But you know what, do I want to pay someone to come and paint it, or do I want that money in my account where I can use it for the kitchen? Know what I mean?"
Designed For Living
With the backdrop ready, William saw decorating potential in the home's original bones. "The house has a kind of A Single Man by Tom Ford vibe to it, so I wanted the interiors to play off of that." The effect is Axel Vervoordt meets LA in the '70s, with long, low-slung seating, neutrals and wood, exaggerated lines, and an indoor-outdoor flow, ideal for entertaining. Nothing however is overly precious or pricey. "I've got dogs and animals in my life," he says, referencing his pups Ran, Della, and his Harlequin macaw, Cisco, "and when friends come over they want a glass of red wine." In the living room, William slipcovered an inexpensive sofa, but couldn't find a big enough coffee table. "I mean, sofas are like 70-80 inches, and that's how long you need your coffee table to be. I had this one custom made by the carpenter that builds all my frames and canvases." He's since added patina with a few intentional rings and encouraged his dogs to chew on the corners. To tackle the expanse of bare floor, "I just got two inexpensive, 12' x 9' rugs that I sewed together in the middle." Layers of antique and vintage finds, including a mid-century chair from Chairish and an antique chaise, not to mention William's artwork, make for chic digs.
I typically start with the one piece that's going to go into the room first. Once you get that one piece, you place it, and then the rest of the room will fall like dominoes around it.

William McLure
In Mixed Company
"You really just want interesting juxtapositions between pieces," says William of his on-the-money mix. In the dining room, a plaster table he had made locally is paired with antique caned chairs. But the star of the room is a huge 17th century cartoon he scored thanks to a good eye and a bit of luck. "I'd been going to the same framer for two years, and that piece was always sitting there on the side. When they were closing that piece was still there. They told me someone had them repair it and then got a quote for the ornate frame he chose, which was of course thousands of dollars, but then he just never came back and never paid his bill. They told me if I paid his bill, which was not that much, I could have it!" His signature combination of clean-lined meets ridiculously ornate pops up again in the master bedroom, where a boxy four-poster done up in rope sits opposite a reproduction 16th century Baroque console. "Something that's really gaudy and ornate can almost become like a piece of sculpture in the room, but if you're going to do a modern piece you just want to stay as simplistic as possible," he advises.
Stand Out From The Crowd
While William loves chronicling his adventures in decorating on Instagram, he prefers to get his design ideas the old school way: flipping through his library of design books. In fact, the abundance of instantly available imagery has only fanned the flames of his vintage devotion. "I think nowadays with social media, it puts so many images out there. But if you find one-of-a-kind vintage pieces, no one else is going to have it. It's going to have a timelessness to it, and it's going to give the room a more personal touch." His favorite vintage source? "Chairish is where a lot of these pieces that are one-of-a-kind came from. People message me on Instagram asking me to send them the link to where I got it, and I'm like, 'Dude, it's vintage. Go to Chairish and you've just gotta search. Klismos chair, find it. Modern coffee table from the '70s, find it.'" While his own artwork lends his home the ultimate personal touch, "I didn't want all the art in the house to be a painting." For the library, he chose a photograph a friend took during a trip to Santorini. "I think sometimes people are afraid of photography, but that piece is just as graphic and beautiful and gravitating as any big piece of art."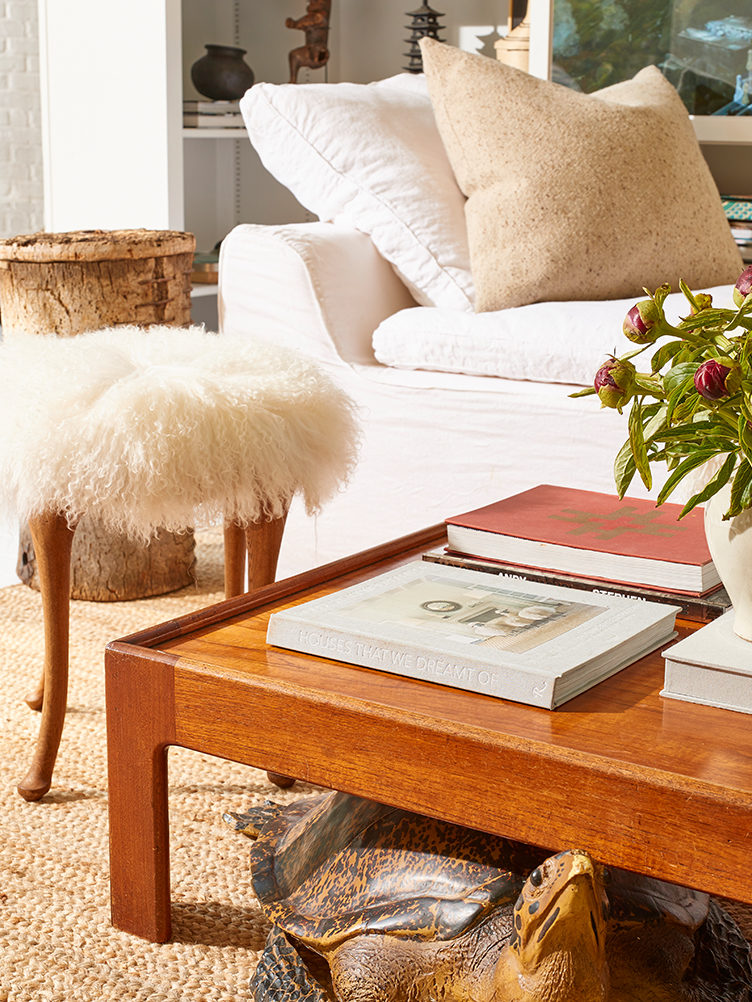 I think art is just as important as the furniture that's in the room. The furniture in the room can set the tone, but the art is what sets the emotion or the feeling.

William McLure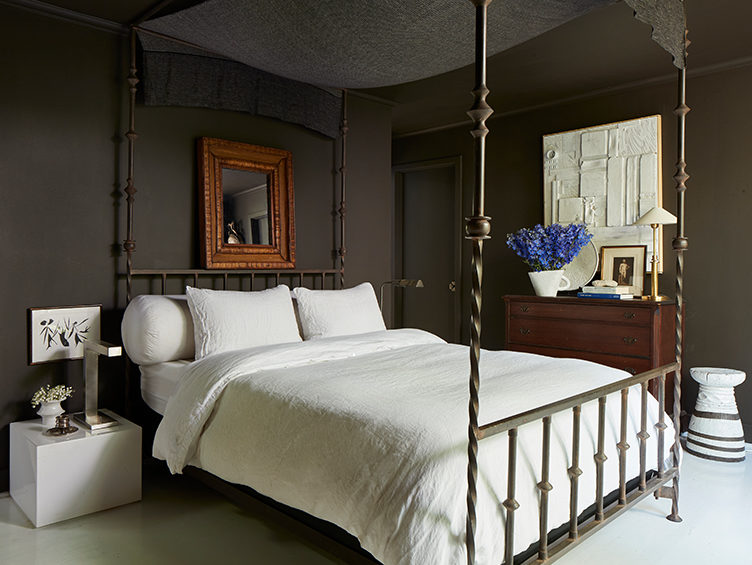 Calling All Showstoppers
"A bedroom is about a bed, and there's nothing more commanding in a space than a four poster bed," says William. "It literally carves its own invisible block out in the room that is like a little sanctuary." One guest room he cloaked in a dark charcoal, the iron bed he sourced on Chairish nearly disappearing. For the room's art, "I chose the jarring nature of the piece that's white to really have the juxtaposition of the two colors." In the second guest bedroom, which doubles as Cisco's room, William instead let the outline of the bed do the talking, along with one of his stunning paintings. "Usually you want only one bold piece of art in the room and then it's a pyramid, with the rest of the art falling down below that," he explains. "You don't want it to be too competing. One crazy piece and the other ones can be about texture." His original artwork clearly works beautifully in his home, and luckily for the rest of us this always-in-motion artist created them with versatility in mind. "Because they are mostly neutral in both color and sometimes in composition, I think they would work in almost any interior." We couldn't agree more.
Each painting has a little piece of my heart in it because it was created for my own personal home. But life is about growing and learning. I might love it, but letting it go is opening the platform for me to create something totally new.

William McLure
So many people worry about nicks and cracks and scratches on stuff, but for me that's the beauty of it. Characteristics are what we want our antiques to have. Little nicks and stories, that's what makes something good.

William McLure
Photography by Hector M. Sanchez