New Orleans is a city with soul, character, and a whole lot of charm—qualities we love in our favorite vintage finds, as it happens. And to visit a place like New Orleans, only the most special type of accommodation will do. Enter The Chloe, a 200-year-old Uptown mansion that's been converted into a 14-room boutique hotel that embodies the town's one-of-a-kind style. Designer Sara Ruffin Costello transformed the property with a moody and thoughtfully considered palette, whimsical touches, and chic outdoor areas that'll have you rocking on the porch for hours on end.
We spoke with Sara about the process of creating The Chloe—and the captivating (imaginary) cast of characters who made it happen. See what she had to say, and be sure to shop a curation of pieces inspired by The Chloe to capture some of that unique Big Easy magic.
How would you describe the design of The Chloe? What were the inspirations behind the aesthetic?
The Chloe's owner Robért Le Blanc and I thought it would be cool if the house felt like it had been in the same family for over 200 years—which is not uncommon around here, where important houses are fiercely guarded (even when money is tight). We built a narrative around four generations: their romances, divorces, music, and art tastes, as well as the things they collected. Our favorite character was obviously Chloe, a rebellious world adventurer determined to pull the house and its rooms into the 21st century. We had her in mind, pumping up the Victorian architecture and antiques with a whiff of internationalism.
How did you incorporate touches of New Orleans into the space?
Tapping into swamp life is easy down here—the first thing guests encounter is a gator scrambling up the front hall stair runner, and each guest room has an alligator door knocker and mirrors framed in snakes. We took advantage of the Victorian architecture as well, incorporating secret rooms with hidden doorways. You feel like anything could happen or you might just get lost—in a good way.
How did you decide on the color palette of the hotel? How does that play out throughout the property?
New Orleans is made up of dark and light elements—voodoo, mysticism, and shadows, and on the other side of the coin, tropical sun and iced tea. We painted the public spaces in deep blues and greens (like midnight in the garden) while the guest rooms are light with dark furniture, meant to make guests feel the morning sun streaming in along with the smell of chicory coffee.
The interior design of The Chloe has a historic feel mixed with more modern touches. Tell us about that.
I used mostly traditional silhouettes upholstered in a mix of William Morris historical prints and plain linens. The art and lighting brought in a punch of modernity.
What was your favorite part about designing the property?
I think every designer gets really excited at the install. My favorite part actually starts at inception; developing a visual narrative and mood boarding, which aligns with my previous life as a magazine editor
How did you incorporate antiques and vintage pieces into the hotel's design?
We used as much vintage as possible, scouring Chairish, local auctions houses and shops on Magazine Street. Too much modernity is boring; too much traditional is boring. Things get interesting when you mix the two. The challenge is to make something new of it all, especially since we see the same things over and over on each other's Pinterest boards!
On Chairish & Vintage Shopping…
What do you find most compelling about Chairish?
Scoring one-of-a-kind items for projects. I like my interiors to feel really idiosyncratic.
How does sustainability factor into your design choices and love of vintage?
I source locally in New Orleans, trying to avoid shipping as much as possible, and I especially love recovering vintage chairs and sofas.
Are there any dream vintage/antique "gets" you wish you could have? What's a dream piece for you?
An Easy Chair designed by Uno Åhrén for Mobilia, Sweden, 1925
What are three of your favorite pieces on Chairish now?
I love these Restored Vintage Teal Square Pretzel Stacked Rattan Armchairs in Style of Paul Frankl; this 1950s Danish Modern Executive Teak Writing Desk; and this Swedish Art Deco Arm Chair.
Some Design Favorites…
Favorite way to create a statement-making moment in a room:
A few of my favorites: supersized furniture and light fixtures; diagonal stripes; salvaged doors for closets; armoires as doorways; and theatrical curtains between rooms
Favorite decorating "cheap thrill:"
Favorite iconic piece of vintage design:
Yves Saint Laurent Russian Dacha
Favorite paint color:
Favorite piece of decor in your home:
Favorite designer or artist from the past you most often turn to for inspiration:
Favorite style icon:
Carolyn Bessette-Kennedy
Design destination every creative should visit at least once:
Italy
Best piece of career advice you've ever received:
"Cut the first paragraph." It translates to everything in life.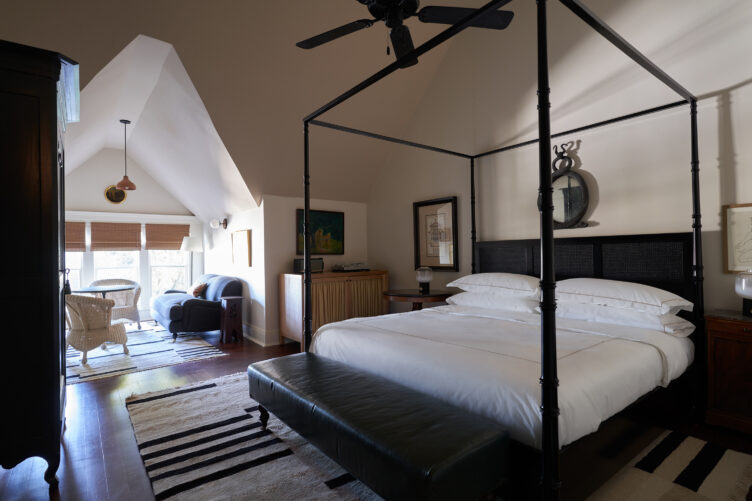 Some Lifestyle Favorites…
Favorite vacation destination:
Marakesh, Vienna, New York, and London
Favorite hotel that's inspired your work while traveling:
Reschio in Umbria; all of Sean Macpherson spots; The Marlton (my home away from home in New York); The Bowery; The Jane; The Chelsea; The AmanGiri in Utah; The Emma in San Antonio
Favorite restaurant:
N7 in New Orleans
Favorite small museum:
The John Soane Museum in London and The Neue Galerie in New York
Favorite podcast:
I never listen to them.
Favorite Instagram accounts to follow:
@chrispearsonfloors; @studio.alia.ali; @amysedaris
Favorite hostess (or thank you) gift:
Meyer lemons from the garden
Favorite flower:
peonies
Favorite adult beverage:
A Paloma with Mezcal
Favorite way to unwind at home:
Listening to records, backgammon, and rummikub
Favorite entertaining essential:
Trays, tablecloths, ice buckets, and glass cylinders for pillar candles on tables outside
All photos by Paul Costello