We are excited to invite you to our first-ever in-person pop-up, The Chairish Art Gallery on Bergdorf Goodman's famed 7th floor. Open now through April, our gallery showcases 300 gorgeous pieces by our most beloved artists across five unique spaces, described below. Bring a taste of their talents home with you or, if can't visit in person for one of their one-of-a-kind artworks, shop a selection of other works from our featured creators, currently available on Chairish.
And to learn even more about The Chairish Art Gallery, get the inside story from some of the people behind this creative collaboration on The Chairish Podcast. Our host, Michael Boodro, discusses creating retail magic with Chairish co-founder and president Anna Brockway and Bergdorf Goodman's Andrew Mandell. Listen here.
Chairish's Pop Art gallery exclusively features works by our most in-demand artist, Ron Giusti. Abstract expressionism, graffiti, and music from every era figure in Giusti's rich catalog of sources, resulting in pieces that are vibrant, joyous, and even a bit tongue in cheek. Color us obsessed.
When creating the Fashion Editor's Apartment presentation for this room, Chairish was inspired by the glamorous and highly personal spaces of America's legendary female editors. Vibrant, figurative works dance alongside delightfully abstract paintings and illustrations to create a punchy collection that feels meticulously amassed over time.
The Chairish Art Gallery celebrates American Craft with a series of unique takes on portraiture. Featuring fresh approaches to historical motifs, these pieces draw from wide-ranging stylistic backgrounds, including everything from Old West iconography to Upper East Side elegance.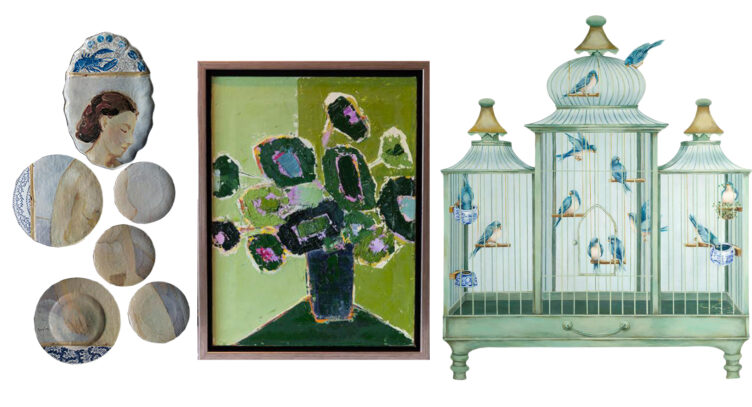 Chairish's Winter Conservatory presentation is a flourishing greenhouse of art. Inspired by our love of orangeries and indoor gardens, which bring warmth and inspiration during chilly winter months, this room features vivid paintings and photographs that share space with inventive installation pieces and ethereal, ornate paper flowers.
Welcome to Chairish's Ode to New York, an homage to the city we all love. Conjuring our favorite classic Manhattan cocktail and piano lounge, this space offers painterly works and an élan of classic sophistication (martini not included, we're afraid). Shop an array of pieces by beloved illustrators and artists to bring this singular spirit home with you.
The Artists of The Chairish Art Gallery