The Raleigh, North Carolina home of interior designer MA Allen is as eclectically elegant as you would expect from someone who has been turning design world heads with her signature mélange of traditional sophistication and fearless use of pattern. Equal parts chic and layered, MA has created an abode for herself, her husband and their three young children that is all about "the happy memories that are made in these spaces." As for what makes the cut when it comes to decorating, MA simply fills her home with "things that bring joy." For her, this includes discoveries made while traveling, storied family heirlooms, and favorite finds from her many vintage treasure hunts. Take a peek inside MA's southern digs to discover how this burgeoning designer keeps her home elevated with three kiddos, snag some unexpected refresh ideas to try in any space, and shop the look!

Not-So-Formal Rooms
The formal living and dining rooms may function as the central spaces for hosting celebrations, but in the Allen household, rooms are multipurpose. From dinner parties for fifteen to her son Fisher's recent dragon-themed third birthday bash, MA heartily utilizes the spaces that some may consider reserved for holidays. Despite what MA describes as a "traditional pedestal table and a sideboard" the dining room is lively thanks to a modern light fixture and strategic pops of color. "You have that tension between classic and modern elements," says MA. "I use the tabletop decor to make it very clear that it is casual fun or formal." Accessories like woven grass placemats help MA send out laid-back vibes, along with putting away the nice silver. Does the thought of three-year-olds traipsing through her living room grip her with terror? Nope! "Honestly, I think I just trained my kids," she says with a laugh. Perhaps you're not ready to place a glass goblet into tiny hands, but MA suggests selecting "more forgiving" fabrics and materials and trying to keep eating and drinking at the table.
Vintage Mixing (Not Matching)
A standout element of MA's home is her enviable tabletop collection. Her secret? Mixing vintage items with her existing sets to create a totally unique look. With a deep love of vintage glassware, MA is always on the hunt for new styles but has found a full set is hard to come by. Instead, she recommends using a few different types of glasses and playing with color. "With the cranberry goblets I have, I don't have enough to accommodate a big dinner party, so I have another set of sterling silver wine goblets that I can mix in and do every other seat. Sometimes the pattern works out so that I can put one of the French opaline glasses at the two heads of the table." The result is a refreshed table setting that makes an impressive glassware collection the star. "If you have an arsenal of options, mixing and matching lets you use these short sets," she says.

Surface Styling
MA's home has a remarkable amount of surface accoutrement, yet no trace of clutter. One of her tricks is grouping like objects. "In my bookshelf there are French glass finials and a Murano glass paperweight that was my great-grandmother's. I have those together because they are visually similar." MA's surface styling includes a mandatory inclusion of books. "If you have bookshelves they need to have books on them to look good," MA explains. But these pieces aren't just for the eye candy. For MA, the best decor has an emotional tie. "It's not meaningful if we just go out and create a collection," she says. "I just think it's great when people have these things. That's where it all starts." To help you along, MA has some advice for the next time you're on the fence about a vintage find. "Just go ahead and get it, because there is no worse regret than the vintage item you didn't buy and that you are never going to find again."
Decorating With The Unexpected
MA describes her shopping mantra as, "I love that! I will figure it out later." This impulse-driven approach has created a collection of exquisite objects from all over the world. One stunning feature in her children's playroom is a gallery wall of masks, all purchased while traveling through Costa Rica, Ecuador, Cambodia, and Vietnam. "I had my poor husband trekking 10 miles into these villages," she says. "I have a framed textile in my house that I bought from this little old lady, and she had to go get her mother, who was even older, because it was made by her mother and I had to get her permission. I had four generations standing there with me to sell me this one piece," she recalls. Once home, MA mounted it in a Lucite case to create a wholly original art piece. For an easy refresh, MA recommends keeping your eyes open for those pieces that spark joy and evoke inspiration. "Maybe you come back from a trip with a new big vase or a small painting and you want to incorporate it. Just shuffle everything around and it feels fresh and new," she says.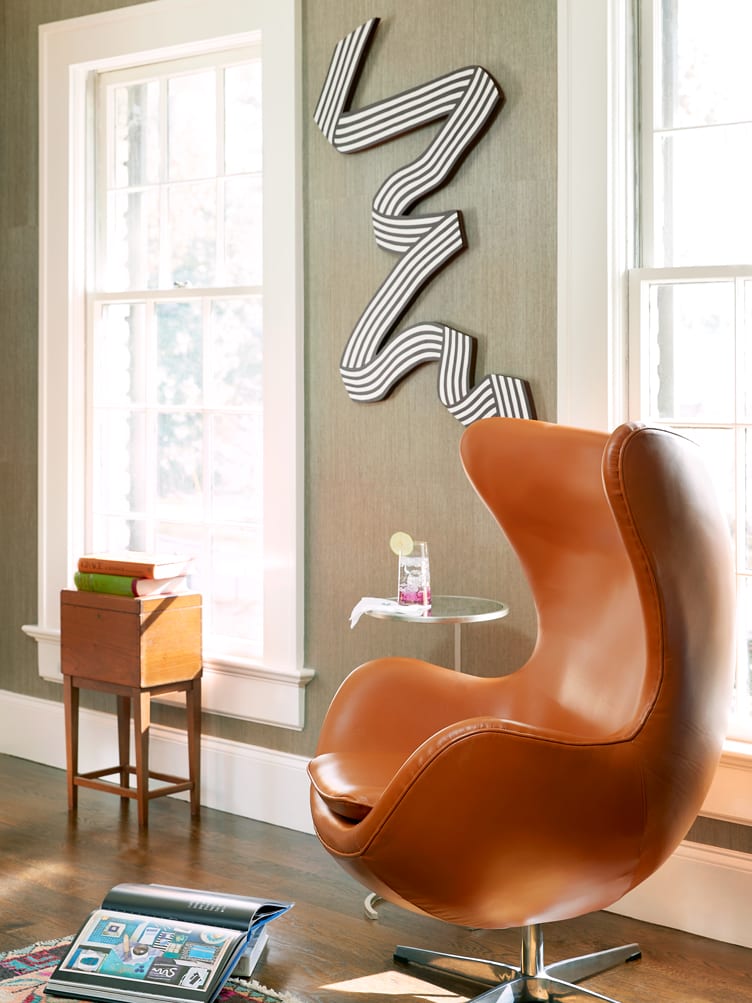 Keeping It Kid-Friendly
MA explains her approach to kids rooms as investing upfront for a space that will work at any age. "I would rather my clients spend good money for the carpet, the window treatment, the bed, so that the base can grow with the child," she says, "If you're selecting really good quality pieces that bring a lot of value, you have a way to peel back a layer, or add a layer, that helps the room age with the child." With this strategy, MA created a delightful space for her eldest daughter, Lil, featuring twin beds and a custom fuchsia upholstered panel. MA already has a plan in mind if Lil should ever wish to upgrade to a bigger bed. "That wall treatment will still work because you just have a queen bed in the middle and a night stand to the left and right, with the wall treatment running below it." MA's spaces become kid-approved by creating a thoughtful foundation and then going big with the color combinations, a steal-worthy trick for any room of the house.
Photography by Stacey Van Berkel