There's something refreshingly old school about designer Lindsey Lane's approach to design. Among her favorite ways of kickstarting a project? Hitting the books. "I start every project at the bookstore or library," she says. "While online research is very helpful, being in a bookstore gives me a feeling of limitless possibilities and ideas that feel tangible." Lindsey's interiors speak to her book-trained eye. Although her rooms read as modern on the surface, each one is actually outfitted with a series of classic design details (think: floor-to-ceiling drapes, bolster pillows, symmetry). The combination results in rooms that feel remarkably fresh, with just enough retro to add a touch of nostalgia. To go along with her collection of Chairish favorites, we asked Lindsey to share some of her design favorites. Ahead, Lindsey reveals her perfect white paint, her only-on-days-that-end-in-"y" pattern, and her favorite vacation locales that, surprisingly enough, aren't the beach!

What do you love about shopping on Chairish?
It is important to me that my clients mix old with new in their homes. I find that rooms feel more lived-in by adding a vintage chair or an antique dresser. Chairish allows me to instantly find that unusual piece for any space with the click of a button. The process of antiquing is so much easier through the internet versus going store to store.
Is there any particular product category where Chairish is your
go-to?
Yes, I love the accessories and art categories. I like to show clients that they can get big bang for their buck by finding a piece of art for a blank wall, maybe over a sofa. Accessories add interest to a table or bookshelf and you can never have too many!
Favorite thing about designing with vintage pieces:
I placed a vintage chair in a nearly all white living room in Florida. The
vintage chair added warmth and texture to the room, which a shiny new piece could not have.
Design
Favorite way to add drama to a room:
Artwork.
Favorite source for design inspiration:
Books, magazines, and more books!

Favorite paint color:
I tend to use a lot of white. Benjamin Moore's White Dove is usually the best in any circumstance.

Favorite pattern (and how you love to use it):
I am a sucker for anything floral. In my bedroom I have a large-scale sunflower-printed fabric, and I went a bit overboard as the fabric is on the curtains and my upholstered headboard. I think you can use florals in any space, even in a more masculine room.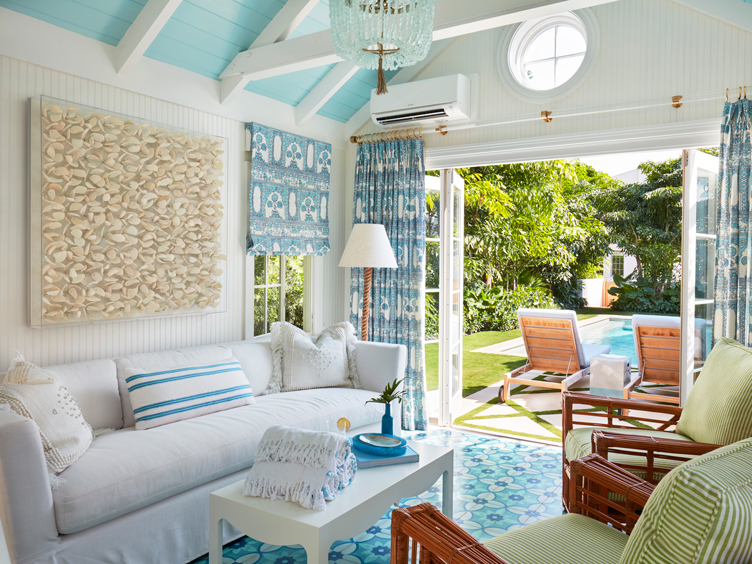 Favorite design rule to break:
Do not be afraid to mix colors and patterns, but if you are going to do it, really go for it! More is more sometimes!

Favorite color combo:
Black and white — a classic combination that makes a statement and works with everything!
Favorite way to mix high and low:
I like to put my money in the textiles. Beautiful hand printed linens are an art form that cannot be replicated. They add luxury to any space. Expensive textiles work well paired with seagrass rugs. They look great as curtains in a room filled with retail finds and make an inexpensive vintage chair go from drab to fab in an instant! Put your money in the textiles, always!

Favorite way to work a bit of vintage into a room:
Recently, I found some lucite lamps that were pretty sad-looking with their torn lamp shades. I instantly changed the look by having custom lamp shades made. It's an easy and interesting way to mix old with new.
Can you share with us any big projects you're working on in 2019? Currently, I have work in Florida, Manhattan, North Carolina, and Connecticut!

You projects range from Connecticut to Florida. How do you stay flexible in your design approach when the aesthetics can vary so much?
Every project I work on is completely different, and I prefer it that way! I find my day-to-day job so much more interesting because one day I am working on a tropical Palm Beach home and the next day I am designing a traditional New England space in Connecticut or a modern loft in Chelsea! I listen to my clients' needs and try to get to know them. My projects last around a year or two, so the client/designer relationship is crucial. We have to get along and like each other. Otherwise, what is the point?
Once I understand how my clients live, where they like to shop, eat, vacation, etc., or what is on their bookshelves (if they have books), decorating their home becomes much easier. At the end of the day, I am not the one living in the home so I want to make my clients happy and comfortable. Homes are a place to gather, unwind, and rest so your home should be beautiful and reflect the person or people that live in it.

Lifestyle
Favorite travel destination to relax:
I find the beach the most relaxing place for me. I'll go anywhere with salt water and sunshine!
Favorite travel destination for design inspiration:
I recently traveled to India and I was immediately inspired by the culture, colors, textiles, and patterns.

Favorite hotel to check in to:
This is shocking because it is not the beach, but my favorite hotels are the Woodstock Inn & Resort in Woodstock, Vermont or the Sun Valley Lodge in Sun Valley, Idaho.
Favorite app:
My friend told me about an app called Planoly which is an app that plans and schedules Instagram posts.

Favorite morning beverage (and how you take it):
Iced coffee with a splash of skim milk, no matter the season!

Favorite thank you/hostess gift:
A box of fresh pastries for the hostess to enjoy the next morning.

Favorite adult beverage:
A glass of rosé on a sunny day.
Favorite saying/quote:
"For what it's worth: It's never too late to be whoever you want to be. I hope you live a life you're proud of, and if you find that you're not, I hope you have the strength to start over." – F. Scott Fitzgerald

Favorite entertaining essential:
I inherited silver from my grandmother so I use it any chance I get. I even leave a tea service and spoons out full-time beside my coffee pot. Nothing makes me happier than starting my day with a beautifully served cup of coffee, stirred with a silver spoon!

Favorite thing to collect:
Plates and all things tableware.
Local Favorites: NYC
Favorite restaurant:
My favorite local New York spot is Max Restaurant in Tribeca. It is a small and cozy Italian restaurant. I love to order their pizza, pasta, and a glass of red wine at the bar!

Favorite hotel to recommend to visiting friends:
The Crosby Street Hotel because of the décor by Kit Kemp
Favorite local culture hub:
Meatpacking District for Chelsea Market, The High Line, and the Whitney Museum of American Art.
Favorite local attraction:
Central Park. I found my love of running in Central Park. It's magical!
Favorite local flea market/vintage hunting ground:
I have such fond memories of the Chelsea Flea Market. I will never forget the time that I found a pair of tulip alabaster lamps at the flea market. At the time, I was still a broke interior design assistant and could not afford the lamps. I called my now-husband and asked him to meet me at the Flea Market with a cab and some cash. He fronted me the cash to buy the lamps and our cab ride home. These lamps are still one of my most prized possessions.