Founded over 20 years ago, OKA has come to embody the kind of sophisticated, exquisitely layered motifs we associate with classic English style. Though the brand launched with a small collection of rattan furniture, today it crosses many categories, including seating, accessories, and elegant tableware. And just a couple years ago, they took the leap and crossed the pond, bringing their inimitable style to the US market.
To learn more about OKA and the people behind the brand, we spoke with co-founder Sue Jones about her biggest influences, her previous career in fashion, and how collecting inspires the work she does to this day. Read on for more and be sure to shop OKA right here on Chairish.
You're an avid collector; what are some of your favorite things to collect? And how do you think your love of vintage pieces informs what you create for OKA?
I collect blue and white porcelain and old textiles like Turkish suzanis and tapestries. I love picking up interesting objects on my travels around the world; an old Chinese paintbrush, a hookah pipe or an antique hat, anything that catches my eye.
Collecting has made a huge impression on me, and I still recognize its influence. I'm aware that in centuries past, people used the most exquisitely made items crafted from very fine materials, all the time, for all kinds of usual activities. You'd find beautiful shagreen-covered jewelry boxes and hairbrushes made from tortoiseshell, which were handled with absolute precision and care. These things aren't ethical, or practical, today, but I love the idea that everyday things can be beautiful. If I'm inspired by something from previous eras, I'm always looking for new ways that it could be updated or translated into the modern world; it's my passion.
Who are some of your biggest influences in developing OKA? Which designers and creators speak to you?
I'm influenced by beautiful architecture; Asian art; antiques. Less by specific people and more by lifestyle, the way people live, and the atmospheres they create. That said, I often look to Nancy Lancaster and David Hicks as masters of timeless design.
Your pre-OKA career was in fashion design, with Jasper Conran… tell us a bit about that. How do you think fashion and interiors intersect?
Working in the fashion world taught me to understand my own style and not be led by trends or what is "of the moment." I learnt to build my own character rather than letting others influence me and that has been a hugely important lesson for everything I've done creatively. Jasper Conran is a master of color who can turn his creative aesthetic to anything. His homes are as beautiful as his clothing designs. Fashion and interiors aren't so different: they both prioritize beauty, style, and comfort.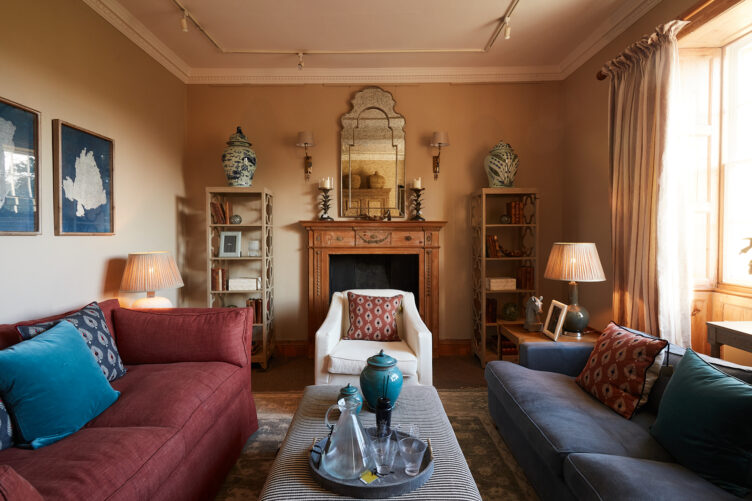 What are some of the biggest differences you see between UK and US design? What are some key things Americans can learn from UK style?
There aren't too many differences and there's plenty that we Brits can learn from the way Americans design their homes. But we do hope to inspire our customers in the US to be a bit braver with mixing styles, showing them that not everything has to match, and helping them to create comfortable homes that reflect their personalities.
OKA aims for a timeless appeal that supersedes the trends that come and go. How do you incorporate a sense of timelessness into your work while still launching new pieces in the current market?
I see decorating as something you add to and evolve over time. I have no objection to changing scatter pillows with the seasons. But what I don't like is telling people to buy one style of furniture one year, and then the next, it's out of fashion. I try to keep away from trends that aren't going to age well and I do the same with clothes. I don't mind the odd thing that's on trend, but I expect to wear what I buy now next year, and the year after that.
Quality and sentimentality are more important attributes. I want our customers to have — and importantly keep — their own much-loved things in their homes, and for OKA's pieces to fit seamlessly in with them. People shouldn't be afraid to mix things up to achieve depth, layers, and atmosphere.
Where is OKA going next? Is there anything you can tease for us that you'll be releasing in the future?
We're busy planning the launch of our fall collection and are excited for Dallas customers and designers to experience the brand in person — we're opening our second US store there later in the year.
On Chairish & Vintage Pieces
What do you find most compelling about Chairish?
As a creative person I love to hunt down unique pieces, but time does not always allow for months of trawling antique shops for wonderful, diverse objects. To be able to shop and connect with sellers on a global platform is incredible.
How does sustainability factor into your design choices and love of vintage?
We're doing a huge amount of work internally and with our extraordinary suppliers to build sustainability into our design process and entire supply chain. We've always championed longevity, designing pieces that can be passed down the generations, and crafting them using recycled materials like reclaimed oak and elm.
Are there any dream vintage/antique "gets" you wish you could have? What's a dream piece for you?
I've got my eye on all sorts of things, but I literally don't have a spare square inch to put them in!
I'd love an old Riva, but it doesn't help not having a lake.
What are some favorite pieces on Chairish now?
This George III Applewood Teacaddy; this Chinese Qing Dynasty Brown Coromandel Lacquer Cabinet; this Early American Antique Wicker Tea Trolley; and this Italian Empire Commode.
Some Design Favorites…
Favorite way to create a statement-making moment in a room:
Favorite decorating "cheap thrill":
Favorite iconic piece of vintage design:
A Birkin handbag
Favorite paint color:
Something chalky
Favorite piece of decor in your home:
A statue of St Eustace which was decommissioned from The Met
Favorite designer or artist from the past you most often turn to for inspiration:
For color, Rothko; for portraiture, Vermeer
Favorite style icon:
Tom Ford
Design destination every creative should visit at least once:
Istanbul
Best piece of career advice you've ever received:
Pretend you're not shy and one day you won't be.
Some Lifestyle Favorites…
Favorite vacation destination (the next time travel becomes an option):
The Maldives
Favorite hotel that's inspired your work while traveling:
The Mandarin Oriental in Hong Kong for sheer efficiency and perfection
Favorite restaurant:
Favorite small museum:
The former Musée du Jeu de Paume in Paris when it was home to the Impressionist collection (now housed at the Musée d'Orsay). It was tiny and you could touch the paintings.
Favorite podcast:
The Modern House Podcast; BBC Radio 4's Desert Island Discs; The Great Women Artists; and Table Manners with Jessie Ware
Favorite Instagram accounts to follow:
Jasper Conran; Willow Crossley Anya Hindmarch; and Vincent Darré
Favorite hostess (or thank you) gift:
A large blue-and-white pot of faux flowers that I've arranged myself
Favorite flower:
Rosa 'Nevada' (Nevada rose)
Favorite adult beverage:
A delicious glass of dry white wine
Favorite way to unwind at home:
Cooking
Favorite entertaining essential:
Friends
All photos by Tom Griffiths and courtesy of OKA