As far as design inspiration goes, it's hard to top showhouses. Serving as literal design idea treasure troves, showhouses brim with the kind of go-big-or-go-home statements that separate the A-list designers from the masses. Which isn't to say that we can't all adopt a new show-stopping trick or two to put into play in our own abodes. Pulling inspiration from twenty-two showhouse rooms designed by participants of this year's Chairish Designer Showhouse Sale, we've rounded up an array of interiors showcasing stunning statements that can be used to drum up drama in any room.
SHOP THE DESIGNER SHOWHOUSE SALE >>
Wondrous Wall Murals
Alexis Humston, San Francisco Decorator's Showcase
In the master bathroom she designed for the San Francisco Decorator's Showcase, designer Alexis Humiston employed an absolutely sublime wallpaper that she partnered with wallpaper puveyor de Gournay on to custom create. Aptly named "Paradise Lost," the wallpaper takes on an extra transporting effect when partnered with millwork painted in a complementary hue.
Jonathan Rachman, San Francisco Decorator's Showcase
To evoke a theatrical effect in the living room he designed for the San Francisco Decorator's Showcase, designer Jonathan Rachman also selected a historic de Gournay wallpaper. From afar, the paper showcases a sweeping sense of movement, while up close, an array of delicate details offers another layer of visual enjoyment. By working both ends of the spectrum, the paper lends the room maximal drama. In a total devil may care moment, Jonathan also elected to hang photo atop the paper, working a shared color palette to promote visual cohesion.
Jackson Paige Interiors, Whole Home Concept House
As proven by the master bedroom Jackson Paige Interiors designed for House Beautiful's Whole Home Concept House, wallpaper murals can create an understated moment just as effectively as they can a dramatic one. A dreamy, crane-flocked wallpaper lends the room gravitas, but at the same time almost recedes into the background in the presence of a spunky ochre-colored bed, window seat cushion, and armfuls of graphic throw pillows.
Michael Herold Designs, Kips Bay Decorator's Showhouse
Pulling inspiration from a recent jaunt through Europe, designer Michael Herold employed an enchanting wallpaper by Iksel Decorative Arts for the entryway of the Kips Bay Decorator's Showhouse. The paper, which was created by digitally re-printing a 17th century painting, serves up old world charm aplenty. To crank up the drama even more, Michael elected to juxtapose the paper with a few modern day elements. An ebullient abstract painting and sleek modern sculpture do just the trick.
Fabulous Fabric Creations
Cathy Austin, LCDQ Legends
A seasoned vet of the showhouse circuit, designer Cathy Austin knows that a little fabric can have an enormous impact. For the LCDQ Legends Window, Cathy complemented a feature wall covered in a Iznik wallcovering by draping the adjacent wall in a pleated fabric. The technique instantly renders the space posh and palatial in addition to transforming the room into a cocoon-like hideaway. Banishing any questions of whether the fabric wall is a temporary fixture, Cathy hung an inlaid Syrian mirror atop to indicate permanence.
Susan Currie Designs, Cashiers Designer Showhouse
Having adopted a Palm Beach Regency aesthetic for the bedroom she designed for the Cashiers Designer Showhouse, designer Susan Currie fashioned a theatrical fabric curtain for behind the bed using Thibaut's "Honshu" print fabric, an au courant take on Chinoiserie. Repeating the fabric on the bed's duvet ups the ante in the bedroom even more.
Julie Paulino Design, Columbus Designer Showcase
A fabric element often reads as romantic, but as illustrated by the guest bedroom designer Julie Paulino teed up for the Columbus Designer Showcase, it can also go the route of feeling gorgeously graphic. Canopying an upholstered bed in a two-tone Schumacher fabric allowed Julie to procure theatrical flair without knocking anyone out of their comfort zone. If looking to replicate the look in your own boudoir, heed Julie's expert decision to repeat your canopy fabric on your's bed's bedskirt. It anchors the bed, instantly transforming it into a custom-feeling piece.
Swoon-Worthy Wall Treatments
CLOTH + KIND, Southern Style Now Savannah Showhouse
Pulling inspiration from the beaknik musings of the Bloomsbury Set (a troupe of English artists and intellectuals who congregated in Bloomsbury, London in the first half of the 20th century), Krista Nye Nicholas and Tami Ramsay of CLOTH + KIND fashioned a bohemian boudoir, replete with artfully distressed walls for the Southern Style Now Savannah Showhouse. A stronghold of 80s and 90s interiors, wall treatments can feel a bit passé, but Krista and Tami masterminded the treatment to feel fresh for the 21st century by using a divine turquoise hue that reads more avant garde than démodé.
Sea Green Designs, Hampton Designer Showhouse
Evoking a dreamy cloudscape, designer Shannon Willey of Sea Green Designs applied a subtle buff to the walls of the bathroom she designed for the Hampton Designer Showhouse. While such a subtle wall treatment could recede into the background, Shannon made it an integral part of the room by besetting it with equally refined statement pieces, in the form of geometric floor tiles by Tileshop and a stunning beaded coral chandelier.
Natasha Minasian Interiors, Christopher Kennedy Show House
In the more-is-more world of showhouses, wallpaper can feel a bit old hat. But as proven by designer Natasha Minasian, that stigma doesn't extend to wallpaper that packs an optical wow-factor. Thibaut's "Hayworth" paper turned out to be the perfect pick for the living room Natasha designed for the Christopher Kennedy Show House, providing a textural backdrop that feels markedly haute couture. By integrating additional tactile decor pieces—fluffy rugs, raffia fringed baskets, a bamboo chair—Natasha heightened the paper's illusion of dimension.
Modern Remains, House Beautiful Whole Concept House
Who knew layering art atop art could be just the stylish statement we needed? In the breakfast room they designed for the House Beautiful Whole Concept House, the design firm Modern Remains commissioned custom panels by Nashville artist Jennifer Gibbs and hung custom-framed paintings by Charleston-based artist Whitney Stoddard overtop. Hung solo the panels would make an impressive impact, but when topped with more art they take on the look of artful, one-of-a-kind paneling.
Sculptural Splendors
Holly Hollingsworth Phillips, Southeastern Designer Showhouse
Flanking a petite desk with two sensationally sculptural lamps turned out to be just the design blockbuster moment designer Holly Hollingsworth Phillips needed in the Moroccan sunset-inspired bedroom she designed for the Southeastern Designer Showhouse. Comprised of kudu horn, the lamps are surefire stunners all on their own, but when topped with feather plume lampshades, they comprise a total shut-the-front-door moment.
Kari McIntosh, San Francsisco Decorator's Showcase
Free-standing sculpture is a showhouse signature, but that doesn't mean wall sculpture can't produce arresting results, too. For the guest bedroom she designed for the San Francsisco Decorator's Showcase, designer Kari McIntosh created a focal point above the bed with a quartet of ceramic snake sculptures. Employing the power of the subliminal, Kari cushioned the bedroom's floor with an edgy snake print rug. The effect both calls attention to the sculpture, while also providing a contextual theme.
Grayson De Vere, Hampton Designer Showhouse
Riffing off an earth, fire, water, air theme, designer Julia Grayson landed a set of surrealist concrete sculptures for the entryway she designed for the Hampton Designer Showhouse. Topped with air plants, the sculptures take on an extra theatrical effect that makes them even more eye-catching.
So Chic Ceilings
Lindsay Anyon Brier, San Francisco Decorator's Showcase
Low ceilings (8'6″ to be exact), didn't make drawing the eye upwards an obvious choice in the artist's retreat Lindsay Anyon Brier designed for the San Francisco Decorator's Showcase. Of course, what's a statement without a little rule breaking? Shucking the rule book, Lindsay opted to paper the ceiling in a custom paper developed by Paige Cleveland, the founder of Rule of Three. Elsewhere in the room, Lindsay scaled down the height of the furniture to visually lift the ceiling a few inches and lend the room the lofty quality she'd initially been hoping for.
Sarah Vaile, Lake Forest Showhouse
Sometimes all a room needs to go from "meh" to marvelous is a coat of paint on the ceiling. Designer Sarah Vaile rolled out a divine navy hue on the ceiling of the bedroom she designed for the Lake Forest Showhouse, totally transforming the mood from light and airy to lair-like and urban. The painted ceiling also provides a smart way to camouflage the apparatus Sarah needed to affix rope bedposts to the ceiling—yet another ingenious way the designer worked drama into an otherwise run-of-the-mill space.
Traci Zeller, Traditional Home Showhouse
For the bedroom she designed for the Traditional Home Showhouse, designer Traci Zeller flipped the ceiling with the floor, applying a parquet print more commonly found on the floors to the ceiling above. A novel idea for anyone who has a love-hate relationship with carpet in the bedroom, Traci's idea is a chic-as-can-be compromise. Casting everything in a single shade, (in this case a luminous lunar gray), makes this a look anyone can replicate.
Statement-Making Furniture
Pebbles Nix Interiors, Serenbe Showhouse
Attention-grabbing color and sculptural splendor make outdoor furniture a perfect pick for a room in need of a jolt of drama. For the playroom she designed for the Serenbe Showhouse, designer Pebbles Nix procured four spun fiberglass chairs in a bright yolk-y yellow. Color-matching the chairs to the curtains and art allowed Pebbles to tamper any of the chairs' overt outdoorsy-ness, rendering them cool, sculptural statement pieces and not awkward outliers.
Maria McLaurin, Cashiers Decorator Showhouse
Flipping the equation put in play above, designer Maria McLaurin elected to add gravitas to an outdoor seating arrangement by moving a burl wood coffee table outdoors. Fashioned for the Cashiers Decorator Showhouse, this outdoor space feels vested in the surrounding landscape thanks to the table's weightiness and organic-ness.
Fifi & Coco, Detroit Designers' Show House
Statement furniture needn't always put function ahead of form. For the lounge she designed for the Junior League of Detroit Designers' Show House, Phyllis Whitehead of the firm Fifi & Coco customized a modular s-curve bench covered in sumptuous patent leather. While the piece is first and foremost a striking sculptural statement, its modularity also makes it an ace piece for parties.
High-Impact Art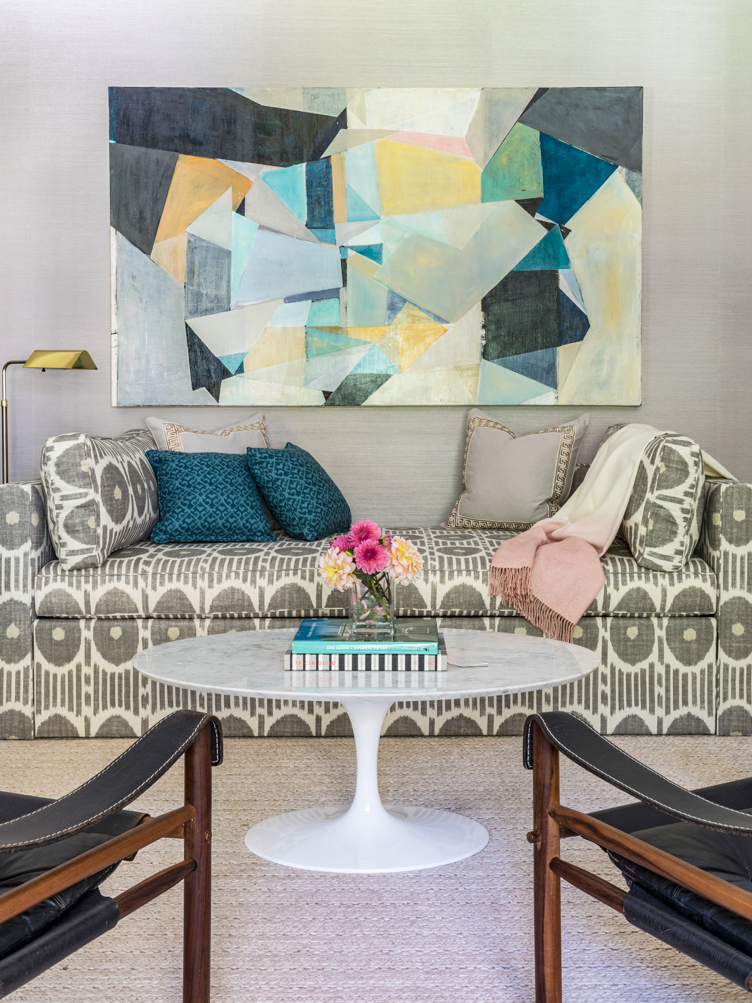 K + K Interior Design, Designer Showhouse of New Jersey
Make no mistake about it, the kaleidoscopic abstract selected by Kristina Phillips and Kerri Pilchik of K + K Interior Design for the Designer Showhouse of New Jersey would be stunning in any location. But when hung a few inches lower than normal (thanks to a backless daybed cozied below), the artwork goes from eye-catching to total statement-maker. Kapow!
Jeanine Haith, Junior League of Detroit ASPIRE Showhouse
To bring a wood-clad library into the 21st Century, designer Jeanine Haith employed a secret weapon: ultra glam, high resolution photography sized up to monumental proportions. Designed for the Junior League of Detroit ASPIRE Showhouse, part of the room's drama relies on Jeanine's deft choice to hang one of the artworks over the window. A natural backlight of sorts, the window provides the photograph an ambient glow.