When is a family business not just a family business? When it's three businesses. Mother-and-daughter duo Karen Bogh and Jenn Aaronsen run a trio of vintage and antique businesses: Rose Victoria, New England Mercantile, and The Queens Landing, respectively. Each brand has its own specialities, including classic European finds, midcentury pieces, and Americana. Over the years, the duo — and their full family, in fact — have grown the businesses from a side hobby to a full-time career, with thousands of hand-selected pieces sourced around the US and Europe.
Jenn Aaronsen took some time out of her busy schedule to talk with us about how they launched the businesses, how they sourced during the pandemic, and where things are going next. See what she had to say and be sure to shop all three brands to find just the right piece for your next project.
Tell us a little bit about how you started your businesses, first and foremost. How did you and your mom create them?
My grandfather left his engineering career when my mom was a teenager and turned his love for antiques into an early retirement, opening an antique store in Whittier, California. My mom spent her summers in the back of the family station wagon, picking across America and visiting family. Fast-forward to the early 90s and my parents were doing the same with me and my brother.
Rose Victoria started as a part-time hobby in 1990, when my mom was a NICU nurse at our local hospital. In 1995, my uncle — who is also on Chairish, GM Picker Antiques — moved to Boston. It was in those early visits to see him that her passion for antiques and vintage really came about. That same year, with a fresh shipment from the East Coast, my mom opened her first online antique store on a new platform called "eBay." Rose Victoria stood at the top of the ranks of the antique and vintage categories for close to two decades. Within five years, my mother was flying to England every six weeks to shop the antique fairs. In January of 2011, my mom asked me to help launch Rose Victoria's second store on One Kings Lane. Nine months later, from the parking lot of our Heathrow hotel, I put my notice in and became a full partner in Rose Victoria. Today, Rose Victoria has grown into four brands, with quite a catalog of projects.
What's it like working so closely with your mom?
Our story is about family and our unwavering vision to create a small business around what we cherish most: family, history, and traveling. My Mom and I are best friends, and I am very close to my Dad. He was our original travel buddy and has been traveling to Europe with my Mom since 1999. My brother also manages our order flow across our platforms. They both come along for a buying trip or two, and we all just have a blast together.
You have three separate brands: Rose Victoria, New England Mercantile, and The Queens Landing. What are the differences between the three, and why did you create them as separate entities?
Rose Victoria is where we started — our classic and traditional European collection — while The Queens Landing is our midcentury collection and New England Mercantile is our Americana / farmhouse collection. Our three separate brands came about simply because of the volume we do. We maintain an average of over 7,500 listings, and Rose Victoria alone had over 3,500 live listings across three platforms at the time. Having three separate brands allowed us to break our catalog down by style, giving our customers a simpler shopping experience. All three styles complement each other, so we blend the three brands too, just for inspiration.
How has sourcing changed as a result of the pandemic? How did you pivot over the last year and a half?
Luckily, with the bulk in which we buy, we weren't short on inventory. The hardest part of sourcing during Covid was England and France being in a stay-at-home order for the better part of the last year, and the impact it had on so many of our friends in the industry. Flea markets, antique shows, and antique centers were closed. They didn't have access to new stock, and the shows were dismal the first few months because of it. Where we normally would have 10-15 boxes of new stock being shipped to us every month in between our trips, it took us six months to accumulate a single shipment. We went back to shopping local. We hit the small fleas, estate sales, antique shops in Old Town Orange, Temecula, and the Central Coast. We also went to the Round Top shows. It was fantastic! We got to catch up with a lot of friends, who we typically only see shopping in Europe, and found a lot of great new places to shop.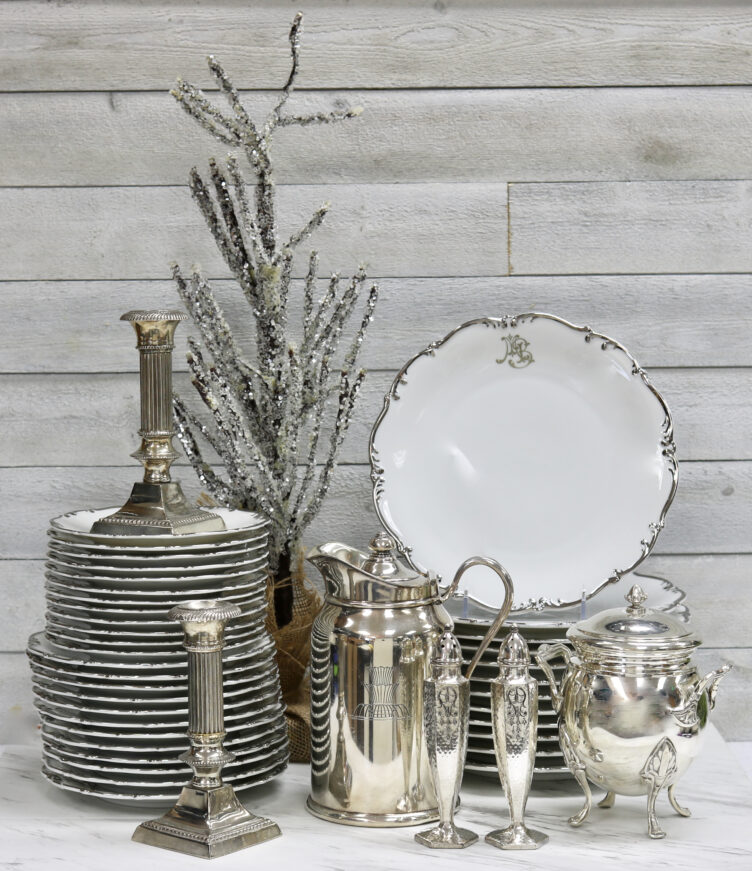 Last we spoke, we talked about the scene at Round Top last fall. How have things evolved since then, with regard to shows and events?
Round Top was definitely busier this spring, and the fall 2021 accommodations are sold out across the area. Our local shows in Southern California are back too; I just shopped the Long Beach Flea Market and bought really well there. Friends in England say the July shows were good and they are really looking forward to the fall and winter shows. We're planning England for December, which will be two years since we were last there. We'll let you know the post-pandemic vibe in England when we get back.
What are some of the most interesting things about your shopping trips to Europe?
Shopping England and France couldn't be more different. England is a little more intense than France. On a typical day in England, we're at the shows by 6 AM and back around 4 in the afternoon. We unload the cars, label everything for shipping, and start packing until we meet up with friends for dinner around 7. On the days we stay home, we're packing for at least six hours that day. Even after 20 years, we still have trips where we buy so much that the tape guns are spinning till 3 AM and we're counting the hours of sleep before our morning train back to London.
As with everything in France, it's a little more relaxed. In France, you're having coffee and croissants around the table with friends at 7ish, you get to the markets around 8ish, you're drinking wine by 10ish, and napping by noonish. We love France. The best part of what we do is opening the boxes when they arrive at the shop. Both the arrival and unpacking of a shipment is a friends and family event. Everyone loves to come by our shop, help us unpack, and get first dibs on the goods!
How have digital avenues like Chairish influenced the way designers and consumers shop?
Trends are regional but they are also regionally similar. Central California, Coastal New England, and South Florida love coastal and nautical pieces. San Francisco, Seattle, New York, and Boston love midcentury. What may be a normal find at your local vintage shop in New York may be extremely rare in San Francisco and vice versa. Chairish has opened the door for designers and consumers to shop other markets for one-of-a-kind pieces that complement their locally sourced finds.
What are some of the trends you're seeing right now in terms of the products that are selling? What do you think we'll see next?
The holiday season is going to be big this year, and we're already seeing an increase in barware, tabletop and dinnerware. The film and television industry also have a heavy influence on the trends in our business. With period pieces like The Crown and Downton Abbey returning in early 2022, we will see an increase in midcentury (especially barware), smoking accessories, and royal memorabilia. With Downton Abbey in particular, we'll see English manor chic and early 20th-century English tabletop, including pearl-handled cutlery, sterling silver and silver-plate pieces, fancy porcelain dinner, and stemware.
Are there any styles or trends you'd like to see disappear in the design world right now?
Feel-good asseverated wall art. Take down the "live, love, laugh" sign and put up a mosaic wall plate grouping or cool piece of art in its place. There are so many amazing pieces of antique and vintage decor pieces being destroyed because of the disposable furniture and home decor trend. What you buy brand new is more than likely a reproduction of something from years past. The next time you're looking for new pieces for your home, stop by your local charity shop — you can literally furnish your entire house with one-of-a-kind pieces, and add your story to its history.
You have access to so much beautiful design with your businesses, but what's a favorite piece of your own?
I collect rare royal memorabilia. One of my favorite pieces is an 1856 Napoleon III coin my uncle gave me for Christmas a few years ago. It's a trench art piece made from two coins, where the center has been carefully cut out and hinged. Inside the hollowed out center of the coin is a hand-painted miniature oil painting of Queen Victoria from her 1897 Golden Jubilee. When closed, the aged patina creates the illusion of a simple coin. It's pretty cool.
Anything else that you think would be particularly interesting for our audience?
Something that surprises people is that we shop, hand-pack, and ship every piece in our collection ourselves. Because of the volume we do, most people assume we hand it off to a shipper and spend the rest of the day doing something fun like drinking wine and sightseeing. Not so!
All images courtesy of Jenn Aaronsen