We've been Caitlin Flemming fans since her early blogging days on Sacramento Street, so when we caught word that the designer and blogger extraordinaire was releasing a book (inspired by globe-trotting, no less!) with her mom, Julie Goebel, we couldn't wait to throw them a super-dreamy launch party. First order of business: booking the fantastico Greens Restaurant in San Francisco as the venue. Next came cueing up a stunning florist and rounding up a gaggle of posh tastemakers to help us celebrate! Go inside the bash for the release of Travel Home and see how we devised an elegant event loaded with Caitlin's signature Cali sophistication.
Put It In Neutral
Caitlin's known for her adoration of laid-back neutrals, so selecting a palette for the party was a cinch. Contrasting shades of brown and white felt both unfussy yet très sophisticated, while also harking back to the cover of Travel Home. Caitlin's butcher paper-wrapped copies of the book for guests to take home, a smattering of white Mexican papel picado flags down the center of the table, and a sprinkling of hand-thrown, creamy pottery, and we were in business.
Foraged Florals
As the flower power behind Caitlin's wedding and a handful of the interiors featured in Travel Home, florist Natalie Bowen Brookshire is on Caitlin's speed dial. For the launch party, Natalie whipped up florals with a tumbledown, foraged feel. "Caitlin is known for her neutral palettes and I wanted to bring in some natural elements to reflect the section in the book that I contributed on called, 'Bringing Nature Home,'" says Natalie. With her muse in mind, Natalie opted to pair white tuberose and ranunculus with ruffly grasses like bunny tail, explosion grass, dried fennel, and passion flower. To offset all of the lighter hues, deep burgundy chocolate cosmos added just the right amount of bang to the whole look.
Va Va Veggies
Greens Restaurant is known for bringing the big favors (sans meat, believe it or not), and the menu for the day did not disappoint. Passed apps included fresh spring rolls served up with luscious coconut peanut sauce, as well as white bean hummus drizzled in a lemon tarragon vinaigrette and dished up alongside French breakfast radish, Green Gulch turnips with house seeded lavash crackers for scooping. For mains, a broccoli pizza went toe-to-toe with two sammie options–a green bean panini loaded with goat cheese, caramelized onion, and radicchio jam, as well as Santorini sandwich piled high with hummus, peppers, red onions, tomato, spinach, and roasted olives. As for the sips, there's no better excuse for rosé all day than a gals-only affair!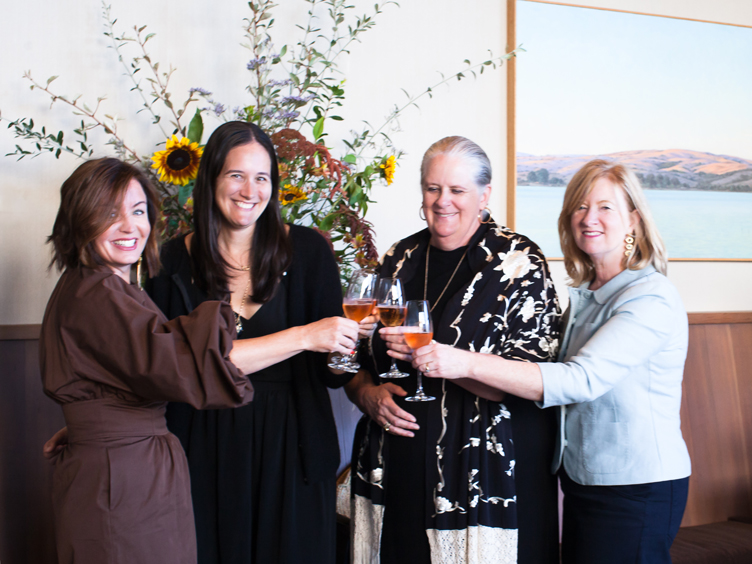 Photos by Heidi Lancaster