Just steps from the Brooklyn Heights Promenade, the Brooklyn Heights Designer Showhouse has returned, with spaces by over a dozen talented New York designers. Proceeds from the showhouse will benefit the Brooklyn Heights Association, whose advocacy works to preserve the incredible architecture of the neighborhood. Below, see some of the spaces in the historic home, and be sure to plan your visit in person through October 30, 2022.
The Primary Bedroom, Vestibule, and Outdoor Space by Tara McCauley, featuring a garden bench from Chairish. Photo: Hanna Grankvist.
The Double Parlor by Chused & Co. Photo: Jeff Holt.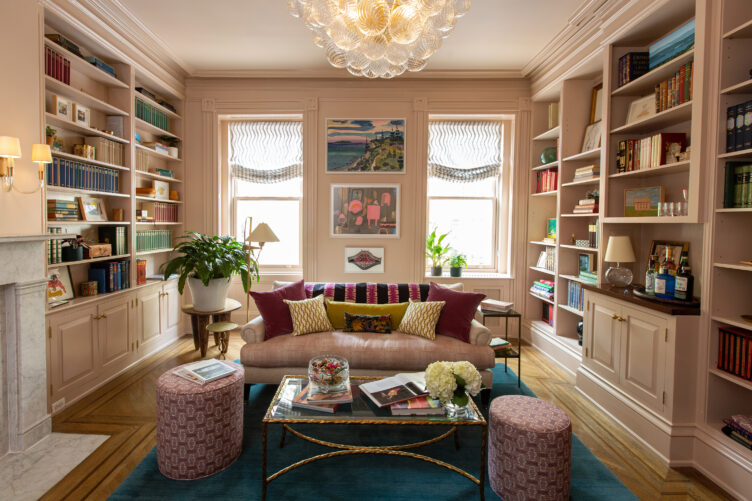 The Library by Collyer's Mansion. Photo: Erica Gannett.
The Lounge by Rupp Studio. Photo: William Jess Laird.
The Kitchen by Baxt Ingui Architects. Photo: Adam Kane Macchia.
The Solarium by Meagan Camp Interiors. Photo: Kirsten Francis.
The Fifth Floor Bedroom by JDK Interiors. Photo: Kirsten Francis.
The Sitting Room by JS Interiors. Photo: Brett Wood.
The Garden Room by Circa22 Design Studio. Photo: Tom Benedict.
The Lounge by Antonino Buzzetta. Photo: Trevor Parker.
The Guest Bedroom by Studio Dorion. Photo: Ethan Herrington.
The Solarium Bathroom by Antonio Deloatch. Photo: Jonathan Hoekklo.
The Vestibule by Laurie Blumenfeld Design. Photo: Kirsten Francis.
The Laundry Room by MeLinda K Design. Photo: Tim Cree.
The Sitting Room by KD Reid. Photo: Tim Cree.
The Gardens and Terraces by Nigel Rollings Landscape.
The Window Boxes by Brooklyn Heights Gardens, Inc. Photo: Tim Cree.