For Caitlin Flemming, the designer and founder of the blog Sacramento Street, travel has always been where it's at in terms of inspiration, something she learned early on from her mother, Julie Goebel. Together the pair dreamed up the idea for their new book Travel Home: Design with a Global Spirit, which marries a shared love of marvelous design and globetrotting. Offering a peek inside the homes of tastemakers all over the world, the book is like a masterclass in how to infuse the ideas and finds you scoop up on the road into your digs back home. Here, Caitlin shares a few gems of wisdom from its pages to help answer the eternal question of how best to decorate with travel finds.
Far-Flung For The Win
Fashion designers are notorious for their wanderlust in search of inspiration, but designer Malene Birger takes things to the next level in her Tremezzo, Italy home. "Virtually everything in the home of Malene Birger was found on one of her exotic trips," shares Caitlin. "In her bedroom, pillars she found in India create an entry to her bedroom from the dressing area. Textiles of neutral colors are used to form a pattern-on-pattern look." Take a cue from Malene and don't be afraid to think big when making acquisitions abroad. Architectural elements can make for a blockbuster design moment.
Make Finds Part Of The Mix
If just mixing stuff in sounds almost deceptively simple in terms of sage advice for decorating with travel finds, the Berkeley, California home of fashion designer Erica Tanov really puts the possibilities of that approach on display. "Each corner of the home of designer Erica Tanov is a delightful collection of items she loves living with. In one corner of the living room, a piano stands with artwork resting informally on its top. Under the piano, is a metal truck from her husband's childhood," shares Caitlin. In other words, if you have a few smashing finds from your last trip, just sprinkle them around your home here and there as reminders of those good times.
Corral A Cohesive Collection
There are practical advantages to cohesive travel collections, not the least of which is helping to target your trip's shopping itinerary. "My Japanese Tansu is one of the most prized pieces of furniture I own," reveals Caitlin. "The door can be removed to reveal my collection of items I've brought back from many trips. The pottery is from Paris, and the white and pewter container with a lid comes from a trip to Morocco." A uniform palette all but guarantees a tasteful tableau.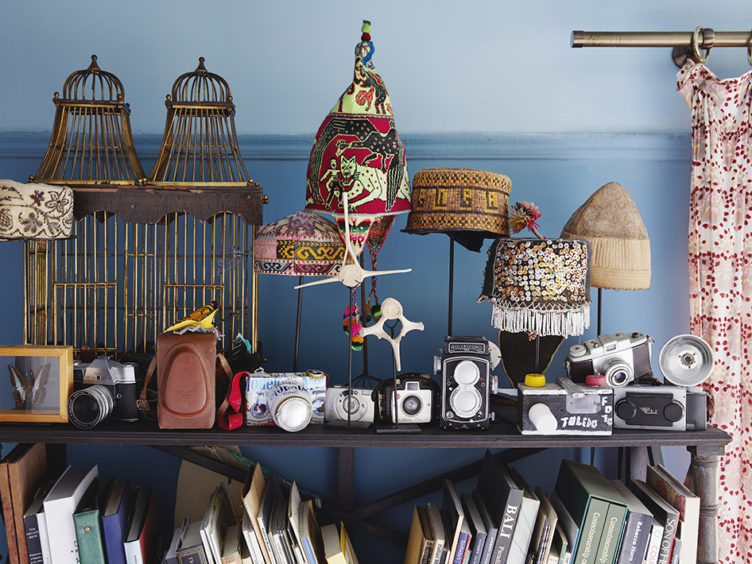 Embrace The Wacky-But-Wonderful
Cue the quirky! "John Robshaw often goes for items that are whimsical and with a sense of humor," says Caitlin of the textile and furniture designer's penchant for vignettes featuring a mélange of personality plus travel finds in his New York City home. "Displayed here are hats and cameras he found in flea markets and shops from around the world. His favorite camera, of course, is the one made from a Modelo beer can." Despite their varied origins, it's John's aesthetic that ultimately unites them. "He has an eye to create a collection of similar items," says Caitlin.
The Walls Are Where It's At
Art is a great way to tell the story of where you've been. "Wall art can usually be found while traveling," says Caitlin. "My mom often finds items she loves and brings them back home unframed—easily stored in a carry-on." The walls of Julie's San Francisco home hint at some of the spots she's touched down in over the years. "Flea markets close to home or in other countries can be a great source of art inspiration," adds Caitlin.
Lead photo by Peggy Wong, Courtesy of "Travel Home: Design with a Global Spirit"