Albert Sultan finds inspiration in all of the arts. A painter, an interior designer, and a vintage furniture maven, he has a multi-disciplinary approach to his work. His company, SULTANCHIC, is known for finding the potential in overlooked vintage pieces and reimagining them for a contemporary age, typically with eye-catching, inventive fabrics. And his vibrant oil paintings are designed to bring color and a sense of true wonderment to a client's spaces.
We spoke with Sultan about his approach to the arts and where he's found his inspiration over the years. See what he had to say, and be sure to shop his varied, colorful collection on Chairish.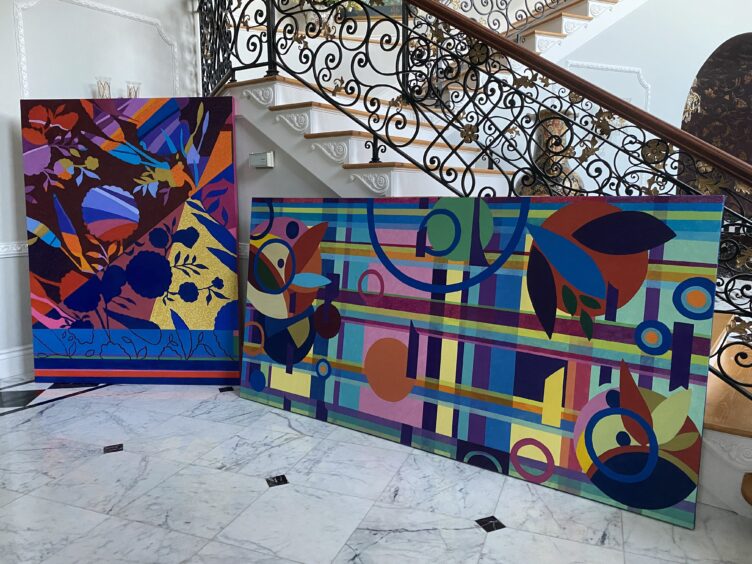 How would you describe your own personal aesthetic, and how is that reflected in your work?
As the founder of SULTANCHIC, I am known for my oil paintings, in-home decorative finishes, custom furniture, and interior design. Whereas most creatives are compelled toward one path, I have chosen to embrace many interrelated disciplines. Not bound by artificial rules of what is art or what is design, my approach to each becomes more playful, bold, and dramatic. In both my paintings and designs I subscribe to the notion by famed interior designer Tony Duquette that "more is more."
A few early experiences truly developed my creative philosophy and helped me to synthesize a sense of style. When I was young, I was fortunate to travel to Italy and Greece, and traveling to both archeological ruins and historical buildings taught me something essential about the nature of art and design. When one walks into a European villa or palace, you are confronted with an integrated artistic whole. Art and furnishings seamlessly merge. You enter into such a space and are essentially breathing in art and design at every turn. Unlike modern American homes where paintings are usually self-contained and serve as secondary decorations, Old World European walls, ceilings, floors, doors, and carved furnishings all drip with artistic splendor. At ancient sites, even the floors were adorned in richly layered mosaics that illustrated mythological stories. Nothing, it seemed, was purely utilitarian. Instead, every aspect of design served as a celebration of aesthetic and philosophical values.
Being exposed to different conceptions of art and decoration has helped me to approach furniture and design projects in novel ways. Not everything can or should be purchased in a store. There is something to be said about adding a handpainted touch to your walls or transforming a discarded vintage chair into an artful statement piece. A home should nurture us and sustain us as we grow and play out the great memories of our lives. "Living artfully," as I like to say, is born from my belief that art is not something that should be relegated to just a framed picture on your wall, but is rather a way of living and being in all areas of our lives.
You tend to look for hidden gems of design and reimagine them for a contemporary look. How do you spot these "diamonds in the rough," and how do you transform them?
In order to create, one must be able to access an inner sense of "wonder." For me, this was cultivated in my youth and helped me to expand my interests in art, design, and furniture. I grew up in a home with parents who collected books, antiques, and were themselves passionate about art and history. They often went on weekend road trips and brought back prized pieces that they found hidden in some dark barn. Sometimes I would accompany them on these trips. I never knew what kind of oddities I was going to find and it felt like an exciting adventure. My father, an orthopedic surgeon by day, is pretty handy himself and he would often salvage discarded furniture from dumpsters, have them cleaned up and repaired. For him this might have been a kind of extension of what he did with the broken bones of his patients!
Growing up in a home surrounded by pieces that were truly "alive" and treasured taught me a valuable lesson about seeing the potential in what most people discard. It is this trait that has helped me to create some of my most interesting furniture pieces. I take great pleasure in finding unusual shapes and forms and transforming them into standout pieces. It's very easy to go to a store and pick out what's presented, but more rewarding to source the various materials needed to create something unique and expressive. I've found that the key to spotting an overlooked gem is to see beyond its current state. The fabrics, the finishes, can all be changed, while the bones of a piece remain. When updated, a vintage silhouette can tell a design story that is simultaneously timeless and fresh.
Do you ever have to push clients to see the potential in a given piece, beyond what they're able to see at first glance? How do you get them to understand your vision?
I will go to great lengths to show a client the potential in a vintage piece. Sometimes it requires bringing it inside a client's home so they can see how it synergizes with their decor. Other times it requires you to spell out all the coordinating pieces in a room so they can see the full picture. When working with people, passion is paramount and patience is key. A client brings you into their home because they recognize that you may see things in ways they can't at first.
I find that people do respond to exuberance and want to learn how to see things with wonder. They want to learn how to create a space that tells a story and brings joy but dont always know where to begin. Color, pattern, and texture touches on areas that are deeply emotional for people. I see it as a privilege to help people expand their understanding of the various components that go into design so that we can arrive at solutions together. I've also learned to listen to the psychological needs of clients which helps me to constantly refine my own approach. The key to any creative growth is to keep an open mind and learn from everyone.
You're an artist and also have your own artisan workshop, providing all kinds of services to clients. How did you launch this element of your business, and how does it intersect with your furniture?
Necessity, as they say, is the mother of invention. Twenty years ago, after graduating the University of Pennsylvania, I really was at a loss as to how to carve out a successful creative life. There is a certain kind of overconfidence of youth that can be helpful when taking one's first steps out into the world. The determination to make this happen taught me one of the best lessons of creative living. More than talent, one must have an ability to "hustle." Never turn down an opportunity to try something new or an invitation to social engagements outside your norm. You never know who you're going to meet in new places. My earliest job out of college was in retail furniture. I started out in the back office but quickly moved out front to help customers navigate the myriad fabric and furniture choices available. I learned from this experience that connecting with people emotionally was an integral part of how I would conduct business going forward.
After leaving this job I decided to go back to my painting roots and started SULTANCHIC, as a decorative arts company. Having picked up invaluable design and people skills at my previous job, I felt confident entering people's homes and making visual suggestions. Thereafter I lived on ladders and scaffolds—plastering, stenciling and gilding peoples walls, ceilings, and moldings. To an artist, a home is essentially a blank canvas with endless potential.
Between painting projects I would refinish furniture pieces I had found or picked up on my travels. Eventually the sense of color and pattern I brought to my clients walls made their way into these furniture creations. At a certain point I realized I had a very specific design point of view that informed all parts of my creative process. A dear friend and early art teacher of mine told me to embrace the confluence of my artisan and furniture work. Over time, the natural idiosyncrasy of my unique life experience would imprint itself in a variety of creative ventures. This in turn, he said, would lead me to create coherent and mature bodies of work.
Over the past several years and more ardently through the pandemic, I decided to merge my experiences with color, pattern, and texture and create a portfolio of fine art paintings, many of which can be purchased via Chairish. These works feel like a natural extension of all that came before. They embody the cheerful colorful sensibility that is SULTANCHIC. Each one is a labor of love and a piece of my soul. I cannot wait for them to find their happy forever homes.
How have you managed sourcing, particularly during the pandemic? Has that shifted more recently, and how so?
I was fairly fortunate to not run into any sourcing issues during the pandemic. For the past ten years I have accumulated an abundance of fabric and furniture pieces. My SULTANCHIC warehouse was thus overflowing with more pieces than I had time to actualize. In particular, I had a large quantity of vintage casepieces—chests, credenzas, coffee tables, desks that I promised myself I would refinish if I ever got the time! Sure enough, that time did arrive. During the spring of 2020, I set up a production line of furniture and slowly and methodically transformed each one from drab to fab! Some of these pieces, in particular the upholstered desks and resin coffee tables, I had envisioned years before and I was excited to finally bring to fruition.
Have you seen more customers coming through digital methods like Chairish? Do you see that having an effect on how designers shop for vintage, in particular?
Oh yes. Chairish is an invaluable treasure trove for designers and lay people alike. The site is so user-friendly and comprehensive. What took people weeks and months to find through an enormous amount of legwork can now be discovered from the comfort of one's home, virtually instantaneously. Sites like Chairish serve both customers and small business alike by doing away with distance as an impediment. Chairish's ability to liaison between buyers and sellers is a critical component of a successful sale and a satisfied customer.
What types of pieces do you see moving these days? What are the patterns in terms of what's selling right now?
As Chairish continues to grow in sophistication, I find that customers respond by being bolder in their purchases. Acquiring vintage furniture online has become much easier than ever before. Policies that give customers more flexibility when buying, streamlined shipping services, and attentive customer service give people the confidence they need to make decisions. That being said, I do find that the shift in work life habits necessitated by the pandemic has led to an uptick in some sectors. In particular shelving and desk purchases. People who are now working primarily from home are in search of desks that can fulfill their core needs. However, rather than opt for the purely utilitarian desks that populate their work offices, they are more willing to invest in a desk that exhibits more personal flair. The home office space has now become a critical part of many homes and apartments alike. That trend is here to stay as more and more in-person jobs go virtual.
Do you see any upcoming trends in terms of what's next for the design world? What types of pieces do you hope to be stocking soon?
Most of us were stuck home during the pandemic and we reevaluated how we live in our spaces. People became much more aware of how color and pattern affected their moods. I found that many were willing to take color risks and move beyond the default white and grey interiors that have become popular in recent years. SULTANCHIC has advocated for unabashed color and pattern since its founding. However, for those who want a more subdued interior, I believe adding a playful accent chair can be a way to give a room personality without overwhelming the senses. I intend to continue to be a source for artful one-of-a-kind pieces that will bring a daily smile to your face as well as a sense of wonderment to your guests.
Are there any styles or trends you'd like to see disappear in the design world right now?
I believe we live in a big world and there is room for every design trend to coexist. The essence of democratic values is that the best ideas will emerge from a competitive pool of different points of view. Design evolves from the merging of disparate ideas. Each generation can look at previous trends with fresh eyes and put their own stamps on it. The best design, in my opinion, is when various pieces from different eras coexist in one space in conversation with each other.
Who are some of your favorite makers or designers, in terms of your own inspirations?
Some of my favorite designers include Renzo Mongiardino, Martyn Lawrence Bullard, and Kelly Wearstler. Each of these designers embrace a layered eclectic approach to design while paying attention to proportion, balance, and rhythm. Renzo's experience in theatrical and film design influenced his fearless and richly nuanced interiors. Luxurious fabrics, objects, sculptured panels, and the use of trompe-l'oeil painting techniques transformed his spaces into masterpieces of escapism. Bullard's spaces similarly have a transportive quality. They are unabashedly glamorous and yet adventurously exotic. Bullard's use of ethnic objects, fabrics, and furniture he finds on his travels lends his spaces a sophisticated global sensibility. Wearstler's eye for artful statement pieces, uninhibited color, and quirky objects make her interiors stand out from the crowd. Her spaces are simultaneously playful and elegant. Her signature style has single handedly changed the way we all envision the boutique hotel experience.
Each of these master designers have taught me to be fearless in my own design sensibility. SULTANCHIC embraces unusual juxtapositions of color, pattern, and shape. Each piece I find or create has the potential to be a sumptuous feast for the senses.
Finally, what's a dream piece you'd love to have yourself?
A Fornasetti secretary desk or commode. Similarly to me, Piero Fornasetti was a painter, decorative artist, and designer. His furniture pieces are supremely refined and playful. They achieve everything SULTANCHIC aspires towards. His graphic black-and-white pieces exhibit dreamlike motifs and imaginary architectural scenes. In honor of his legacy, SULTANCHIC has created a one-of-a-kind Fornasetti-inspired sofa for sale via Chairish. For this extraordinary theatrical piece, I paired a turn-of-the-century Victorian sofa with an original vintage black-and-white fabric of historical nudes. This piece is striking in its detail and workmanship including snakeskin seating, piping, and channeling.
I dream of owning many historical pieces. However, as an artist and designer, I feel blessed to be able to create pieces that stand in conversation with what came before. I thank the Chairish audience for continuing to support SULTANCHIC and for your enthusiasm for our unique take on furniture design.