Dreaming of a beautiful bedside? Picture-perfect nightstands don't need to be the things of reverie. In fact, once you've committed to nightstands that take a decorative stance (and cleared off less-than-aesthetic clutter), you're halfway there. Add just two or three items — and a personal pledge to keep LaCroix cans and business cards at bay — you're well on your way to nightstands that impress! To get you inspired, we've collected a delightful edit of nightstands that dial up the bedside drama. Read on to see how designers curate the most dreamy bedside settings.
What Can You Put on a Nightstand?
While it's all up to personal preference, integrating one or two of the below items can make your nightstand as functional as it is eye-catching. 
Lamp
If you have room for only one item on your nightstand, consider making it a lamp. Even if your bedroom has overhead lighting, it likely emits a light that's too bright or too harsh for pre-bed, wind-down rituals like reading. Lamps can lend your room more ambiance, plus, they tend to be tall — and as any designer will tell you, height is an essential element in any vignette, bedside or not. 
Catchall
Whether it's a place to drop jewelry or permanently store your earbuds or keys, a catchall or decorative bowl can add function and style to your nightstand. Choose a bowl that's in scale with your nightstand, and if you feel like it needs a bit more presence, try pedestaling it on a few books. If you've ever admired glass bowls from makers like Murano, Lalique, or Orrefors, but wondered what to do with them, the answer is — this! 
Tray
If you have nighttime necessities like eyeglasses, water carafes, and eye creams, a tray can help bring order to them so they don't feel like a disarray of clutter. If you have a nightstand with a shelf, outfitting it with a tray is an especially smart move. It's an easy way to lend a shelf a design element without having to invest in several other pieces of decor. Whether you toss in-progress books on it, cosmetics, or a handbag, it will make everything look pulled-together and polished. 
Clock
Yes, your phone tells time, but there's something about the charm of an old-fashioned clock that can't be denied. If you're looking for a unique object to put on your nightstand that's also functional in a pinch, a clock might be it. Look for stone designs as well as collectible Mid-Century Modern designs from makers like George Nelson. 
Photo Frames
Often overlooked, but oh-so fitting in a place where you start and end your day are photo frames filled with personal photos. Since most nightstands only have space for a single photo, choose a frame with some visual heft. A stone frame with a weighted base, or heavy braided glass frame can lend a single photo some well–needed visual presence.  
Vase
You'll rarely see a nightstand devoid of fresh flowers. Whether it's a few knockout blooms or a foraged nosegay, an organic element can break up a nightstand's hard angles. Keep a vase on hand to pop blooms in whenever you pick some up from the store or happen across some beauties the garden. 
How to Style
Go with a unique table
One way to make sure your nightstand truly shines? Choose a nightstand that's anything but ordinary. Since nightstands tend to be fairly boxy by nature, consider searching for a side table rather than a textbook nightstand. So long as your table measures between 24-30 inches high, it should function fine as a nightstand. 
Mismatch them
A nightstand set may look neat and orderly, but matching nightstands can make a bedroom feel a bit predictable. To shake up the usual bedroom routine, consider complementary nightstands rather than sets. To pull off the look, opt for nightstands in similar colors or styles. Your nightstands don't need to be perfect height matches, either. Artwork hung above both nightstands at equal heights can give the illusion your tables are the same height, even if they aren't.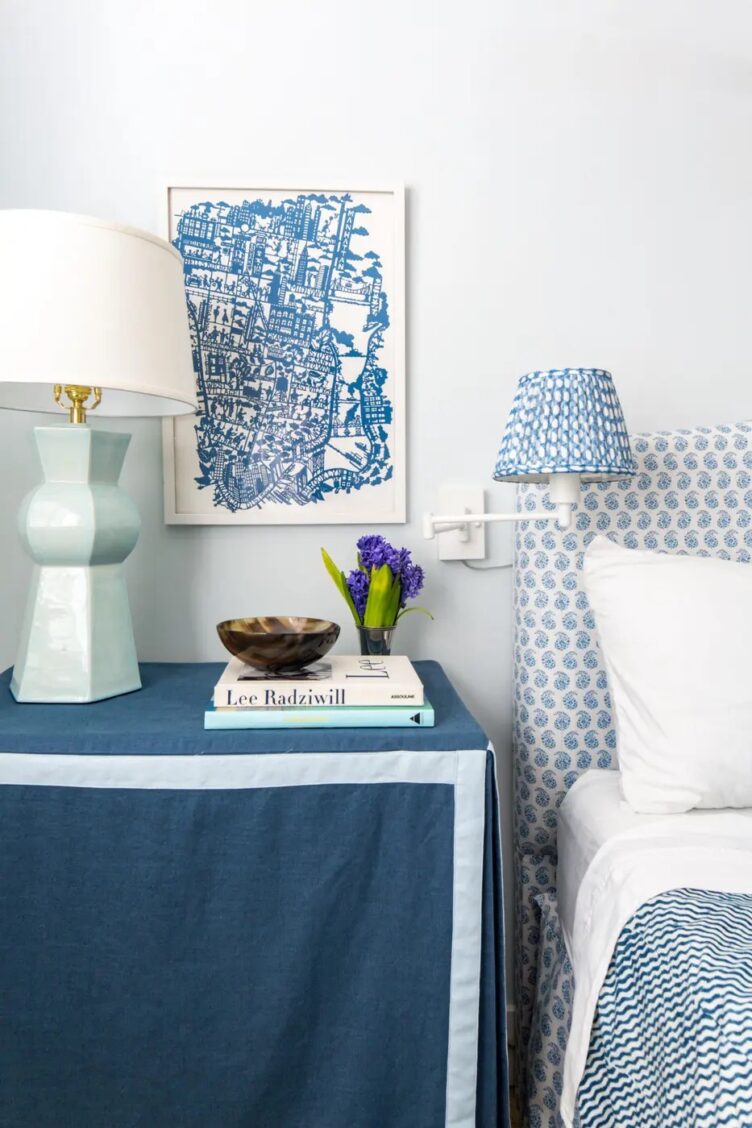 Skirt it
Trying to teach an old nightstand new tricks? If so, consider draping it in a skirt. A custom-made fabric skirt is a perfect way to tie nightstands into your bedding and evoke a soft, layered look. If your nightstand has drawers, make sure your skirt is tailored with split seams to make them easily accessible. 
Go Minimalist
There's no rule that says your nightstand needs to be laden with decor. In fact, opting for a nearly bare nightstand can make an impactful statement as well. To pull off the look, opt for a nightstand that has a reduced surface area to begin with. To eliminate the need for a lamp, rig up a sconce over your nightstand. When it comes to decorating your nightstand itself, consider crowning it with a single piece of sculptural decor that can hold its own in the center. Doing so leaves empty space around the edges for holding over a book or pair of eyeglasses if needed. 
Make it a desk
Short on space? If so, transform one of your nightstands into a desk area. Whether you're trying to work a workspace into a kid's room, guest room, or primary bedroom, the area adjacent next to a bed is premium space. In general, you want to select a small writing desk for the task — nothing much bigger than a large-size nightstand. Outfit it in a few functional but decorative accessories — lamps, boxes, books — and, if you can, forgo an office chair for a piece with some sculptural clout. A sculptural chair will help your bedside desk read more like art installation than workspace, which in turn, will help keep your bedroom feeling restful, not stressful.
Lead photo design by Becky Nielsen / Photo by Marisa Vitale