Are you afraid of the dark? You might not be, but a dimly-lit room is still unlikely to garner much joy. Whether you have a room that's afflicted with shadows because of a lack of windows or allover wood paneling, dark digs can drag the spirit down. If you're looking for remedies, we've collected tips to help. Read on for tricks from a panel of experts who are pros at shooing out the shadows and turning dreary rooms into dreamy ones.
Work a Reflective Surface
One of the easiest ways to lighten and brighten a dark room is to integrate reflective surfaces. Capable of catching and refracting even the most minimal of rays, reflective surfaces will create an illustrious glow. Don't limit yourself to obvious reflective surfaces like mirrors, either. Think outside of the box and incorporate lacquered surfaces, including lacquered walls. If you're hesitant to go all in on shiny walls, consider outfitting just the ceiling, or selecting a flooring material with a sheen. In a kitchen, tile with a glossy finish can also do the trick. Even more to-the-point? "Appliances," says Hilton Head Island, South Carolina firm J. Banks Design. "Stainless steel appliances can brighten a kitchen since they bounce light in multiple directions."
Shade Lightly
If you have windows, don't cloak them in yards of heavy fabric. Instead, keep them as underdressed as possible. "Remove heavy curtains or replace them with window treatments that allow light to filter through while providing privacy," says the architectural and interior firm, Searl Lamaster Howe of Chicago. "Sheer curtains, blinds, or shades can all be easily adjusted, making them great options when you're trying to control the amount of light entering a room." If you're looking to let in a maximum amount of light, using roller shades or blinds, in particular, might be your best bet. Many can be retracted almost entirely from a window's frame, resulting in an optimal amount of light pouring in. Want to maintain some sunlight even when your window treatments are closed? Try rolling bamboo or natural wood shades. These shades, in particular, are ideal for diffusing direct sun without eclipsing it entirely. The looser the weft of the shade, the more light it'll let in.    
Maximize Light with a Mirror
Just like a mirror will make a room with petite proportions look loads larger, a mirror can also amplify light. To get the most mileage out of a mirror light-wise, place it directly across from your natural light source. In the absence of a natural light source, this can also be pulled off with an artificifal light source like a table lamp or floor lamp. If a small wall mirror is all you can work in, by all means, go for it, but keep in mind that the larger your mirror, the more light it will bounce back. In an especially dark room, try an oversized floor mirror in a grand arched style such as a Louis Philippe mirror. It might go without saying, but avoid mirrors that favor thick frames and a smaller glass area. Less glass will diminish a mirror's light-throwing capacity.
Layer Your Lighting
When you really need to bust shadows, don't mess around: break out the artificial lighting. In dark rooms, "incorporate a layered lighting design that includes a mix of ambient, task, and accent lighting," says the firm Searl Lamaster Howe, who recommends considering ceiling fixtures, floor lamps, table lamps, and wall sconces to strategically to brighten up dark corners. You can also wield the power of recessed lighting if you're dealing with a particularly dungeon-like space. Since they can be placed anywhere in the ceiling, there's no better way to spread consistent light across a large windowless area like a basement. One more tip? "Consider using full-spectrum or daylight bulbs in fixtures," says the firm — they'll more closely mimic natural light. 
Declutter and Create Flow
While often overlooked, furniture is capable of blocking light if placed in the wrong area. When designing a room with low light, avoid pushing large pieces of furniture in front of a window. Even if only a portion of a sofa or credenza will interfere with a window, it can still impact your room's overall illumination. Elsewhere in your room, arrange furniture to ensure an open flow. This maximizes light penetration, says Searl Lamaster Howe. In line with this, you may want to avoid large, blocky furniture in heavy-looking finishes like dark wood, wrought iron, or dark-colored upholsteries. Instead, consider furniture with less imposing silhouettes. Since it often showcases open weave-work and has a bit of a gossamer finish, bamboo or rattan furniture is an excellent option.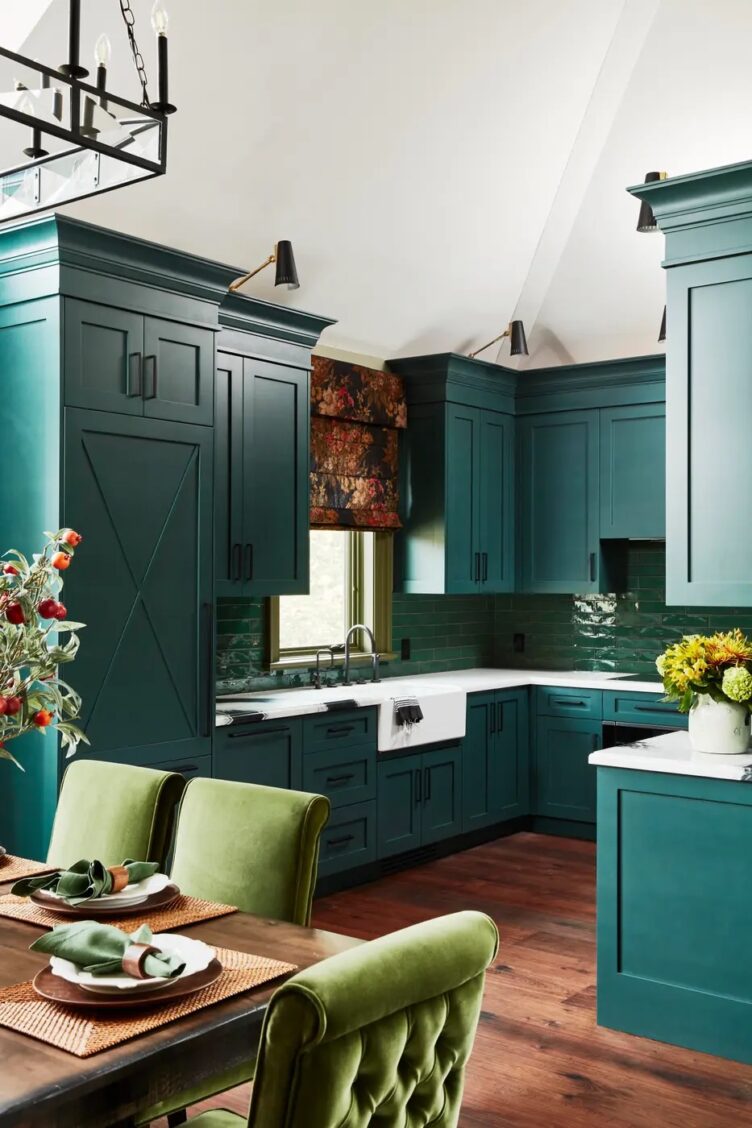 Bring in Greenery
A hint of green in the form of living plants can do wonderful things for a dark room. Similar to how shiny surfaces will usher in a luminous quality by reflecting light, so too will plant leaves. Choose a plant with large, high-sheen leaves such as a fiddle leaf fig or rubber plant to make the biggest impact. Palms, with their glossy fronds are also a great choice. But perhaps best suited for the endevor is a snake plant. In addition to their lustrous stake-like leaves, they also thrive in exceptionally low light. 
Lead image design by Searl Lamaster Howe / Photo by Petra Ford Photography