Thanks to the style's skyrocketing popularity, the act of procuring Mid-Century Modern furniture has become part sport, part art. Scouring the web; combing through secondhand shops; frequenting flea markets — it's all part of the game to locate MCM's heavy hitters. (Think Arne Jacobsen, George Nelson, and the Eameses.) Although no one can deny the thrill of the hunt, it shouldn't take crisscrossing the earth to snag a good find. That's why we rounded up some places to find Mid-Century Modern furnishings below. Makes search your search as sleek and smooth as the furniture itself!
What is Mid-Century Modern Style Furniture?
While many styles pack on the embellishments (we're looking at you Rococo!), Mid-Century Modern strips back. Simplification forced designers of the era were to contend with fundamental questions about form and function — how do you create an austere piece that doesn't drift into banality? These musings merged with the philosophies of the post-war era, resulting in furniture that was comfortable, lightweight, and attainable.
Clean, curved lines, tapered legs, and organic shapes define Mid-Century Modernism. With the host of new materials that arrived after WWII, including plywood, fiberglass, and plastic, designers were able to experiment like never before. Despite these state-of-the-art additions, Mid-Century Modern furniture still used natural materials. Furnishings from the era frequently incorporate mixed material structure — teak with fiberglass, slate with chrome! Space Age and Pop Art influence, led to MCM furniture adopting bright, single-tone hues.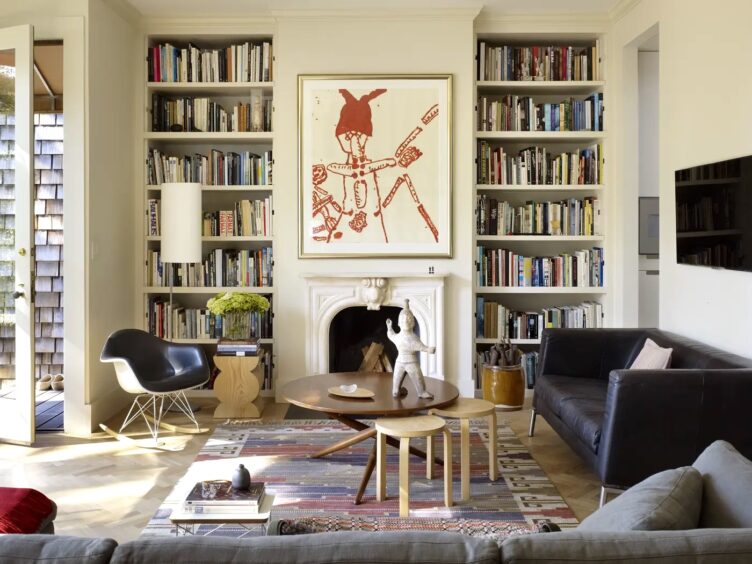 Turn to the OGs
To find prime Mid-Century pieces, go direct to the source. Manufacturers like Knoll and Herman Miller were manufacturing pioneers and they still dominate the market today. With iconic pieces like Mies Van der Rohe's Barcelona chair, Eero Saarinen's tulip table, and the Herman Miller Aeron chair in their arsenal, these companies' pedigrees are no question. While these iconic designs can be pricey, if you're searching for an authentic classic, why not splurge?
Explore Big Box Retailers
Aiming for that sleek, Mid-Century Modern look, but don't necessarily need an original piece? Luckily for you, contemporary brands also sell plenty of MCM-inspired furnishings (and for a fraction of the price!). West Elm, for instance, boasts a variety of Mid-Century style seating, casegoods, and decor. Similarly, CB2 — Crate and Barrel's more modern sister brand — also sells mixed material chairs and desks sans drawers (in typical MCM fashion). Hailing from one of the pioneering sites of Mid-Century Modernism, Scandinavia's IKEA is also a good place to find pieces.
Consult Online Marketplaces
e-commerce sites like ebay, Craigslist, Offerup, and Facebook Marketplace often carry mid-century gems. These online marketplaces allow you to set your location parameters to sort only local dealers' inventory. Of course, consumer-to-consumer online shopping comes with caveats. Beware of scams that either don't deliver the promised product or simply pocket payment. A couple ways to protect yourself; document everything (details about the item, serial numbers, etc.) and always arrange for a tracking number, if shipping. Also, never pay for an item in advance and only use the platform's official channels, cash, or online payment systems like PayPal. Pro tip: For PayPal, never select friends and family payment option. This invalidates your ability to get a refund!
Google Search Smartly
Say all you want about the internet, but outfitted with the right search terms, Google can rival a veteran hound dog. To unlock vintage gems, use words from the mid-century era. For example, search for "sideboards," "buffets," or "hutches" instead of "dresser." "Consoles," "rocking chairs," and "lounge chairs" are also mainstays of the style that are worth Googling, Binging, Yahooing… you get the idea.
Consider yourself an old-school, IRL shopper? While connecting face-to-face with purveyors is amazing, also consider websites (like Chairish!), which offer generous return policies and ample protections. Plus, it's easier to compare prices online. When you've set your sights on a piece, search the web for the same item to see if the one you're considering. Here at Chairish, we have the Chairish Pink Book which allows you to browse sold versions of the item you're interested in.
Go On a Treasure Hunt
In truth, there's nothing like the excitement of finding a prize piece at an antique store or flea market. Not only is shopping in-person a great way to connect with local vendors, but you can also serendipitously score treasures that might not available on the net. Although antique stores are amazingly curated and vetted, find more affordable options at thrift stores and estate and garage sales. Also, never shy away from negotiating price!
Lead image: Design by Annie Santulli Designs / Photo by Robert Brantely Photography