Sometimes you stumble across a home that just demands an extra dose of focus and attention to really take it all in. Courtney Madden, the fearless force behind the Chairish shop and Instagram account, Cocollected has created one such home in League City, Texas. From the Brutalist chandelier in the entry to the bookcases stocked full of Nemadji vases, each room requires a double take (and triple takes). It's not surprising that most visitors liken Courtney's home to a museum. "If I had a dollar for every time I heard that," she muses. Little do they know that the space began as the polar opposite from a museum—a carpenter-grade tract home. Turning a cookie cutter home into a chic collector's treasury was a labor of sweat, trial and error, and whole lot of thrifting. Ahead, see how Courtney created her own personal Louvre in the mini.
SHOP COCOLLECTED ON CHAIRISH >>
Readying The Canvas
When asked what her house looked like on move-in day six years ago, Courtney has one word: beige. "Every wall in the house was the same horrible beige color," she says. Being a first-time homeowner along with husband Michael and their three kiddos, Courtney dove into decorating the way all of her friends were. "I bought stuff at Hobby Lobby and Kirklands and I decorated the whole house. Then one day I looked around and I was like, 'I hate this. This is not me; I'm going to start over.'" Out went the old decor, in came one-of-a-kind finds, and the walls received a crisp coat of white paint. Next up, she tackled the carpet. Rather than opt for new flooring, she ripped up the carpet to expose the concrete subfloor, the perfect neutral base for showcasing Courtney's treasures.

Electric Eclectic
As a lifelong collector, Courtney has assumed a fearless mantra when it comes to collecting: if you like it, don't fight it. Over the years, her finds have grown to include an antique barley leg foyer table and desk, a Charles Hollis Jones-style acrylic chair, and a Ligne Roset Togo chair discovered on Chairish, mixing modern pieces and antiques with abandon. "I like putting old things next to new things because it really brings out the unique qualities of each piece," she says. "I never want to have too much of any one style."

Pages Of Inspiration
With no formal design background, Courtney turned to her collection of design books to help her map out her vision. "I would say that I look at them every single day," she says. "Because I haven't had the ability to travel for most of my life—I've always had young kids—I feel like looking at books is an escape and a way to see so many inspiring things. One of my favorite things to do is to drink wine on my sofa at night and look at design books. I'll see one idea in a book and think, 'That would be kind of cool if I did my own version of that.'" Some of her favorites titles include American Originals by William Abranowicz and Zander Abranowicz, Domestic Art: Curated Interiors by Holly Moore, and Susanna Salk's, It's the Little Things.
On Display
The built-in bookshelves and custom cabinetry in the office off the entry was not original to the house. It was a brush with disaster that finally prompted Courtney to splurge on the carpentry. "When Hurricane Harvey hit, I just had all my books stacked on the floor. I had no shelves," she says. "When the water started coming in the house, the first thing I wanted to save was the books." After the waters had receded, Courtney met with a contractor to have built-ins installed. First to fill the new shelves? Her books, of course, followed by her hundred-plus wooden box collection.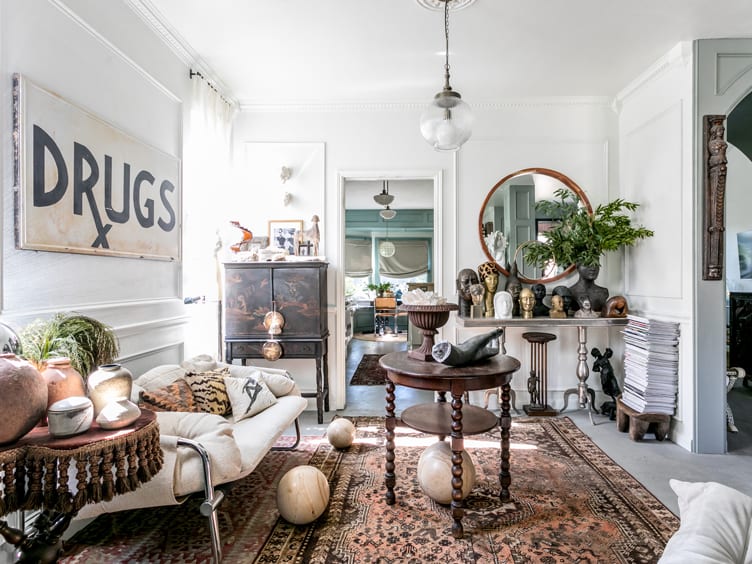 Homegrown Art
Among the ideas Courtney's translated from the page to IRL is the Drugs sign that hangs on the wall of the living room. "I've always wanted one of those lit marquee signs—you know, one of those old pharmacy signs from the twenties, but they're like six thousand dollars," she says. "I knew I needed to come up with something different. I found a porcelain table top at an antique store and thought, 'I'm going to paint 'Drugs' on that myself.'" The sign, which Courtney's holding tight to for now despite a never-ending landslide of offers, has since come to serve as the home's unofficial icon—a reminder of all that can be done with a little inspiration and some elbow grease.
A Gathering Place
At its core, Courtney's home is a family home. And while it may look different from any other house on the block, the nucleus is the same: the kitchen."It's where we eat every meal. Where my kids tell us about their day, do their homework and draw—sometimes on the table." To make the kitchen annex functional, Courtney had her contractor install window seats. A coat of Sherwin William's "Jasper Stone" jazzes things up, while a rustic antique table and a duo of Cesca chairs completes the arrangement. The result is a laid-back area that caters to family time but doesn't feel like too much of a departure from the rest of the home.
Doing It Her Way
Following Hurricane Harvey, Courtney decided to remodel the master bath and give the master bedroom a mini-spruce up (she has a lot more planned for the space). For the palette, she went rogue, selecting a deep forest green hue. Her inspiration for the color? Green threading that she noticed running through the crystal slab she'd selected for her bathroom vanity. "It changed my entire direction, to be honest" she says. Conventional? Not really, but that's the beauty of Courtney's home. When asked what advice she'd give to homeowners, she says, "Over the past few years I spent a lot of time questioning, should I be doing this? Nobody else has this. And my advice would be not to listen to anyone. If you have an idea in your head, go for it. That's what people want to see, anyway. People want to see you being and doing you."
All photos by Sarah Natsumi Moore