The best part about running a vintage business out of your home? "The house is always ready for a photoshoot!" says Jennifer Maxcy, the creative force behind The Ranch Uncommon, a design and style site (and Chairish dealer!) dedicated to sourcing rustic-cool vintage finds.
Based out of Newbury Park, California, a picturesque canyon-land located 45-minutes north of L.A., The Ranch Uncommon developed organically alongside Jennifer's own move from L.A. (where she'd previously spent 10+ years as a casting director) and the renovation of her 1959 Post and Beam ranch house. As the house's renovation progressed, and Jennifer's interest in vintage grew, she began to envision the ranch house as not just a home for her and her husband, but a blank slate in which she could stage and photograph her vintage inventory.
Fast forward six years, and Jennifer's home is an airy Southern California vision, complete with soaring, exposed beam ceilings, whitewashed walls and rustic plank floors. Nowadays, Jennifer routinely photographs her vintage finds in her home and posts them on Instagram, much to the thrill of her ever-growing audience (warning: her feed is majorly addictive). We recently sat down with Jennifer to get the lowdown on the Ranch Uncommon, including her top places for sourcing vintage, and her tips for nailing that Insta-worthy, California casual look we can't get enough of!
Can you tell us a little more about how you got started, and how the name "The Ranch Uncommon" came to be? 
The Ranch Uncommon unfolded as we purchased a 1959 fixer and began implementing changes that were not typical for a home in this type of rural setting. While the exterior is characteristic of a rustic and dusty horse property set in a canyon of oak trees, the interior offers a light, bright and unexpected contrast upon entering. While we we're doing the home's reno, I was establishing more of an online presence with my business and decided that both our home and business could be more tightly intertwined. Now, I am able to curate goods and use our home as a "set" to display vintage finds, showcasing them in the space until they find permanent homes.
How would you describe your personal aesthetic?
I am obsessed with so many interior styles that it has never been an option for me to settle and apply just one! I've had to create an individual aesthetic using my love of vintage goods, and without it looking thrifty or cluttered. What appeals to me are things that are handcrafted, including those things that are irregular or unusual or textured. Given the simplicity of my home, natural elements such as wood, leather, pottery and woven baskets has turned out to be the right equation for me. The challenge then becomes to edit and enjoy the pieces in clean, somewhat minimalist setting, so each one can have its special moment.
Where are your go-to places for scouting vintage?
I tend to shop everywhere everyone else does: swap meets, thrift stores, etc. The difference may be that I feel my eye gravitates to what others may pass up. Since I like so many styles, it's important to stay consistent with my personal aesthetic, but I also keep an eye out for pieces I can see complementing other items in my inventory.  When I travel to small towns, I love to see what the locals are inspired by and what they are creating. A small town hardware or antique shop is always on my list to scout.
Tell us about a "Eureka!" moment you've had while scouting vintage.
I lucked out with our current sofa. I searched high and low for a streamlined leather sofa for our small space. I tried to stay within a budget and wanted vintage, but came SO close to buying something new, as we got tired of sitting on the floor! But then this Mid-Century sofa came along. It was recovered with leather in the 70's, so it was basically vintage "new" when I found it. Things are worth the wait, and Chairish is such a wonderful resource; they make it easy to search for that something special!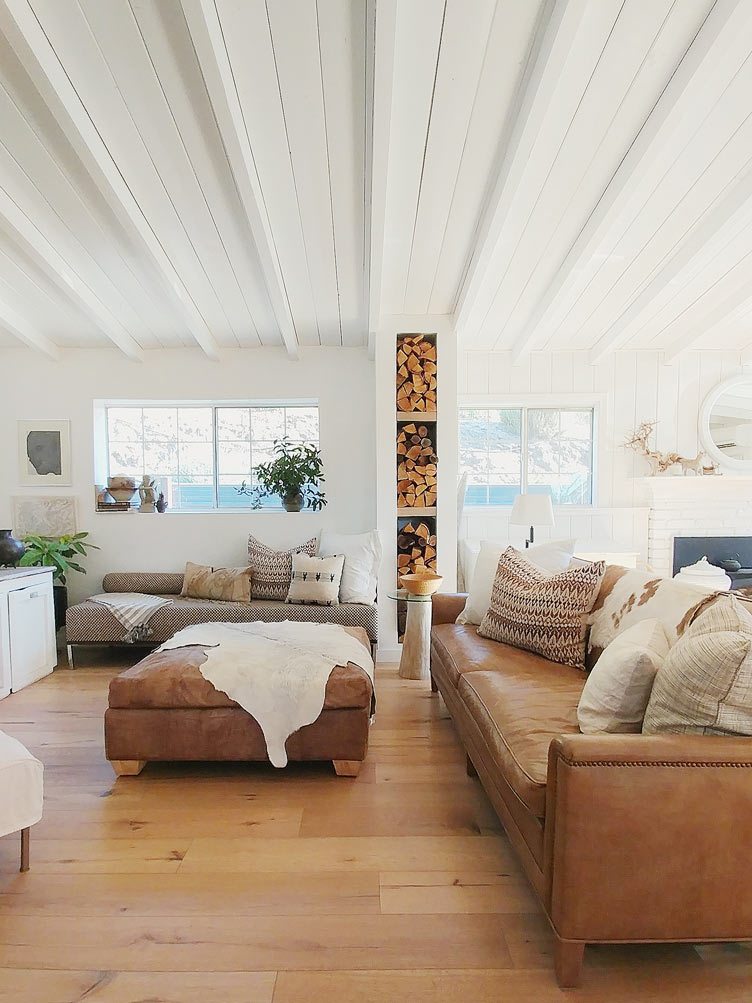 Pulling from the items you currently have listed on Chairish, what items are you most excited about?
Where do I start, things tend to move pretty fast. Right now I have a huge hand-printed textile wall hanging that I love and a whimsical nautical portrait I can see in a coastal home. Nothing in a space creates more impact than one large scale piece of art that's having "its moment."
What was the one item you bought with the intention to sell, but in the end, couldn't part with? 
Oh there's a few…..but my kitchen island was a piece I actually had displayed in my brick and mortar shop years back. I never stuck a price tag on it, as if that would detour people from noticing/asking about it. Finally, when it was time to choose an island for our kitchen remodel, this island was such a perfect fit that I couldn't imagine using any other piece, so surely it was meant to be!
You have a drop-dead gorgeous Instagram! What are your best tips for styling photos for optimum "likes"?
Thank you! I have a lot of smaller "moments" in the house, but it's the overalls of the space that people love to see. The ceilings in the space are quite unusual, as all the open beams rest on two posts in the house—hence the style of home: "Post and Beam." And even though it's a smaller home I tend to buy big items that trick the eye with scale. Sharing the potential in an 1,143 square-foot home with people has been petty rewarding. The feedback from followers is amazing; they love learning simple tips and design tricks to implement in their own small spaces.
Your interiors are airy, California-living perfection! Any tips for someone trying to achieve the look?
White paint and warm wood floors currently seem to be a staple here on the West Coast, so starting with a clean palate to highlight any architecture in the space would be a start. Whether you're in an apartment or a castle, a room needs layers and dimension to create interest. In my home, I achieve that with texture, by contrasting surfaces like rustic wood with sleeker elements.
For anyone wanting to start selling vintage, what should they know before they get going?
Defining your own personal home style is important. I know I fail when I buy what I "think" others will want as opposed to buying what I like for myself.
SHOP THE RANCH UNCOMMON'S CHAIRISH SHOP>>
Lead photo courtesy of DACHA Interiors. All other photos courtesy of Jennifer Maxcy.