Known for her chic European-inspired interiors, designer Shelley Johnstone creates spaces that are at once elegant and approachable. There's a sense of timelessness in her work but also one of freshness — a boldly striped wallpaper, a brightly upholstered chair, or a lacquered wall, for instance. The Chicago-based designer even opened a design studio and retail showroom four years ago, enabling her to bring her inimitable style to a wider audience. Below, get to know Shelley Johnstone's work and design ethos and be sure to shop her curated collection of favorites on Chairish.
On Your Work…
First and foremost, how would you describe your personal design style?
I strive to create fresh, curated, and timeless spaces for my clients to live in and enjoy.
You trained at the Inchbald School of Design in London. How do you think a British education influenced the way you look at design?
I have long been inspired by the way the Europeans curate a room — layered and interesting — and the attention to all of the bespoke details, down to the beautiful drapery treatments, paint finishes, trims, and classic architecture.
You've done work all across the US as well as in the UK. How does geography influence your design projects, and how do you feel they differ from place to place?
We always design with respect to our surroundings and the clients' wants and needs, and there is always a marriage between the indoor and outdoor. In a Florida project, we will use more linens and block prints, versus more cashmeres, velvets, and a warmer palette in the Midwest, while maintaining our signature aesthetic.
Thinking about some of your favorite projects, what commonalities do they tend to have? Do you find there's a through-line to the work that most appeals to you?
We are very detail-oriented and love our crisp white moldings. We keep that consistent throughout all of our projects, as well as creating a cohesive flow from room to room.
You opened your own design studio and retail showroom in Lake Forest in 2017… tell us a bit about that.
Our first priority was to have a working design studio, and it was a bonus to have the showroom included, providing people with a taste of our design style. We curate the showroom with all of our favorite finds, so it is very special to be able to shop our own showroom for our projects.
What has your experience been like designing for different showhouses, particularly the Lake Forest Showhouse?
I have done seven Lake Forest Showhouses, and each one has been an incredible honor. It is an amazing board working tirelessly for a great cause.
On Chairish & Vintage Shopping…
What do you find most compelling about Chairish?
Chairish is a go-to source for that perfect piece to help with our curated and layered style. We love how the site has anything from casegoods to small accessories.
Are there any dream vintage/antique "gets" you wish you could have? What's a dream piece for you?
A dream piece for me is an original T. H. Robsjohn-Gibbings Klismos chair.
What are three of your favorite pieces on Chairish now?
I love this Vintage Plaster Serge Roche Style Console Table; this set of Klismos Chairs; and this Early 19th Century Chippendale Gilt Mirror.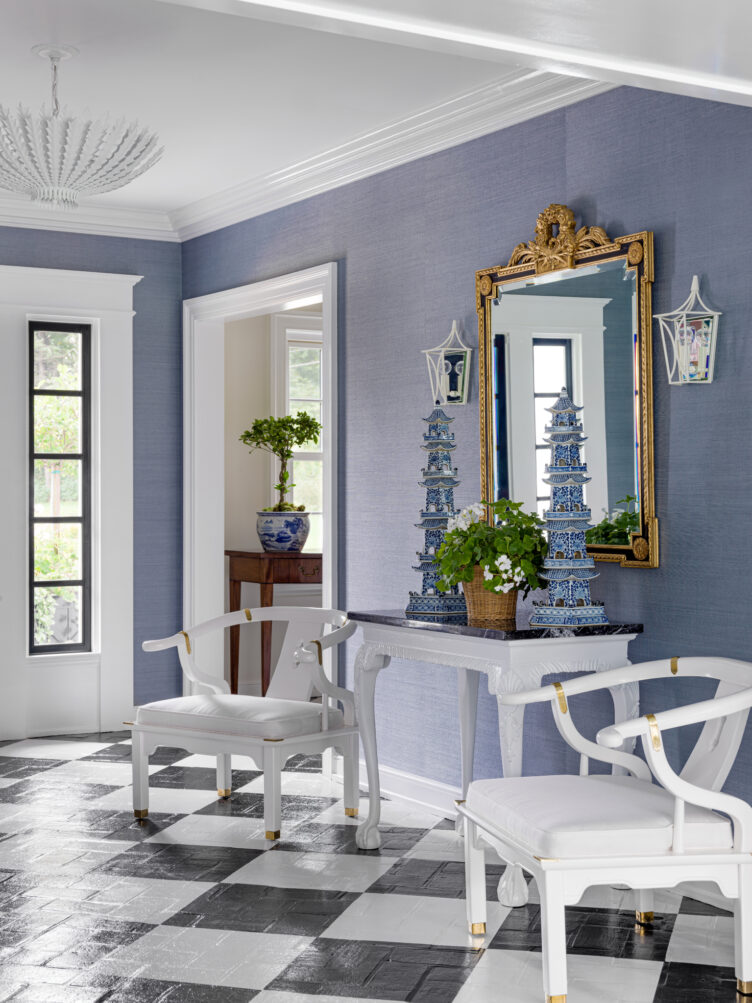 A Few Design Favorites…
Favorite way to create a statement-making moment in a room:
I love adding a large-scale photograph, hand-painted wallpaper, or lacquered walls or ceiling to create a statement in a room.
Favorite decorating "cheap thrill:"
I love when a client has their own personal photographs that we can enlarge and put in a fabulous frame. It is truly a special and priceless memory.
Favorite iconic piece of vintage design:
I love a Giacometti table and Klismos chairs.
Favorite paint color:
My favorite color is Benjamin Moore 2107-10, Chocolate Candy Brown. I have used this color for my home office for over 20 years. Of course, it's lacquered.
Favorite designer or artist from the past you most often turn to for inspiration:
Favorite style icon:
Slim Keith, Babe Paley, and Jackie Kennedy in her casual Capri photographs
Design destination every creative should visit at least once:
Capri
Best piece of career advice you've ever received:
Stay my truest, authentic self, while always being kind and working hard.
A Few Lifestyle Favorites…
Favorite vacation destination (the next time travel becomes an option):
Morocco or India
Favorite hotel that's inspired your work while traveling:
Hotel La Scalinatella in Capri, Italy
Favorite restaurant:
Le Colonial
Favorite small museum:
Musée Jacquemart-André in Paris and Neue Galerie in New York
Favorite podcast:
I've enjoyed listening to Paloma Contreras's podcast, The Style Files: Conversations with Creatives
Favorite Instagram accounts to follow:
@thelsd, @jennyroseinnes, and @lafontelinacapri
Favorite hostess (or thank you) gift:
A pretty picture frame with memorable photo
Favorite flower:
Peonies and hellebores
Favorite adult beverage:
Chai tea latte
Favorite way to unwind at home:
Sitting outside in the garden or pool house listening to music and surrounded by family
Favorite entertaining essential:
Special guests sitting around a pretty table
Lead image by Max Kim-Bee