Paloma Contreras has done it all in her design career, in addition to working as, well, a designer: she's been a blogger, a site director, a store owner, a marketing director, a product designer, and an author (to name but a few). In fact, her second book, The New Classic Home, comes out on October 24th. She's become well known for her fresh takes on traditional tastes, her playful use of color, and her bright, beguiling designs. She's also a passionate lover of vintage and antique pieces in her work, blending old with new in creative, charming ways.
We sat down with Paloma to discuss the evolution of her career and aesthetic, her favorite places to design, her personal process for finding the perfect antiques, and much more. See what she had to say below, and be sure to shop a cut of her favorites, including her elegant lighting for Visual Comfort.
First things first… how did you launch your career in design?
I guess you could say it started when I began writing my blog, La Dolce Vita, in 2007. While I shuttered it a couple of years ago now, it really opened a lot of doors for me in the design world. Over the course of the past 15 years, I've embarked on a unique path that has afforded me insight into various facets of the design industry, including a couple of years as director of marketing for Visual Comfort. Ten years ago, in 2013, I launched my design firm. My retail store, Paloma & Co, opened in 2019. Over the last decade, I've had the good fortune of working on projects throughout the country and I've written two books. My newest, The New Classic Home, will be released on October 24th!
Congratulations on the book! Tell us about it… What's it about, and how did it come into being?
Since writing my first book, Dream Design Live, I have had the opportunity to truly hone my design eye. The thing that stands out in my work, regardless of how different the vibe is from one project to the next, is the use of both classic and contemporary pieces to create fresh, seamless, timeless interiors. This led me to analyze how that could be accomplished in a tangible way for the reader in my new book, The New Classic Home, from traditional to contemporary, tropical glamour to coastal chic, and everything in between.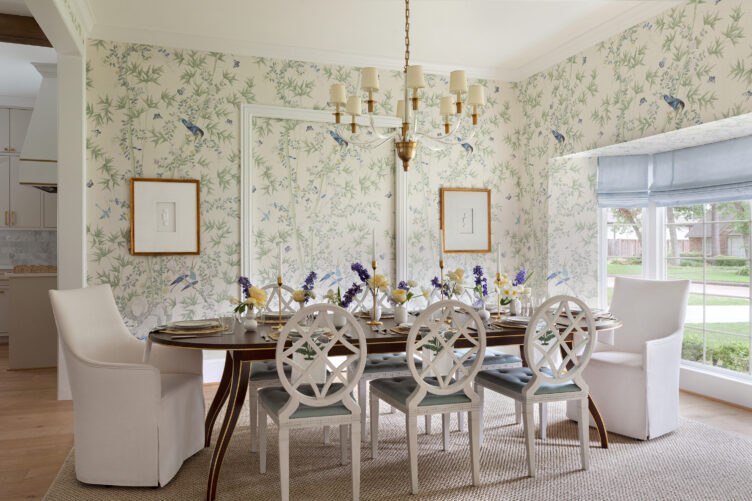 How would you describe your aesthetic? Has it evolved over the years since you started out as a designer?
I usually describe my style as a modern-meets-traditional aesthetic. Everything I do is rooted in the classics, but I love to mix periods and styles to create spaces that are timeless and beautifully layered while maintaining a bit of restraint. Over the years, I've certainly refined my aesthetic even further and have a very innate understanding of how it translates into someone's home.
How do you like to incorporate vintage and antique finds into your work?
No home is complete without vintage and antique pieces. They add a sense of patina, depth, and personality that you just can't get from new items. I love using antique case pieces such as Louis XVII commodes, antique mahogany dining tables, mid-century French and Italian rattan, and French bergère chairs.
We love your lighting line with Visual Comfort. How do you develop your designs, and what are some of your inspirations behind the pieces?
Thank you! Lighting is one of my favorite design elements, so it's been a dream come true to work on my collection for Visual Comfort. I am very inspired by travel. I am always looking at details and motifs and thinking about how they might translate into something else. I sought to design lighting that was at once sculptural and statement-making while remaining very versatile. You'll find a play on shapes, be it concave spheres or conical shades, all executed in a beautiful range of finishes.
You've designed in places all across the country, from your homebase in Houston to the Northeast, Florida… everywhere, really. Do you have a favorite place to design, and what makes a project particularly special to you?
I love working in a variety of locales and with different architects. It keeps my job interesting and challenging in a good way. I will always be partial to neoclassical houses, especially Georgian and Regency revivals, so the South has my heart. I especially love the houses in Atlanta and in Palm Beach, which are two of my favorite places to work outside of my hometown.
Finally, what would be a dream project for you and why? What's something you would just absolutely love to design?
I would love the opportunity to collaborate with some of my favorite architects someday—Gil Schafer, Bories & Shearon, Stan Dixon. I'd love to do a fabulous new, "old" house or a historic renovation with any of these guys. I love to travel and would also love to design a hotel one day. As a designer, I am not only designing interiors for my clients, but in a sense, the ultimate experience of how they interact with their homes in the day to day. I would imagine hotel design to be similar but on a whole different scale and level. If you think about your favorite hotel and why you love it, so many of those details are crafted by the designer.
On Chairish & Vintage Shopping
What do you find most compelling about Chairish?
I love having such an expansive pool of amazing vintage, antique, and one-of-a-kind items at my fingertips. You can scour the world in search of the perfect piece from your computer.
How does sustainability factor into your design choices and love of vintage?
I've always said that vintage and antiques are a great way to go green! You are creating less waste in the world and, in most cases, can end up with things that are of higher quality than their contemporary counterparts.
Are there any dream vintage/antique "gets" you wish you could have?
There is the most divine Jacques Adnet commode with hand-stitched leather brass faux bamboo legs at Serpette at the Puces in Paris that I have been lusting after since last summer. I was just there again in July and it hasn't sold yet, so I stopped to say hello. It comes with a major price tag, but it is beyond fabulous.
What are three of your favorite pieces on Chairish now?
I love this charming citrus tree by The Green Vase; this fabulous Italian bamboo and brass chest from the 1970s; and this pretty vintage Indian Dhurrie rug.
Some Design Favorites
Favorite way to create a statement-making moment in a room:
Great lighting
Favorite decorating "cheap thrill:"
Favorite iconic piece of vintage design:
Frances Elkins Loop Chairs—Mrs. Elkins' version originated in the 1930s, though it's said that her original inspiration was a pair of chairs dating back to the 1770s. It goes to show that good design never goes out of style.
Favorite paint color:
Benjamin Moore White Dove—my go-to shade of white that goes with everything and looks good in just about any light. I surround myself with it because white walls help me to think creatively (though they aren't all I live with!). My home, design studio, and store are all painted this color.
Favorite piece of decor in your home:
A 19th-century inlaid French commode that I bought on my very first antiquing trip
Favorite designer or artist from the past you most often turn to for inspiration:
Billy Baldwin
Favorite style icon:
From the Past: Lee Radziwill. Current: Lauren Santo Domingo
Design destination every creative should visit at least once:
Paris
Best piece of career advice you've ever received:
Hire for your weaknesses.
Some Lifestyle Favorites
Favorite vacation destination:
Los Cabos
Favorite hotel that's inspired your work while traveling:
JK Place in Paris
Favorite restaurant:
Tiny's No. 5 is our go-to spot in our neighborhood!
Favorite small museum:
Favorite podcast:
The Chairish Podcast with Michael Boodro, of course!
Favorite hostess (or thank you) gift:
A box of Louis Sherry chocolates or a SOH candle from Paloma & Co
Favorite flower:
Pink peonies
Favorite adult beverage:
A spicy margarita on the rocks
Favorite way to unwind at home:
Being silly with my two-year-old daughter, Margot
Favorite entertaining essential:
A great playlist
All photos by Aimée Mazzenga