If the kitchen is the heart of the home, the living room gets our vote as the soul. It's where all the cozying, chatting, and cocktails go down, and where your design voice is on full display. And no matter if you think your living room is the hottest thing going or you're ready to break up with every stick of furniture, it's never a bad idea to ponder new living room design ideas. From laid-back luxe to haute bohemian to insanely urbane chic, we've gathered spaces that ooze individuality and are sure to spark something fabulous and new.
Classically Au Courant
Designer Sarah Vaile has a way of giving trad a bit of a lift, thanks in part to her contrast-loving aesthetic. "I love a bold black and white pattern," she admits. But her other secret weapon in this marvelous medley of a living room is the injection of something wildly fun amidst the tailored silhouettes. "We can't get enough of animals. They just add such whimsy and personality to a room, whether as a table base, accessory, or pattern on a pillow." Like Sarah, we're mad about animalia.
Ingeniously Chic
In his Birmingham home, the artist William Rankin McLure IV created a chic haven, minus the big budget. In his living room, an inexpensive, low-slung sofa gets an elegant slipcover upgrade, and a mid-century chair (found on Chairish) faces off with an antique chaise longue spotted in his Instagram feed. But the room's two grounding elements are both a divine bit of decorating ingenuity: an oversized coffee table he asked his carpenter to craft and William has actively "aged" for the patina he loves, and two sisal rugs he sewed together himself to achieve the floor coverage he craved.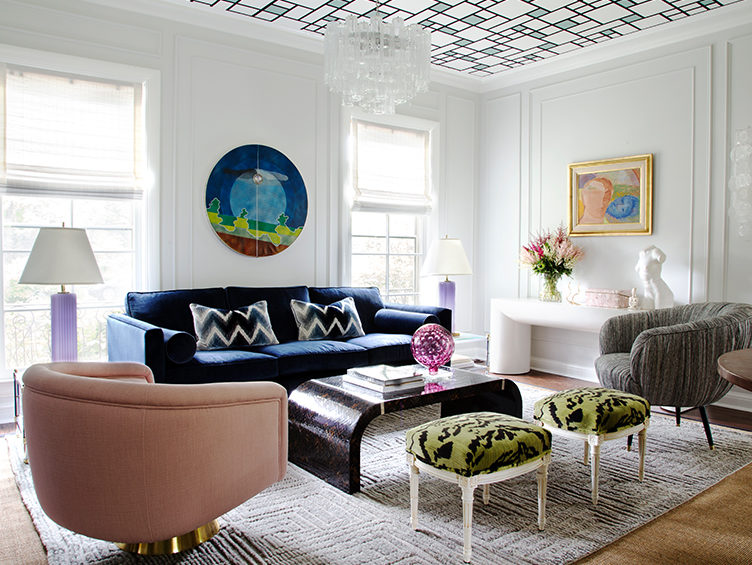 Modern Moxie
By treating every room as an opportunity for a bit of wham, glam, thank you ma'am, designer Summer Thorton knows how to whip up a memorable space, and this living room is no exception. "It's about finding the right balance of what feels different and new, but still has enough familiarity and classicism not to feel jarring," she says. White walls and molding meet dashes of modernity: curved silhouettes, bold bursts of color, and a Mondrian-inspired wallpaper on the ceiling. A pair of Louis stools and a tailored sofa ground the space in familiar territory, but a green tiger print and inky blue velvet electrify the classic shapes.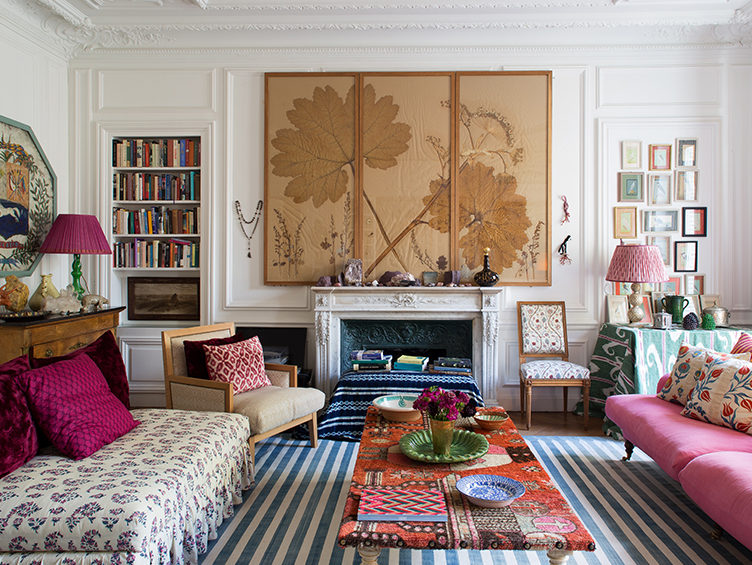 Haute Bohemian
With pattern, texture, and color aplenty, this living room epitomizes the alluring joie de vivre of the haute bohemian look, something we've been behind for quite some time. Worldly textiles, including kantha quilts and swaths of ikat, take center stage, lending the room its well-traveled spirit. A pair of patterned, pleated lamp shades and a hint of paisley inject even more charm into this beautiful, bon vivant dream.  
Artistic License
There is so much to adore about the offbeat gravitas of artist Angela Chrusciaki Blehm's living room in her Gainesville, Georgia home. The Chairish seller and collaborator played with scale and color to lend pizazz, with a striking pair of screens drawing the eye to her fantastico wall sculpture that hangs above a petite sofa. And rather than rely on layering to foster depth, she leans into intriguing shapes to do the talking. "I'm just looking for those odd, offbeat pieces that will really do double duty on serving their purpose—like a chair that you can sit in, but it's also something beautiful to look at."
Earthy Elegance
"I like to come into a room that's cool and quiet and restful and peaceful," says April Gargiulo, founder of Vintner's Daughter, the cult line of skincare with a devoted celeb following. The living room of her San Francisco home is awash in neutrals and features quietly iconic designs. "I like the organic, more grounded side of modern, but I have a soft spot for more exuberant Italian designers like Ettore Sottsass and Gio Ponti." Despite the design pedigree of some of the pieces, touches like a pouf that urges you to curl up around the coffee table add a welcoming warmth.
Charming Rebel
Designed by Chloe Warner of Redmond Aldrich Design, this living room is a pick-me-up for the senses, packing in so many raucous decorating moves and yet somehow managing to be downright pretty. We love the smashing wallpaper, funky furniture mix, totally unexpected lighting choice, and of course, the healthy dose of vintage. "Vintage pieces are essential," says Chloe. "Without them projects have a slick retail vibe that I can't stand." A stance that lends this living room copious soul.