Those familiar with Garance Doré's tell-all-style musings know that the Atelier Doré creative director, illustrator, and fashion sartorialist has never shied away from a challenge. So last year when Garance—fresh off her cross-country move from NYC to L.A.—stumbled across a Venice Beach newbuild lacking character, she wasn't detoured. Instead, she took the plunge and enlisted interior designer Sarah Sherman Samuels (of Mandy Moore remodel fame) to give the house a major overhaul. The result is a house that's pure Garance. "It's feminine, sensual, comfortable, warm, elegant, but not too precious! It's totally me," she says. Go inside Garance's chic L.A. pad and shop her collection of Chairish favorites, perfect for getting the look!
L.A. Lady
A native of the French island of Corsica, Garance had previously done stints in Paris and New York prior to settling in Los Angeles. For Garance, the move to L.A. was fueled by the desire for a slower pace of life and a return to her beachside roots (aka: a total New York City-detox). "Living in Los Angeles is a state of mind," she says. "To me, that state of mind is ease. I can't remember the last time I wore heels! But there is still understated elegance." Establishing that same ethos in her home was imperative to Garance. "It was all about striking that perfect balance between ease, peace, and elegance." Ever the style scout, Garance knew partnering with Sarah, a longtime Angelino, was the way to go. With her taste for using pastels as neutrals, her fondness for pop art-inspired shapes, and bohemian touches, Sarah's style is literally L.A. in a bottle.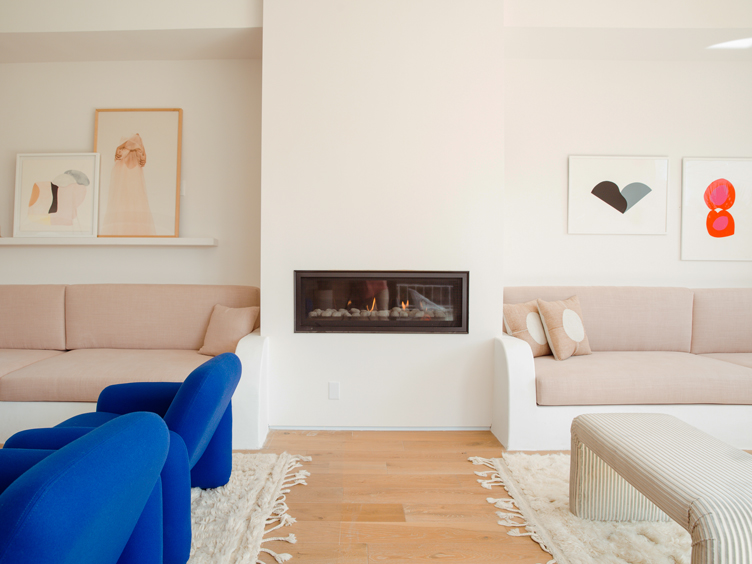 A Dynamic Duo
Given her line of work, it's no surprise that Garance was overwhelmed with home inspiration from the get-go. "Let's be honest," she says, "I follow a million design accounts on Instagram!" Among the things that first drew Garance to Sarah was the designer's keen ability to pare down her ideas. "Collaborating with people you trust does wonders," says Garance. "I had ideas and we adopted them, but when I said I wanted a ton of color Sarah stuck to her vision. Now I see she was right. I love the quietness of the ensemble—and I got my few color pops!" Another area where the two style-setters connected? Budget. "I didn't want my house to look 'expensive,'" says Garance. Rather, she wanted the home to evoke "homey-ness, comfortableness; with pieces you can actually touch." To fit the need, Sarah concocted a mix of custom built-ins, vintage, and big box store buys.

Favoring Original Finds
Given her quest for a character-filled home, vintage decor was an obvious choice for Garance. In the living room, Sarah sourced a floor-skimming Milo Baughman burlwood coffee table from Chairish to anchor the room. When asked what drew her to the piece, Garance says, "It is big, sturdy, and precious at the same time. It's chic, but it's not a piece that you see EVERYWHERE. I wanted to stay away from pieces that you see in every home." Other pieces you won't see in every home? The vintage hanging basket egg chair (also from Chairish) and the cobalt-covered pair of Herman Miller Chairs—"Sarah's concession to my love of color!" When paired with the custom built-in sofas designed by Sarah, the living room's vibe is distinctively eclectic, warm, with just a touch of surf shack chic.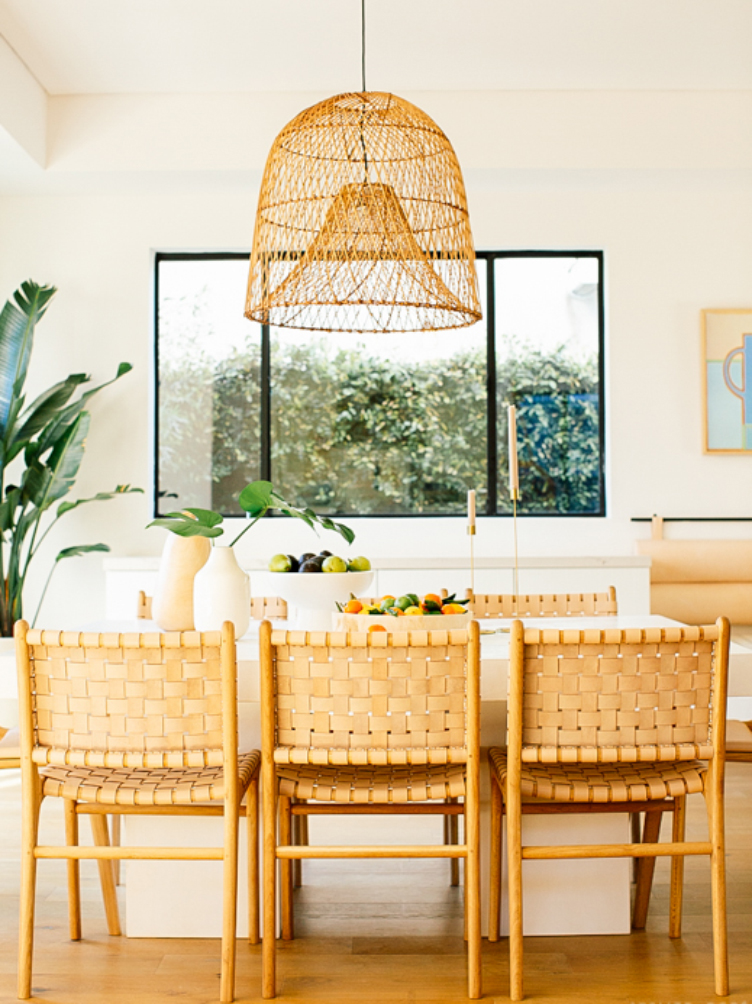 C'est l'heure de la Fête!
While Garance is no stranger to entertaining—"I threw a lot of parties in my 20s, wrecked a few apartments"—her remodel completely switched up her hosting routine. "I'm having a lot of family dinners at home," she says of her post-remodel life. "The redo changed everything, from the level of comfort to the deliciousness of the food. My friend of eight years came over the other day and said, 'Wow your cooking is SO GOOD… And it's the first time you've cooked for me.' I guess I was waiting for the right place, the real home, to get back in the kitchen." As for Garance's entertaining advice? "Keep cooking when people arrive and start by hanging out around the island. Good wine, good food, good conversation. Get here when you can, bring what you like, cook with me if you want, or do nothing and just bring your awesome self!"
A House To Call Home
L.A. may have been uncharted territory for Garance not long ago, but these days there's no question it's home. "I love that people can stay with me and not feel stressed about it. The house is big and everyone can do their life! I want to be the 'Venice Hotel' for my close friends and my family," she says. When asked about her favorite features in the new home, Garance is quick to single out the built-in sofas in the living room, saying, "They say something like 'here to stay,' which I love." Whether it's a hint that this one-time wayfarer may be ready to put down permanent roots or not, it's clear that there's no place Garance would rather be these days than home.
Garance's L.A. Hit List
Eat
"Jon and Vinny's on Fairfax!"
Stay
"I like the Surfrider in Malibu"
Visit
"The galleries downtown."
Do
"I think a Venice beach bike ride is a must."
Shop
"I mostly buy my vintage online. I've never been to the Rose Bowl — it's too early — but my friends love it!"

> (opens in a new tab)">SHOP GARANCE DORE'S CHAIRISH FAVORITES >>
Lead photo by Kate Berry