Elsie Green is the definition of a designer's best-kept secret. Tucked away in a nondescript block of warehouses in Concord, California, the shop itself is difficult to find, but it is oh-so worth the trek. A constant resource for top interior designers, stylists and lifestyle bloggers around the country, the store's received accolades from the likes of Traditional Home and Vogue.
Picture a warehouse with vintage treasures sourced from France and Morocco and you'll get some sense of the magic owners Laurie and JP Furber have created, thanks to several sourcing trips a year. Not only are the goods gorgeous, every single corner and surface is expertly arranged into picture-perfect vignettes, from their copper pots and pans hanging in the kitchenware area, to their effortlessly styled 'living room.' In addition to being an expert in sourcing vintage and antique finds, Laurie is also an interior designer and stylist.
We asked her for some tips on picking the best of vintage, where she finds inspiration, and her styling recipe for those perfect vignettes.
How did Elsie Green come to be?
"After many years of working for large specialty retailers, my husband and I both felt it was time to slow down a little and get back to what drew us to retail in the first place; we wanted to be shopkeepers again. So Elsie Green was born."  
Where does the name come from?
"We wanted a name that gave the feeling of a shop with a proprietor who takes special pride in choosing the items in the shop and giving great service. Because that is what we are. So we chose the first two letters of my name (L and C) for the first name, and chose Green because of our sustainable ethos."
Give us a glimpse into your shopping schedule for the year.
"We travel to Europe three or four times a year. In March we visited Lyon, Avignon, Marseilles and Paris.  In June we'll visit Lyon, Marrakech, and Switzerland. Then in November, who knows? We like to keep it kind of loose so we can adapt to new ideas."
How do you approach buying for the shop?
"We arrive with a shopping list, but always have our eyes open for fun new things that we think our customers will love. Also, we buy what we love. There's nothing in the shop I wouldn't have in my own home. We find that when we are excited about the merchandise, our customers get excited about it too."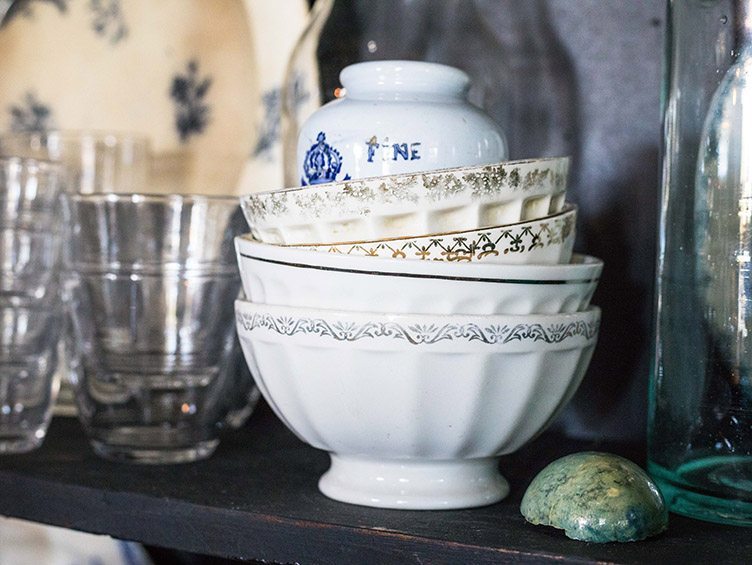 How does your work translate into the way you live and entertain?
"Our house is basically a laboratory for the shop. If we're thinking about introducing organic linen pillows with brass zippers, we'll make up a few samples and live with them for a while, then perfect the design.  And I'm always experimenting with the coffee table in the living room. Right now it's a vintage farm table that's been cut down to coffee table height. But it's been a door on stacks of books, a French military cot, a cluster of little stumps, a big moroccan tray. Every time I hit upon something I like, I send it back over to the shop.
As for entertaining, the European lifestyle has influenced us quite a bit. Rather than worry too much about the details, we tidy up, put a chicken in the oven, toss a salad, light about 100 votives and turn down the lights. Et voila! A chic dinner party that lasts as long as the wine and aperitifs last."
Do you have any signature items you've become known for?
"Most certainly our vintage flatware is one of our signatures. Several restaurants in the Bay Area use it for their service and we have seen many collections started in our shop or in our stand at the Alameda Flea Market."
Where do you find continued inspiration?
"When we travel, we make a point of visiting some local places and our European friends' homes to see vintage pieces as they're used in real life. French boutique hotels, restaurants, shops and cafes are all great sources of inspiration." 
What's a find you just couldn't bring yourself to part with?
"I found a pair of black Otto Wagner bentwood armchairs in a very dark and dingy shop in Prague. I circled back to them so many times before deciding to buy them. Then when the container arrived and I saw them again, I put them right into the car to take them home. They are the perfect addition to the ends of the 10-foot long farm table in my kitchen. I think in the back of my mind I knew they were never going to make it to the shop."  
What's a "pinch me" moment you've had as a business?
"Every time we travel to Europe we have that moment. We can't believe we get to do this for a living."
How does sustainability play into how you run your business?
"Our original concept for the business was to fill the gap in the market for a sustainable line of home decor that was neither too rustic, nor too modern. We've shifted more and more toward vintage as the business has developed, but we still take great pride in being as much about what we don't sell as we are about what we do sell. Everything in the shop is vintage, made by small makers, or made from sustainable materials. Of course we know that everything we do has an impact, but we try to have as little impact as possible in all the decisions we make."
What's on your mood board this season?
"There's a black-on-black kitchen concept that we are thinking about installing in the front of the shop, so all our tears lately are black tile, black painted wood, shiny nickel hardware, cement sinks, and collections of vintage stoneware."
5 Tips for Styling a Picture-Perfect Vignette
Laurie filled us in on her top tips for creating her effortless vignettes throughout her shop, as well as in her interior design projects.
1. Find Common Ground
"I think a common element really helps: a mix of patterns in shades of blue is always nice. I also feel that mixing in some modern elements helps balance out the vintage. If you are using blue willow china, then add a Spanish wine glass and some simple vases with fig branches for contrast."
2. The Art of Stacking
"I like to create visual blocks: stacks of white china, towers of linens for softness, big baskets for texture. Then I fill up the baskets with little things you need to store, but don't necessarily want to display."
3. Colorcode
"Choose a color palette and work within it. I tend to look at objects in terms of their color rather than their shape: there's nothing more chic than a collection of black stoneware in every shape imaginable all lined up on a shelf."
4. Embrace Asymmetry and Contrast
"Follow the rule of three. The elements in your vignette should be in odd numbers. Don't be afraid of asymmetry and always throw in something more modern looking for contrast. I love rules – but I also love breaking them!"
5. It's All in the Details
"A lesson from my mom: always singe the wicks of your candles so they don't look brand new. Stay true to the vintage look, even in small details like this!"
SHOP ELSIE GREEN ON CHAIRISH >>
All photos by Poppy Lynch