Founded nearly 40 years ago, Replacements is perhaps the most perfectly named company in the design world. Created by founder Bob Page in 1981, the firm started small and with a simple mission: to offer china and crystal replacements on a one-off basis. These "replacements" were of vital importance to serious collectors and casual homeowners alike, giving them an opportunity to replace individual pieces that were either broken, lost, or no longer in production. The company filled a very necessary void in the industry quickly, and today they offer an astounding 450,000 patterns from over 500 suppliers around the world.
To get a sense of how tableware has evolved in recent years and what's coming next, we spoke with Julie Robbins, a designer at Replacements. See what she had to say about how people are setting their tables now (in an era of no guests), how pieces are doing double duty on the table, and why punchbowls can be just about anything.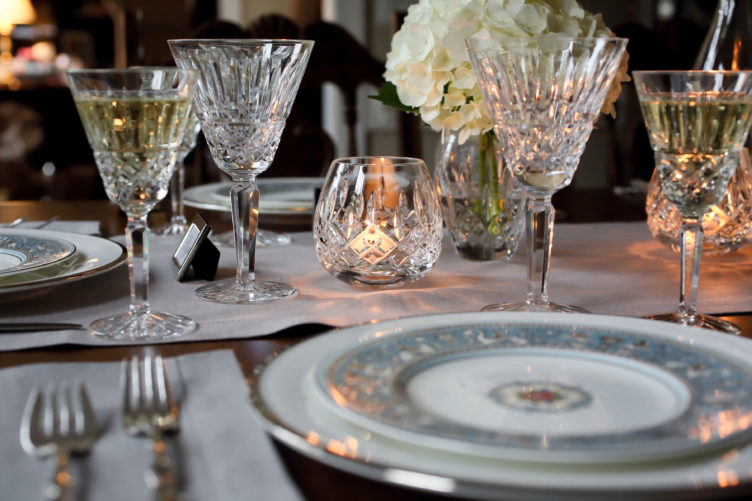 We've all been having more meals at home this year, naturally. What are some ways to elevate at-home dining without being too formal for regular meals?
Well, we believe there's no such thing as a "regular" meal when it's shared with the people you love. Some of life's most meaningful moments happen at the table, year round, so we suggest using the good stuff for every meal — whether you're having a special holiday feast or quick weeknight takeout.
Setting the mood with plates, napkins, flatware, placemats, and a simple centerpiece says "you matter" without adding stiff formality. Using real tableware is also way more sustainable than the disposable stuff, which is always good. Remember to be present — turn off the TV and put your devices away (excepting virtual dinner guests) — so you can fully enjoy the food and conversation.
On the other side of things, how should people best prepare for special occasions? What are some ways to make those meals stand apart, when we are able to spend time together?
For truly special occasions we recommend using pieces with great stories. The gravy boat that's been in your family for generations, that century-old sterling tray you snagged at an estate sale, the glassware you remember from childhood — all make great conversation starters. Place cards, small favors, and personal touches also make guests feel welcome and special. Although tradition is important, don't be afraid to make each gathering its own unique experience. Pair unexpected patterns, add a new color, or invent a theme with a special group of plates or linens.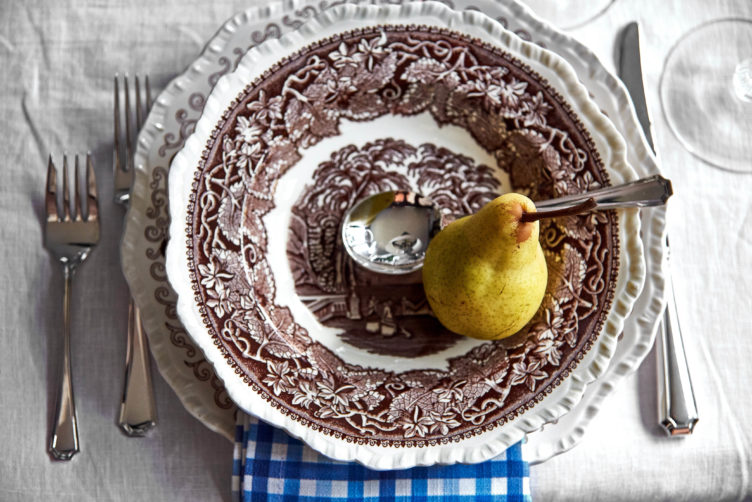 What kinds of trends have you seen this year in terms of the pieces that are most in demand now? Which styles are gaining the most traction?
We see interest in simple, durable earth-toned casuals, which follows an industry-wide trend for tableware. They're soothing, seasonless, and stress-free. We've also seen an uptick in brightly colored solids and patterns intended for mixing and matching. For many people, a cheery, playful approach is the perfect tonic for the moment.
What do you think dining will look like in 2021? How have you been preparing for what the coming year may hold?
Casual dinnerware has grown more popular in 2020 — a trend that will likely continue into the coming year. But even casual dining can be special, and people will continue to explore new options to improve home dining and entertaining experiences. Welcoming friends and family into our homes for a meal is why we love to set beautiful, inviting tables. Hopefully, we'll soon be welcoming everyone back, and celebrations will be all the more special.
These days, many tabletop items have to serve double duty, for different purposes. Are there any particularly creative combinations you've seen in terms of how items for the table are used?
Egg cups are a fun way to organize pushpins, paper clips, and other small desk supplies for your home workspace. We've seen toast racks (a popular turn-of-the-century breakfast table piece) now used as depositories for smartphones, which is a great way to organize a charging station — and also a funny reminder that mealtime is actual face time. Punchbowls are everything. Need an over-the-top centerpiece? Punchbowl. Looking to chill multiple wine bottles or beer? Punchbowl. Does your tiny Christmas tree require a fancy base? Punchbowl. (We've heard you can even use them for punch.)
What are some tips you'd have for more casual collectors who are looking to enhance the pieces they own?
Look for a common shape, color, or theme to guide you. Experiment and play, and you'll be amazed at the combinations you'll find. Enjoy your pieces. Use them often and keep them visible. Plate walls are a great way to show off a collection. Quality dinnerware is like art, so a beautiful piece can shine in any part of the home. If you're looking to expand your collection, searching for additional pieces by the same company or time period can help you find pieces in a similar style.
Are there any types of pieces you see designers gravitating toward? What are members of the trade usually looking for?
Our designers each have their own sense of style, but when they come to us they're looking for things they can't find anywhere else: pieces with a rich history, over-the-top luxury, and rare designs all draw designers to our warehouse. Key patterns, fabric samples, inspirational images, and even movies have served as guides to help us realize a designer's vision.
What's one piece of advice every host or hostess should keep in mind when selecting tabletop items for their homes?
Home is where you're totally free to be yourself and personalize every element to suit your style. So collect, enjoy, and use what YOU love. If you're worried about something getting broken or lost… well, that's what Replacements is for.
Lead image: Design by Jacob-Lukas Design
All images courtesy of Replacements