Known for his ebullient use of color, his clever ways of catching the eye, and his legendary entertaining exploits, Ken Fulk might not be the first designer in mind to take on a 17th-century estate in the South of France. But look closely and you'll see the signature elements that have made him so celebrated: lush, pattern-rich upholstery, a true sense of place, and lovingly selected antiques and vintage finds (with just the right dollop of whimsy included). Set on 100 acres in Provence, Domaine de la Cavalière is home to tasty organic wines, olive oils and produce, and—our favorite, of course—some seriously chic design.
We spoke with Fulk about how he got involved in the project, the things he loves about Provencal style, and what American farmhouse design can adopt from the French way of doing things. See what he had to say, and be sure to shop his uber-inventive curation of one-of-a-kind finds, only on Chairish.
Tell us a bit about Domaine de la Cavalière. How did you first get involved with the project, and what excited you about it?
We were vacationing in Provence with dear friends and longtime clients when we heard about this wonderful property that might be available for sale. Hugh Jackman was apparently staying there, and while he was out for the afternoon, we were able to sneak in for a quick visit. Needless to say, everyone fell in love and the journey began.
What are your favorite elements of Provencal style? Do you incorporate pieces of it into your own work in the US as well?
I think it's more about a way of life than a particular style. There's a casual and confident elegance to it—alongside a seamless connection between indoor and outdoor living.
Domaine de la Cavaliere is a 17th-century chateau, but you incorporated newly made pieces into your design (in addition to plenty of gorgeous vintage and antique finds). How did you find the right balance between elements?
It's a home that has evolved over centuries and we wanted the interiors (and exteriors) to reflect this. A confident mix reflecting a life well lived—curated and collected.
How did the environment around the chateau impact your approach to design?
The property sits amidst the national forest so it is quite literally surrounded by nature. We inserted large steel and glass doors and windows to physically connect the interior spaces to nature. Additionally, an arbor was added across the front of the Domaine to allow for shaded lunches and pre-dinner cocktails.
What are some differences between French farmhouse style and American? What are some things US designers and design enthusiasts can learn from their French counterparts?
The French so beautifully mix patterns and textures all the while maintaining the relaxed atmosphere of country life. It never gets fussy. Silk stripes with boutis quilts and a 19th-century bureau can live beautifully alongside an abstract modernist painting.
How does sustainability factor into your love of vintage and your approach to your work overall?
The world is already filled with enough "stuff." We love discovering and repurposing vintage finds!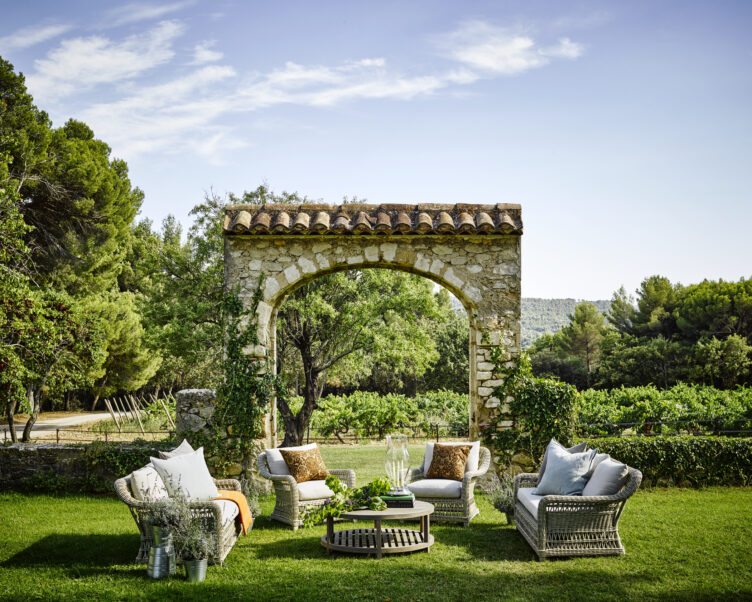 How do you go about selecting pieces for your own home? What kinds of things draw your eye?
I'm not a purist and seldom care specifically about provenance. It's more if the piece speaks to me. Does it have character or is it eccentric? That's what draws me to something.
What's a dream piece you'd love to own, whether it be vintage, antique, or new?
I'd love to own a Twombly. He grew up near me in Virginia. I've been intrigued with his life as much as with his work.
Who are some of your personal artistic and design inspirations? And are there any people in particular you're collecting or following closely right now?
I've long been inspired by the great Renzo Mongiardino for the transportive and theatrical environments he created. And my friend Vincenzo de Cotiis is an extraordinary artist whose work is both elemental and heroic.
Finally, what styles and trends in the design world are you loving right now? And are there any you'd like to see disappear?
I always encourage folks to follow their own drumbeat. Don't be influenced by fads or trends. They will come and go. Develop your own style and point of view.
Lead image: Photo: Douglas Friedman / Trunk Archive