Whether you're saddled with an authentic adobe home or you're aiming to transform an ordinary ranch into your personal hacienda, Southwestern style beckons. A word to the wise, though? Buck those western decor classics, including cowboy hats, steer horn chairs, and Equipale barrel seats. Or at least, all three used in tandem. These days, southwestern design is all about infusing southwestern staples with a brazen sense of modernism. Which means, Hans Wegner Bull chairs; in. Cattle bones and bull skulls; out. To show you exactly how to do it, we've roped in Southern California interior designer Sarah Walker to talk about one of her most iconic projects to date, Rancho del Sapo. A terracotta-roofed jewel tucked into a California canyon carpeted with avocado and citrus groves, the home hums with modern southwestern spirit. Read on to discover Sarah's best tips for achieving the new southwestern style.
Adopt an Aesthetic Ally
When Sarah first laid eyes on Rancho del Sapo she admits that she was tempted to outfit the home in classic western furniture. "I really considered filling this house with really good Monterey style pieces," she says. A collection of images wouldn't leave her mind, however: Georgia O'Keefe's New Mexico homes. Those who've visited the artist's two Northern New Mexico homes know that they're not filled with stereotypical southwestern furniture, but venturesomely Modernist designs. A Womb-style chair stands guard in her Abiquiu home. A Le Corbusier lounger graces her beloved Ghost Ranch escape.
O'Keefe's homes seeded an intuition in Sarah. Specifically; that southwestern style is a germane suitor for Danish Modernism. "When I think of the Southwest, it brings to mind pared-down, handmade, and hand-crafted things, with a real connection to the natural world," says Sarah. "Danish Modernism is all about craft, shape, and form. The more I thought about it, the more I came to realize that it's the perfect addition to a Southwest interior." Once she'd made the call, Sarah immediately gravitated toward the designs of Danish designer Hans Wegner. Many of the Wegner's chairs have a sparse, skeletal-like elegance—almost redolent of cattle bones—that perfectly offsets more classic western furniture designs.
For those looking to introduce a more liberated southwestern rubric, Sarah suggests sourcing an aesthetic ally to start. Whether that be Danish Modernism, Mid-Century Modernism, or Bauhaus is entirely up to you. From there, add shapes, colors, and materials to the canon that naturally accent traditional western furniture silhouettes and themes.
Add Ballast with Curves
Historically, necessity dictated that western furniture be built with a grid-like fortitude. Among traditional southwestern style furniture (including Monterey furniture and Santa Fe furniture), right angles and sharp corners abound. Yet curvaceous pieces are actually a natural fit for southwestern-style homes. Especially when you consider the rounded corners and archways that are hallmarks of traditional adobe structures.
For those looking to approach Southwestern design from a new angle, Sarah recommends doing the unthinkable: nixing angles. Rather than bulky, Mission-inspired pieces, seek out 20th century furniture with a curvature that echoes adobe architecture. No need to go wild with a Vladimir Kagan chaise or DeSede sofa (although one most definitely could). Any piece of elegant furniture with rounded edges is more than enough to set the look in a modernistic direction.
For instance, try a Finn Juhl Japan Chair. Sarah employed one in the room above to stunning effect. Similarly, she used slipcovered chairs in the home's dining room, pictured below. In both scenarios, the chairs' soft corners evoke the look and feel of the rooms' adobe architecture.
Embrace Textile Interplay
Traditionally, no Southwestern interior is complete without a passel of Navajo textiles. But these days, a room decked out in the usual western rugs and blankets can feel a bit one-note. To bring new life, Sarah recommends expanding your scope to include textiles from other regions of the globe. "I intentionally chose really strong, graphic, mostly Tribal textiles throughout the house," Sarah notes. "I absolutely understand the difference between a Navajo blanket and a Moroccan tribal rug, but I'm more interested in the similarities."
For anyone looking to boot the old Southwestern rule book, the Rancho del Sapo bedroom above is a treasure trove of inspiration. By employing a neutral base and keeping a tight edit on color, Sarah harmonizes patterns from all over the globe. (Moroccan textiles are pictured in the bedroom, but elsewhere in the home Sarah opted for African block prints and more.) If you're a bit overwhelmed by the thought of playing global textile curator in a Southwestern setting, source a traditional Navajo textile to start. From there wrangle rugs, pillows, and rugs in patterns in colorways that complement.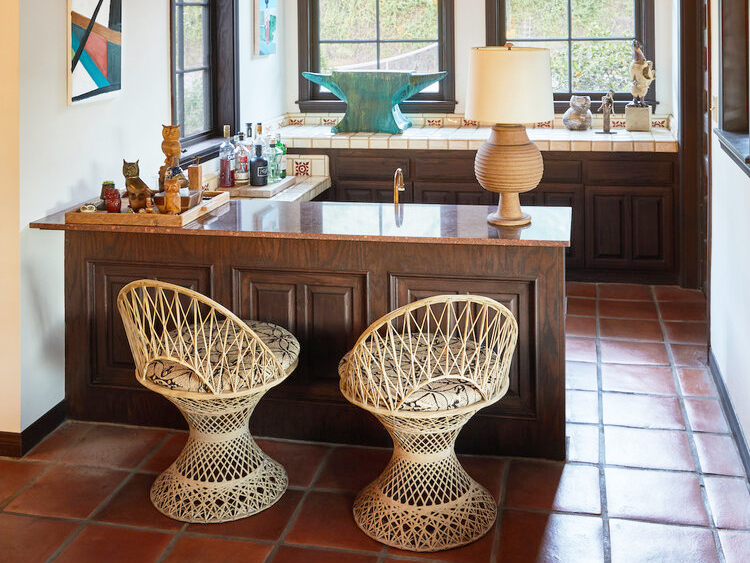 Reinvent Southwestern Stereotypes
If there's one thing that collectively turns designers off about Southwestern style, it's its penchant for treading into kitsch. Between cowboy hats, rustic bedroom sets, and cactus-emblazoned decor, it's clear why designers sometimes dismiss western decor as overly thematic. Yet these motifs endure for a reason, and for Sarah, it wasn't about axing them so much as reinventing them.
For instance, for the Rancho del Sapo wet bar, Sarah elected to use two Russell Woodard spun fiberglass chairs as barstools. The stools are evocative of Equipale barrel chairs—a Western decor classic. "But," as Sarah notes, "they aren't Equipale chairs, and therefore avoid the cliche." Similarly, outdoors, Sarah spruced up the patio with a set of Brown Jordan "Kantan" chairs. While Sarah notes Brown Jordan will add verve to virtually any yard, in the context of Rancho del Sapo, the chairs' lattice straps recall traditional southwestern leatherwork. It's an element that makes them feel like a new spin on an age-old hat trick—the basis of the new Southwestern style in a nutshell.
I really enjoy seeing how decorative arts from different cultures and times can be seen anew when they are in a space together that provides a different context than what is considered "the norm."

Sarah Walker
Lead photo by John Ellis