Based in France, Giana Allen is an interior designer, antiques dealer, and tech entrepreneur who's working to push the home space into the future. And as the owner of a shipping company who loads multiple containers each year and also ships for other dealers, she's seen the massive shifts in the industry over the past couple of years. With an eye toward innovation and pivoting toward new ideas and emerging ways of doing things, she's making the most of the moment the design world finds itself in.
We spoke with Giana about a slew of topics, from sourcing in Europe to the trends that are selling to NFTs and the Metaverse. And if you ever wanted to learn more about how they apply to the interior design industry and antiques more specifically… keep reading. And be sure to shop Giana's diverse array of pieces right here on Chairish.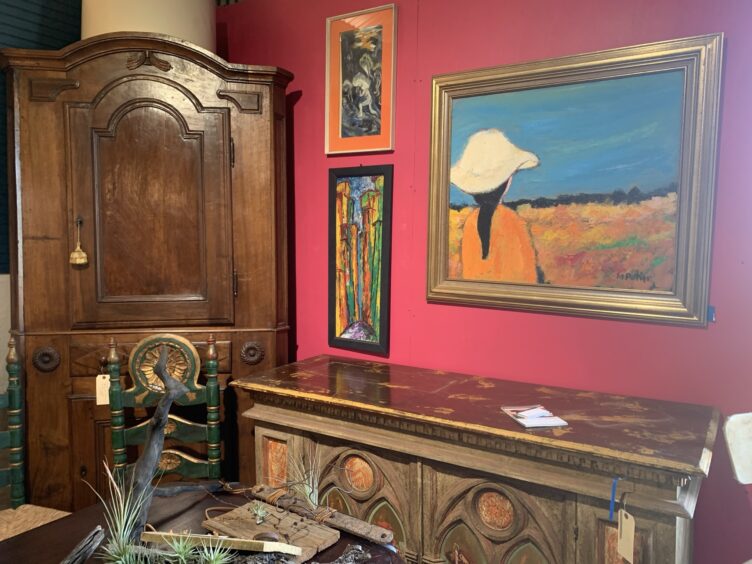 You live in France and source throughout Europe, shipping back to the US several times per year. How did you get started doing that?
Great question! Before I was galavanting around Europe in my truck, I had a design company and was building houses. Most of the homes I designed were from the ground up, which is what birthed my love of furniture. I was inspired to start my chandelier line to complement the structures I was building. From there I designed a line of furniture and found most of my inspirations in Europe, so I decided to pivot my business and venture overseas.
As I have an entrepreneurial spirit, I knew I could somehow figure it out with enough determination and cash in my pocket. On my first professional voyage, I averaged 5 to 6,000 km on my rental truck, and with some pretty bad French and Italian and charades, I managed to figure out the system. The passion and appreciation that the sellers had fueled my curiosity and energy to venture to the next city and the next. I buy from other buyers who are just as passionate about the pieces we acquire as it's so important to hand down the history to the next bestower of any treasure. In short, it was a crazy idea, I went with it, and it more than worked out!
You also own your own shipping company and load your own containers. What's that like, especially in an era when the cost of shipping containers has skyrocketed?
Ha! Fabulous question. As an entrepreneur, I love figuring out the system, and the bottom line is imperative so I can sell my products to my client at the best possible price. Being that I specialize in higher-end products, I needed to get prices down so my clients will be able to afford the pieces they love. And there is no better way to manage costs than to do it yourself. I started a company, GAD Collective in Montpellier, France, that ships not only for myself, but for many other dealers in the business. There has been an enormous feeling of powerlessness these last few years, but I have found that my solution is not only a win for me, but for other dealers as well.
How do you choose what to buy and ship back to the States? How do you have a sense of whether something is a great find?
I am a firm believer in the destiny of antiques. There is a bit of magic in what I purchase for the client and how I find it. The process of buying is extraordinary. I am drawn to pieces with excitement and a knowingness that I can't explain. I fall in love and see them placed in homes as if they were my own. My golden rule is love: I have to fall in love with a piece enough that I would live with it for the rest of my life! Designers buy from me, but I don't let the "style du jour" dictate my intuition for what to buy. In my opinion, we are a large part of what dictates what is next in fashion. Designers need to believe in the eye of their buyers in order for them to keep creating new and innovative homes. I don't purchase with caution; I purchase fearlessly with my gut and so far, this methodology seems to work!
What types of pieces do you see moving these days? What are the patterns in terms of what's selling right now?
I am really hoping we are getting away from monochromatic and safe tones. I understand that minimalism became a thing as so many were overwhelmed by the world speeding up. But due to the pandemic and the emotional implications that people's spaces played in their lives, I believe that people have seen the relevance of vibrancy as it pertains to mood and emotion. Also, I encourage people to switch it up—buy what you love and what is beautiful. Mix old and new, buy what is stunning, and you can't go wrong as it's who you are—our exteriors are just extensions of ourselves. If you get a strong inner pull to buy something you love, don't question it; you can't go wrong as it's you, and you are perfect! Don't get too serious about it all; these pieces outlive us all.
How was sourcing affected by the pandemic, and how did it affect business overall? Did you pivot the way you work as a result of changes in the industry over the last two years?
The pandemic was devastating since the large shows were canceled; they're the bread and butter that pay for container fees, salaries, and warehouses. This system was disrupted in an instant. Overseas dealers started calling me immediately with questions and worries. I was personally sitting in front of four containers of furniture, unable to get back to France and to my fiancé. I am lucky as my team has been virtual for over ten years, so we decided to get everything online. In addition, I finally got on Chairish, and I've been extraordinarily pleased with the team and ability to handle logistics, which has been a game changer.
One of the benefits from the pandemic was that customers became more comfortable shopping online, and at the same time, sellers became better at digital selling. The other benefit was that customers really started to appreciate their living spaces again. Within two years, clients have found a new appreciation for their spaces, all while digital commerce is being perfected. It's a real win.
You also show extensively at Round Top… tell us about your experience there. Has business been coming back there after the few shows had to be canceled?
Thankfully, there was an incredible surge in Round Top sales after the shows opened back up. It was expected by many dealers, as countless designers and stores were calling us during the lockdown, wondering when we would have replenished inventory. The downside that wasn't expected was the enormous surge in container fees and long delays. I would say that overall, Round Top pivoted as well, becoming more flexible in opening on weekends and having small shows in between the big ones. Round Top dealers are tough cookies; there isn't too much we can't handle!
Have you seen more customers coming through digital methods like Chairish? Do you see that having an effect on how designers shop for vintage, in particular?
I have been relieved that in general, clients are telling me more and more that pieces in their spaces are sourced on sites like Chairish. Not only because I am on such platforms, but the reality is, I can't always get the client in front of the piece physically for them to purchase it. There is a lot of inventory that can be sold before it makes it to a showroom. From the minute I purchase an item—even if it's overseas and being loaded on my container—it is 100% sellable. All I need is my photography, measurements, and description to start. Remember, I pay for every second of its "life" with a roof over its head, therefore the faster I can sell a piece, the better I can do on price and the more I can buy. Digital platforms like Chairish are opening up this channel tenfold and I couldn't be happier.
As you mentioned, you are also the CEO of a company called GAD Collective that specializes not only in shipping, but also in technology for art and furniture. For the uninitiated, can you tell us about it and what kind of implications it will have for art and decoration?
We are working on an innovative digital platform to allow customers and partners to communicate on multiple platforms and in a collaborative way in order to sell, buy, and exchange antiques without necessarily moving. We are also able to track valuables with NFTs (non-fungible tokens) through smart contracts to maintain their provenance. This is called the "phigital" experience, where the physical meets the digital. These transactions can occur in the metaverse, a virtual collaborative platform.
GAD Collective invested in this digital transformation in order to offer its customers the best immersive experience for the purchase and the follow-up of the provenance. Thinking about all the history that can now be captured and passed on to the future owners through NFTs as a new form of "paperwork." It's a game changer! We plan to present the platform in 2023.
Who are some of your favorite makers or designers, in terms of your own inspirations?
That's a hard question for me as I appreciate so many designers and artists, so I'll choose to answer it "Giana style." I love quality—buy quality! It doesn't matter what style or era, as I see homes as a reflection of the person that inhabits them. Like life, we should aim to be fearless in who we are and there is no "right and wrong." So mix and match, switch it up, buy what you love, and don't stay "safe."
What's a dream piece you'd love to own yourself?
I very recently got married in France and would love to buy a small chateau and restore it. This is a dream that can now be realized. I will continue the rest of my days filling it with anything and everything in France that brings me joy.
All images courtesy of Giana Allen