Those who know us know that we'll never pass up an opportunity to celebrate vintage. So, in honor of this year's SF Fall Art and Antiques Show, Chairish co-founder and president Anna Brockway hosted an intimate luncheon for a select group of SF-based designers and tastemakers. Playing off the Show's theme: The Moon, The Sun, and The Stars, our event was literally star-studded (see more on that below!) and involved scrumptious bites, plenty of bubbly, and pretty table-scapes. Here's a peek into our gathering and the details that provided its celestial magic!
A Dazzling Venue
Since the San Francisco Fall Art and Antiques Show takes place at San Francisco's Fort Mason Center, neighboring Greens Restaurant was an obvious choice for the party's venue. Deemed one of America's best restaurants by Zagat, Greens serves up delicious veggie-forward fare and postcard-worthy views of the Golden Gate Bridge and Marin Headlands. In order to give full focus to the views, the restaurant's interior is minimalist and nature-inspired—the perfect canvas to adorn for a party!
Foraged Florals
Florals were created by Chairish's, Tina Butler, who ventured to the San Francisco Flower Mart at the crack of dawn to select her blooms. Focused on a white palette, she went with a mix of anemones, dahlias, parrot tulips, and white veronica flowers. Each guest's menu, tucked in a blue pocket-folded napkin, was accented with a sprig of rosemary, plucked straight from Tina's backyard.
Fresh Fall Fare
Given that Greens Restaurant was a trailblazer in the organic department, you're guaranteed a fresh and healthy meal. Before the feast began, guests were offered their choice of adult beverages including white, red, or rose wine, as well as plenty of champs. For the afternoon's lunch, the restaurant concocted a vegetarian feast served family style. Starters included thumb-sized spring rolls and a passed salad filled with Green Gulch lettuce, red endive, sliced apples, toasted walnuts, creamy blue cheese, and a yummy cider vinaigrette. Mains included a red Thai curry with pumpkin and cauliflower. And for dessert? A fall fruit galette capped things off. Delicious!
A Gift to Tweet About
As our Chairish front woman, Anna Brockway loves a good statement moment (check out that fabulous dress!). So she teamed up with San Francisco-based Birdies, a hot new company that provides stylish flats that feel like slippers. The founders of Birdies graciously provided our guests the most-fitting of all gifts that aligned with the celestial theme. Each female guest was treated to the Birdies' "Heron in the Sky" Slippers. The gals were thrilled with their new footwear. After all, Birdies are stylish enough to double as home decor when they're not adorning your feet! Our guy guests received a bottle of Chairish-branded red wine.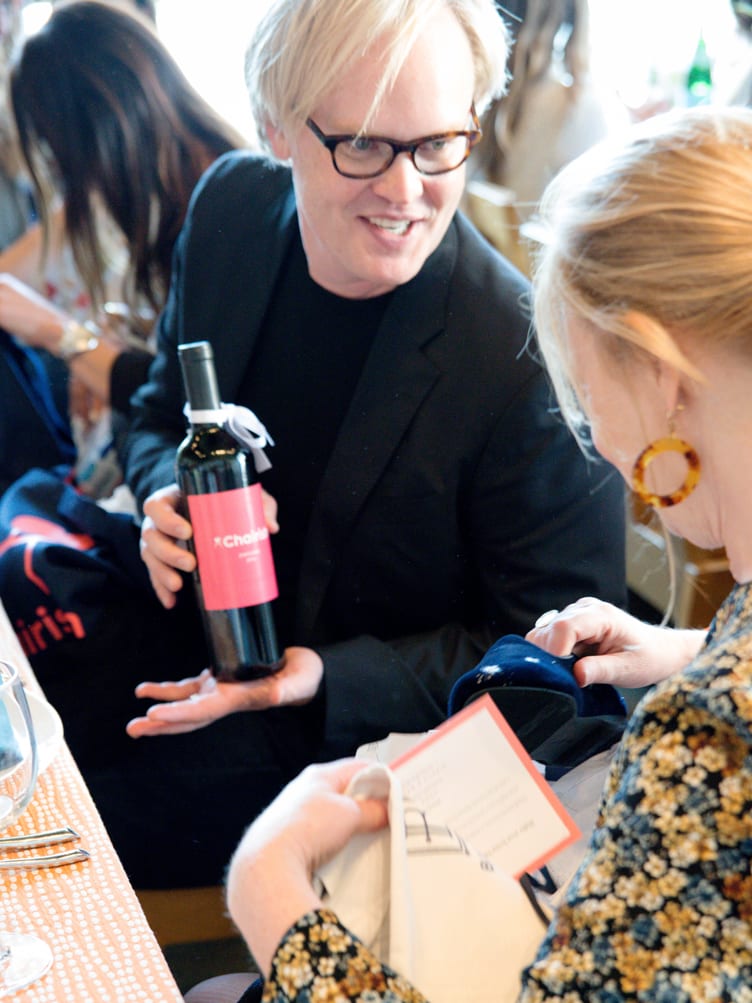 A Très Chic Crowd
In addition to Birdies co-founders Bianca Gates and Marisa Sharkey, the luncheon was filled with a mix of interior designers and tastemakers. With Birdies having just recently announced their Ken Fulk collection, the coming together of the two worlds couldn't have felt more aptly timed. Other notable guests included Chairish Design Insider Grant Gibson and Sacramento Street's Caitlin Fleming. Scroll down to see who else who joined the fun!
All photos by Lyola Rowe