The new tome by San Francisco-based designer Grant Gibson, aptly titled The Curated Home, explores the very thing he is famous for: Thoughtfully furnished rooms, brimming with personal style. Combining a globe-trotting eye and a wholly unique take on trad, Grant isn't afraid to make bold design moves and, like us, loves a bit of vintage in the mix. To go along with his stunning curation of exception finds, we chatted with this interiors pro to get the lowdown on his new book, his tried and true design tricks, plus his take on the best the Bay Area has to offer.   
SHOP ALL OF GRANT GIBSON'S FAVORITES >>
What do you love about shopping on Chairish?
It brings everything together for such an easy shopping experience.  You can search any style at so many price points.
What's one item you're currently coveting on Chairish?
Klismos Chair by t.h. Robsjohn Gibbings Widdicomb
Design
Favorite thing about designing with vintage pieces:
I love how they add a history and texture to a space.
Favorite way to work a bit of vintage into a room:
Lighting can really make a statement and with vintage pieces, it feels unique.
Favorite way to add drama to a room:
Wallpaper.
Favorite source for design inspiration:
Travel.
Favorite paint color:
Super White by Benjamin Moore.
Favorite pattern (and how you love to use):
Greek key.  I use it on a trim of a pillow or on the leading edge of curtains or roman shades.
Favorite color combo (and where you use it):
Black and white. I often use it in bathrooms. It's classic and timeless.
Favorite way to mix high and low:
Invest in high-end upholstery and layer accessories from online or world travels. It's easy to change out the accessories and then not feel guilty.
Favorite small space decorating trick:
It might sound counterintuitive, but don't fill a small space with small furniture.  Go with large pieces that trick your eye into making it seem bigger.
Is there a particular design element or style that you're really into right now?
I tend not to follow trends and am really open to designs from all periods and styles. Each client project that my office works on is different, which keeps my day very fun and interesting.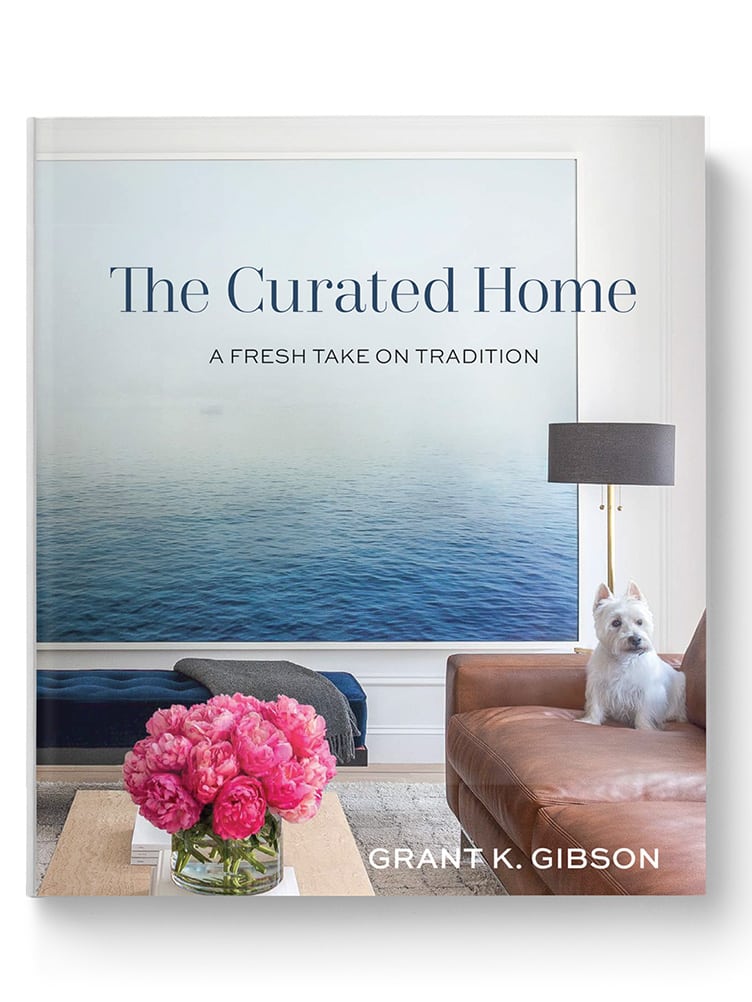 Book
You have a book coming out.  Tell us a little bit about it – inspiration, how long it took, and any surprises through your writing journey.
My publisher, Gibbs- Smith came to me around two years ago and asked if I was interested in working on a book.  I was honored, and of course said yes.  Coming up with the tone and concept of the book involved a lot of research and time to figure out what would be right for me.  The Curated Home is filled with select works from my portfolio, mixed with travel photos of inspiration, tips, and my personal story. I love that my dog, Wesley, made it onto the cover!
Lifestyle
Favorite travel destination:
My current obsession is Jaipur in India.  But my heart is always in France as well as late summer in Maine.
Favorite design sites or magazines:
Architectural Digest, Elle Decor, and House Beautiful.
Favorite hotel to check in to:
I actually prefer Airbnb.
Favorite thank you/hostess gift:
Flowers or a bottle of wine.
Favorite saying/quote:
"To travel is to live."—Hans Christian Andersen
Favorite entertaining essential:
Never forget a great playlist. Thank goodness for Spotify.
Favorite artist:
Cy Twombly.
Favorite thing to collect:
Linen napkins, silverware, dishes, and glassware.
Local Favorites: San Francisco
Favorite restaurant:
Zuni for a Caesar salad and a glass of white wine.
Favorite hotel to recommend to visiting friends:
Leave San Francisco and go up to Manka's in Inverness.
Favorite local activity:
Taking a drive over the Golden Gate Bridge and the Ferry Building.
Favorite local flea market/vintage hunting ground:
The Alameda Flea Market or going down to the Pasadena Rose Bowl (I grew up in L.A., so this was the first flea market that I used to go to).
Lead photo by Kathryn MacDonald