Based in London, the dynamic design duo known as Salvesen Graham has made their mark on the global scene with a style that's elegant, inviting, and ever-so-English. After meeting at university, Mary Graham and Nicole Salvesen went to work for major design houses before reconvening several years later to launch their own practice together. In the decade since, the results have been stellar (to say the least), with Salvesen Graham garnering a reputation for work that is chic and sophisticated yet approachable and accessible for every type of taste.
We spoke with the duo to learn more about how they got their start, how they create their extra-charming spaces, and the differences between English and American styles—and what we can learn from each other. See what they had to say below, and to hear even more from Salvesen Graham, be sure to listen to their recent episode of The Chairish Podcast.
Nicole and Mary, how did you both meet and how did you decide to launch Salvesen Graham ten years ago?
We met at Durham University—where neither of us were studying interiors—but a few years later we were both working for interiors practices and met up to talk about the industry… its challenges and our successes, but also how we wanted to see it become more professional. As time went on, we realized we both wanted families and careers, so by forming a partnership in 2013, we knew we could keep the business going as a team. Now there are six interior designers and two additional members of staff who work on the product side of things. We normally have 10 to 15 projects on the go at any one time, with 10 usually active, and the others starting or finishing.
We both trained at KLC [School of Design] and started out working for "old fashioned" decorators, who were real mentors. The courses are a great way to understand the foundations of good design and learn the technical side. Dealing sensitively with different clients is something you can only learn on the job.
How do you combine traditional British style with a more modern approach to living?
British style is a lot about comfort, which in a post-pandemic world, people are seeking more than ever. Our design always includes the modern needs of a client, whether that be integrating technology or a multi-functional approach to a family space. Comfort for Salvesen Graham is layering and texture; carefully curating an interior so that it evokes a feeling that the elements have been collected over time.
Any tips for creating a truly relaxing, comfortable living space that's still uber-stylish?
No exact recipe, but the elements we would always look to include are art, antiques, and the layering of color and pattern.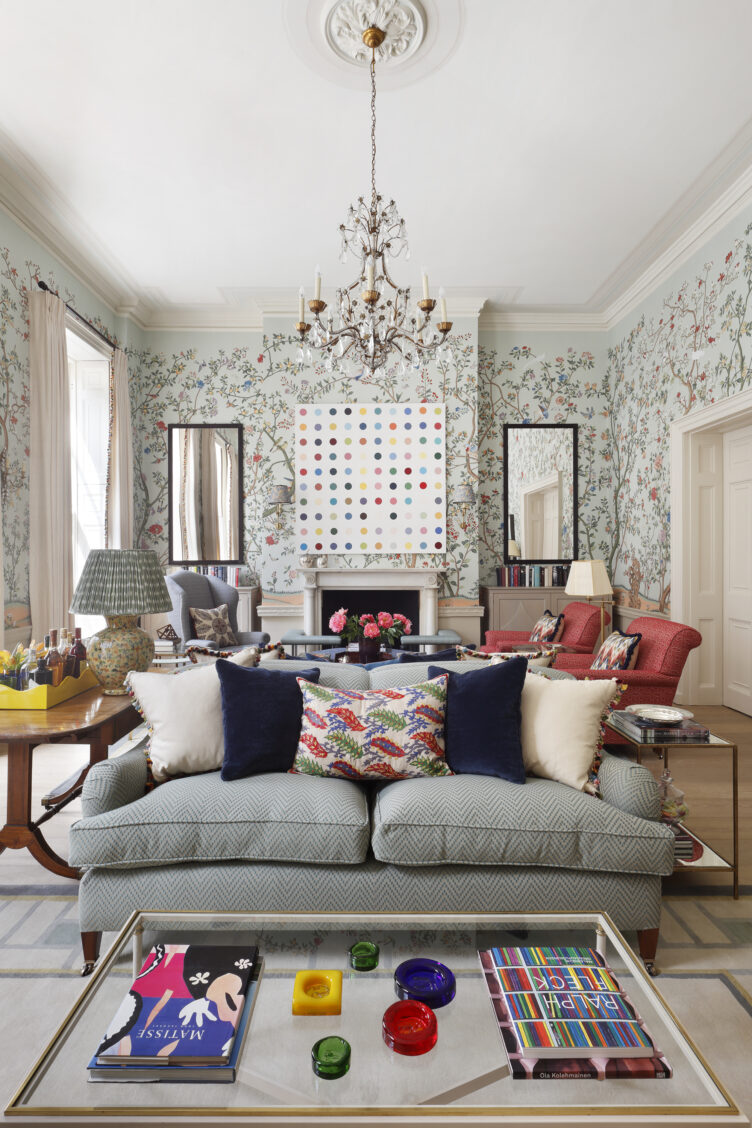 Speaking of which, how do color and pattern figure into your work? What are some palettes you're loving right now?
Salvesen Graham is known for a love of color and pattern. It's in every scheme whether that be a muted color palette or a bold, vibrant, and impactful one. We are seeing that earthy tones are finding their way into our schemes more and more, but mustard, rich reds, and green features are almost always in our interiors.
In terms of UK and US styles, what would you both say is the biggest difference between the two? What's something Americans could learn from the Brits when it comes to interiors?
Historically we have always turned to layering and pattern play to create welcoming comfortable interiors and our interiors have an element of eclecticism. A combination of color and pattern softens the edges of a room and makes it feel lived in. We always mix new pieces with antiques, which gives an interior authenticity and individuality—it is important that a house feels like a home and lived in.
What's next for the Salvesen Graham duo? What are some upcoming projects that you're particularly excited about?
We have just installed a project in Colorado which we are so excited about sharing soon. Among others, we are currently installing a smart London townhouse for an American client and an Edwardian house in the English countryside that is looking fabulous and will be a wonderful family home. We are also designing two chalets in Switzerland and France.
On Chairish & Vintage Shopping…
What do you find most compelling about Chairish?
Our role is to find unique pieces and Chairish offers us the opportunity to source those and create authentic homes for our clients.
How does sustainability factor into your design choices and love of vintage?
The spaces we design always include a mixture of old and new and we relish the opportunity to give something a new lease of life. Where possible, we always look to repurpose existing fabric and furniture, or include vintage and antique pieces.
Are there any dream vintage/antique "gets" you wish you could have?
We are currently on the hunt for a fabulous antique desk for our office.
What are three of your favorite pieces on Chairish now (please include links)?
We love this Castellane sofa from Howard & Sons; this set of vintage Murano glass candies; and this vintage Italian daffodil-shaped floor lamp.
Some Design Favorites…
Favorite way to create a statement-making moment in a room:
Go all-out on one fabric and wallpaper pattern. Everything the same!
Favorite decorating "cheap thrill:"
Trimming a room!
Favorite iconic piece of vintage design:
A classic Howard sofa
Favorite paint color:
"Light Bronze Green" by Little Greene
Favorite piece of decor in your home:
Nicole has just installed the utterly joyful "floral trail original" wallpaper by The Collection in her dining room.
Favorite designer or artist from the past you most often turn to for inspiration:
John Fowler
Favorite style icon:
Grace Kelly
Design destination every creative should visit at least once:
The Victoria & Albert Museum in London
Best piece of career advice you've ever received:
Nothing is impossible. (There is always a solution to every problem.)
Some Lifestyle Favorites…
Favorite vacation destination:
Italy, Charleston, or anywhere in the mountains
Favorite hotel that's inspired your work while traveling:
The Carlyle in New York or Borgo Pignano in Tuscany, Italy
Favorite restaurant:
Favorite small museum:
The John Soane Museum in London
Favorite podcast:
Favorite Instagram accounts to follow:
@sarah_balineum; @jennyroseinnes; @markdsikes
Favorite hostess (or thank you) gift:
One of our Salvesen Graham lacquered cane trays, perfect for entertaining
Favorite flower:
Peony
Favorite adult beverage:
For Nicole: a dirty martini. For Mary: a Bellini.
Favorite way to unwind at home:
For Nicole: a long soak in a hot bath. For Mary: a long walk in the countryside.
Favorite entertaining essential:
Great friends around the table and a Salvesen Graham candle shade to bathe everyone in beautiful light
Lead image by Simon Brown