Why not create a kitchen that radiates warmth (and we're not talking about the stove)? We've rounded up a few of our favorite tricks for pulling together a space that is as chock full of charming touches.
Mismatched Chairs
The casual nature of a mismatched set of chairs is like an instant charm injection for the kitchen, especially if the chairs themselves are a bit on the quirky side. If you're more of a matcher but want to give this a try, look for a single style of vintage chairs in different finishes.

Vintage Tea Towels
There's nothing quite as endearing as a mystery set of initials embroidered into a vintage tea towel. Luckily, these charmers are available in abundance and look insanely chic to boot. Skip the drawer and stack a few on a tray or in a shallow basket to give the counter a charming boost.

Decorative Accessories
Don't leave your kitchen in the cold when it comes to accessorizing. Vintage oil paintings, some embellished tea tins, and even a table lamp complete with shade are guaranteed to warm up any kitchen. And don't forget about the floor! A vintage runner can work wonders.

Vintage Lighting
When choosing kitchen lighting, skip the usual offerings and go with a vintage pendant instead. The throwback detailing will balance out the sleekness of any recessed lights, and can infuse the space with more personality than a standard-issue kitchen fixture would.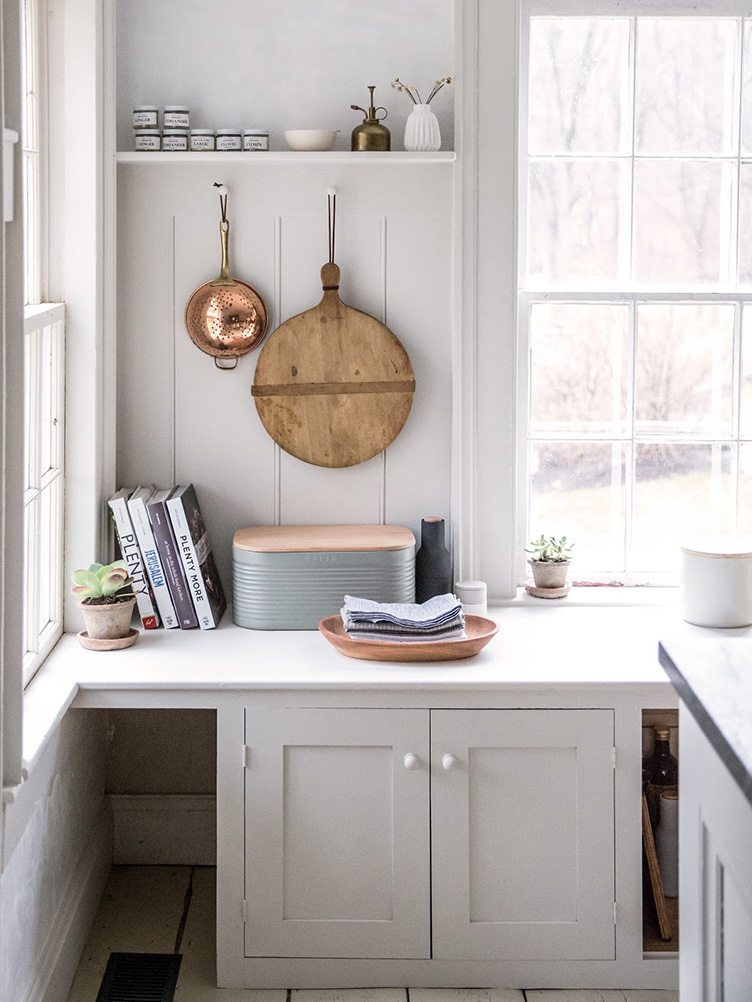 Cutting Boards & Copper
Some kitchen elements can definitely double as decor, and we swear by the two Cs: cutting boards and copper. Round cutting boards are especially appealing to the eye as they break up all those straight lines, and copper has a warmth that is undeniably yummy. No judgment if the pieces you decorate with never get used.

Earthenware & Stoneware
Containers in the kitchen are a must, so choose ones that have a bit of charm. Earthenware and stoneware options are less slick than their metallic counterparts, and come in a variety of colors and glazes, which makes it easy to find one that suits your space.

Pretty Patterns
When designers want to up the charm factor in other rooms of the house, they often look to patterns. Why not do the same for the kitchen? Consider using patterned tiles for a backsplash or accent wall. If you have open shelving, load it up with vintage china and transferware, leaning platters against the back wall to display their full patterned goodness and layering in teacups and tureens.

Lead photo courtesy of Jersey Ice Cream Co.