Creativity is in Lucinda Chambers' DNA. As a girl in London, she began collecting vibrant fabrics and pairing them together in unexpected ways — no wonder, then, that she found her way to the fashion world, where she became a driving force in the industry as we recognize it today. She spent over 35 years at Vogue and seven years as fashion director for British Elle, working with every notable fashion photographer and every model famous enough to be known just by their first name. It was Lucinda's natural gift for style and eye for colors and patterns that made her a trendsetter throughout her career, leading her to co-found the curated shopping platform Collagerie in 2019. (And for a further taste of her style, be sure to check out Collagerie's snappy Instagram).
We wanted to learn more about the design legend, her one-of-a-kind approach to interiors and antiques, and her personal approach to collecting. And yes, we asked about which fashion people have the best-decorated homes. See what she had to say below — and peek inside Lucinda's own colorful spaces — and be sure to shop her curation of Chairish favorites while you're at it.
Firstly, how would you describe your taste in interiors, and how does it reflect (or differ from) your preferences when it comes to fashion?
I think my home pretty much reflects my taste in fashion. I love color, print, textures, and pattern; perhaps I am a tiny bit more restrained in my clothes, especially day to day. It's in the evenings out that I seem to be wearing my sofa!
You lived in many different homes as a child, since your mother would renovate and sell properties. Did this enable you to see many different styles of homes? Did that impact your own sense of design?
Yes, I think this really did. Every flat and house we moved into, my mother would have a completely different take on it depending on the period of the house. So, I think this gave me very "Catholic" tastes. I can see the point and enjoy a broad spectrum of design and I mix everything up because of that.
Tell us a bit about your passion for textiles. How does that present itself in your life, and what are some of your favorite finds?
I know that I started to collect curtains when I was about 14 or 15. I don't know what sort of house with that many windows I was going to have, but I think it was an excuse to collect different prints. One of my favorite finds is a massive Suzani throw. The colors are really unusual and I bought it from a textile fair in London many moons ago when this type of textile wasn't popular so I was very lucky.
How did travel impact the way you see interiors? Which places most influence the way you like to design at home?
I think as Diana Vreeland once said, "the eye has to travel," and it is one of the biggest privileges of my career that I have been able to see such amazing places. I think my love of vibrant color and the eclectic mix of old and new has come from being in different climates and different cultures. Trying things out, not sticking to a format and not being afraid of making mistakes. The only thing that holds you back is fear, and you can always repaint and throw another cushion on the pile!
Thinking a bit about UK and US styles, what would you say is the biggest difference between the two? What's something Americans could learn from the British when it comes to personal style as well as interiors?
I think what is so generous about the Americans is their love of British style, and that's been a wonderful export of ours… but we have learnt a lot from the US too. I admire the way that Americans embody how and where they live into the style of their houses. From Miami to Sag Harbor, you get such a terrific sense of who they are and how they live.
You've obviously made an incredible mark in fashion, from your years at Vogue to your work at Marni and Prada to your styling for the closing ceremonies of the 2012 London Olympics. Thinking about all the people you've worked with in that world, who has the most incredible style or taste in interiors? Who was the most surprising along the way?
I have to say that pretty much everyone in fashion is obsessed about their homes as well. At the end of the day, it's about a point of view, a vision, and a taste level that crosses over in houses and fashion equally. I remember going to Miuccia Prada's house in Arezzo and thinking how beautiful it was. Not in an overwhelming way, but in the unexpected. Eric Boman, a photographer in New York, has the most beautiful house in Bellport, with a garden designed by Tina Chow — it's wonderful. I think that when houses are lived in and worked in, you can throw yourself onto a chair with your feet up and yet have a magical and unique quality… that's what I most admire. Mario Testino has really unusual taste and I love to see what he's looking at as it's as broad as his photography. What is brilliant is to see someone else's vision of putting things together and being open to their taste. It's a great way of learning and evolving.
What's next for you in terms of fashion and also interior design? What are the things you're hoping to do next?
What's great about both is they never stand still! But I really enjoy and appreciate that interiors are a slower burn. I love that. The gestation period is longer and possibly more thought through. I think people are becoming very adventurous with color and that's great to see. What is wonderful is to have a playground to play in, both at Collagerie and at Colville. I think now more than ever, the fields of fashion and interiors have merged. If you love designing and choosing products that have longevity, are intrinsically beautiful, and have integrity, then it's a wonderful time to be involved with both these worlds.
I also think there's never been a better time to collaborate. Thanks to technology, you can reach out to almost anyone directly and that's very exciting. A huge thrill is to work with people that you admire or who inspire you, and also with artisans who have honed their craft from generation to generation.
What do you find most compelling about vintage shopping?
I have always been a huge fan of vintage shopping. First of all, it was what I could afford when I was younger, but really all through my life, the thrill of the hunt to find something unique has always excited me.
I think I've never chased trends; it's been more about finding my own style and buying what I believe I will love forever. My style can evolve and my tastes can change over the years, but not throwing much away, keeping things, moving them around, and adding on slowly has been my way of doing things. As my husband always says, "it's not how much you buy but how much you love what you buy," and I think that sums it up.
Are there any dream vintage/antique "gets" you wish you could have? What's a dream piece for you?
There is a striped chair designed in the 70's that I caught a glimpse of in a magazine and haven't forgotten it! It was photographed on a beach… so pretty dreamy.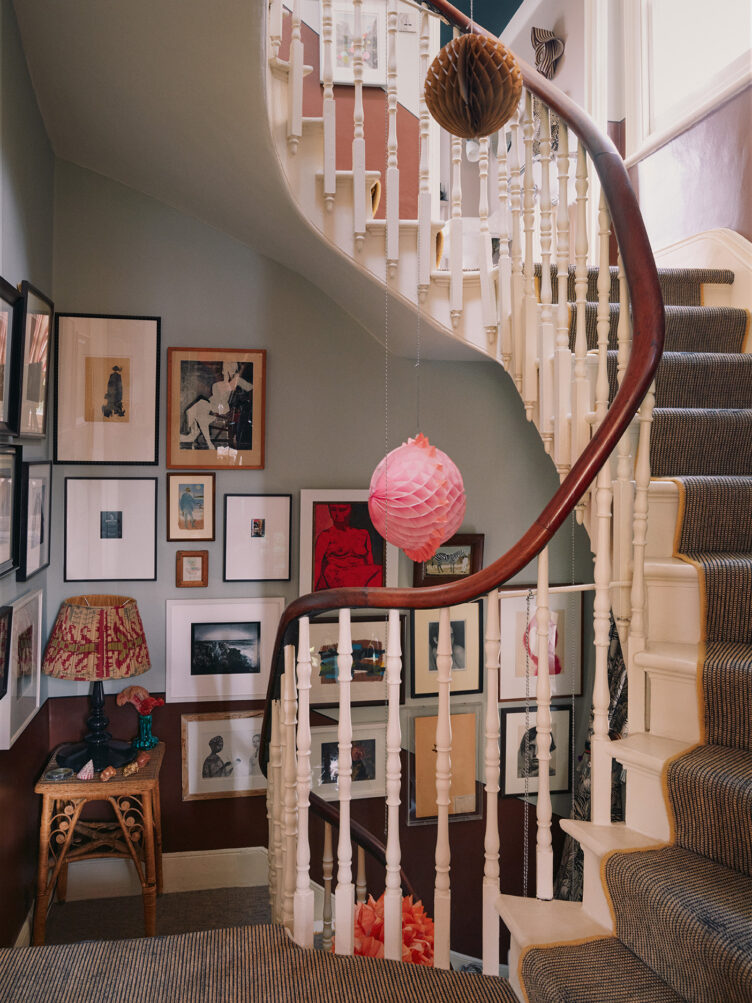 Some Design Favorites…
Favorite way to create a statement-making moment in a room:
Painting it a bold color and then having everything riff off it in such a different way. I view every surface, including ceilings, skirting boards and cornicing, as color opportunities. "Colors talking" is how I think of it.
Favorite decorating "cheap thrill:"
Upholstering a sofa with different vintage textiles. Choosing what goes with what (or doesn't, which I prefer), is a never-ending source of pleasure. That and getting cushions made up and mismatching the piping or the fringing to the print. Love!
Favorite paint color:
Our dining room was painted electric yellow about 20 years ago. I never tire of it — it brings the sunshine in every day.
Favorite piece of decor in your home:
It's probably a painting my mother left to me and I grew up with as a child, "Children on the Beach at Dinar." It's so familiar to me and yet I always look at it as if for the first time.
Favorite designer or artist from the past you most often turn to for inspiration:
Too many to name just one but I've always hugely admired Geoffrey Beene.
Favorite style icon:
Grace Coddington
Design destination every creative should visit at least once:
Marrakesh
Best piece of career advice you've ever received:
I never have!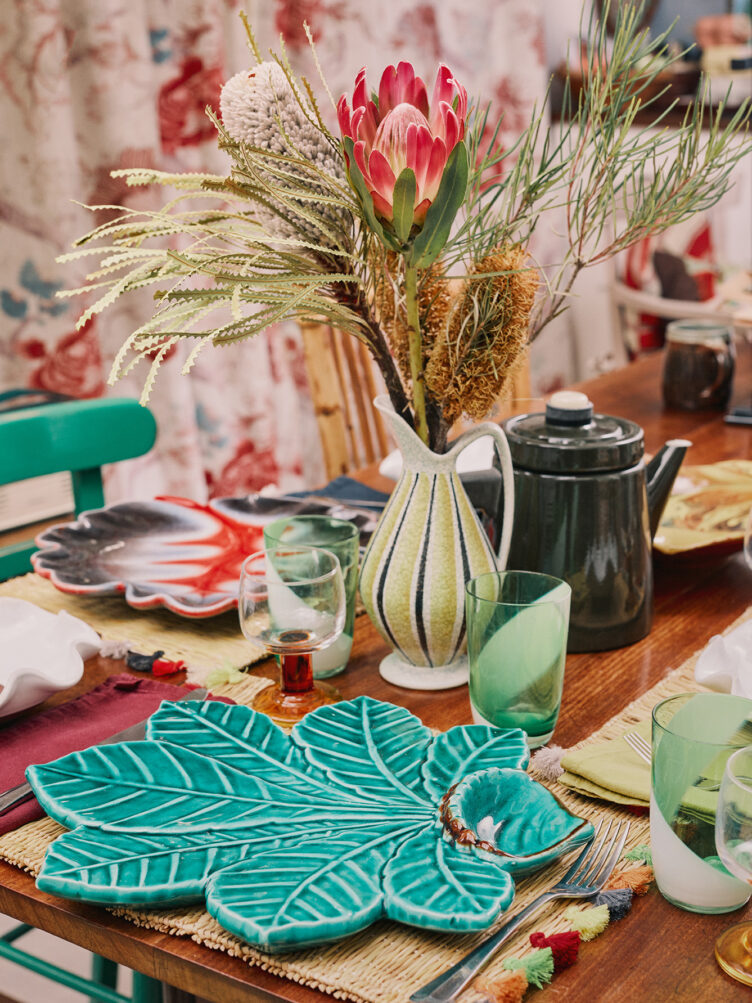 Some Lifestyle Favorites…
Favorite vacation destination:
Macakizi Hotel in Bodrum, Turkey
Favorite hotel that's inspired your work while traveling:
Hotel Mudani in Morocco, though sadly it's no longer there; it was beautiful. A heady mix of vintage and modern and every room was different.
Favorite restaurant:
Laylow and The Wolseley in London
Favorite small museum:
Kettle's Yard in Cambridge
Favorite podcast:
A History of the World in 100 Objects by Neil MacGregor
Favorite Instagram accounts to follow:
Jack Davison, auguri_auguri, kristen_mcmenamy, iris.apfel, jackie_nickerson, and russell.marsh63
Favorite hostess (or thank you) gift:
Something bought with them in mind. It can go from candles to a treaty face thing, or a vintage find.
Favorite flower:
Roses
Favorite adult beverage:
Red wine
Favorite way to unwind at home:
Pottering around rearranging or sitting still and reading — one or the other
Favorite entertaining essential:
Candles and napkins and I could go on and on.
Lead image by Kensington Leverne for Inigo House
All images by Kensington Leverne