Our co-founder Anna Brockway recently made the pilgrimage to the tiny town of Round Top, Texas (population 90) with the fabulous stylist and design blogger Emily Henderson. Their mission? To scour America's largest flea market (11 miles long! In the hot, hot sun!) for the best vintage treasures among the thousands of dealers that descend twice yearly. Thinking of making the trek? Emily filled us in on her top five tips for shopping all that is Round Top, including where to score the prime goods and strategies for making the most of your trip.
Plus, shop some of Emily's favorite Round Top finds in our exclusive collection and discover a gorgeous assortment of her picks that perfectly channel and round out the look. Let's go y'all!
TIP #1: Strategize Which Spots to Shop
"Marburger is definitely a must and where we did most of our shopping. It is very well curated, filled with hundreds of booths and has a great collection of items – not to mention it is under shaded tents which makes the heat a lot more manageable. If you are looking to really dig through some items and hunt, then be sure to check out Warrenton which has miles of tents and pickings. If you are looking for larger home pieces, head to Excess I and II as well as Paul Michael Company which have some great booths and shops. The Compound, with Eneby Vintage was really amazing too and I wish I would have bought more from there."
TIP #2: Browse From Big to Small
"My biggest advice is to browse for larger items first and then circle back to look through the smaller items. Big ticket items always go fast, as they are the first to be seen, so if you see something you love in the moment, grab it."
TIP #3: Focus on Shape and Size
"Remember to look at shape, scale, and size, rather than finish or color. You can easily paint, reupholster, or refinish items, but you can't change the shape. I recommend looking for good bones and don't be deterred by old upholstery or a bad paint color."

TIP #4: Seek Out Your Style
"Anything vintage, antique, industrial, salvage or rustic are very well represented at Round Top. Lucky for me, I was able to find a lot of wonderful items for our English Country style house at great prices. But, even if the rustic farmhouse, industrial style is not your favorite, you can still find plenty both big and small to suit any style. If you are in need of some ironstone – they have you covered."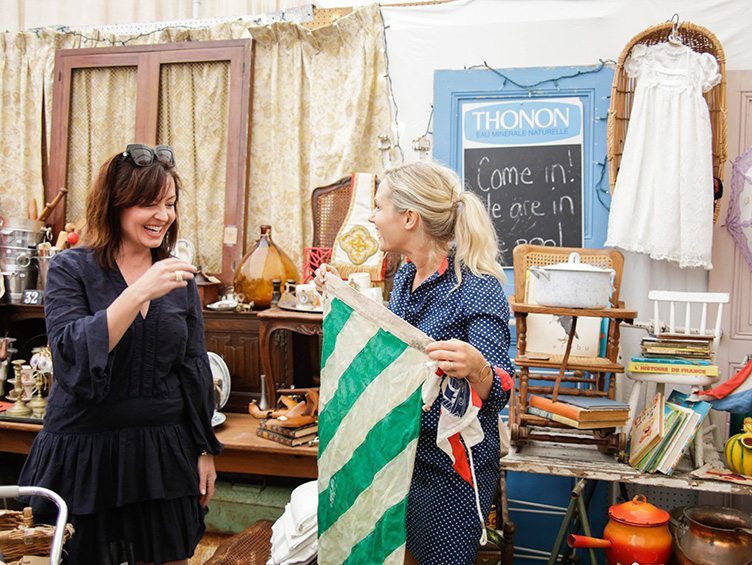 TIP #5: Keep the Days Manageable
"After 7 hours of shopping even I was ready to call it a day. Next time I would spread the time out a bit and do 5-ish hours of shopping everyday over a period of 4-5 days rather than trying to cram it all in during one single weekend. My only regret was not having enough time to be able to thoroughly comb through each booth."
Plan Your Round Top, TX Trip!
STAY
The Vintage Roundtop
"Our hosts, Paige and Smoot, run such an amazing place to stay, full of beautiful furniture and people."
EAT
Royers
"A family run restaurant (and I do mean by like 5 family members) that has paraphernalia stapled to all walls."
EXPERIENCE
Rancho Pillow
"An event space that has huge dinner parties every night during the festival."
Photography by Tessa Neustadt