The design moves coming out of Texas today are big and bold, particularly in the creative hotbed of Austin, which is why we decided to toast these designers, makers, and mavericks with a southern-style shindig. On a recent evening, Chairish's own Anna Brockway and Domino Editor-in-Chief Jessica Romm Perez co-hosted an autumnal dinner to bring together some of the state's leading voices and visionaries at Austin's charming Josephine House. Take a peek inside this intimate gathering, and discover how you can steal the look (and the cocktail recipes) for yourself.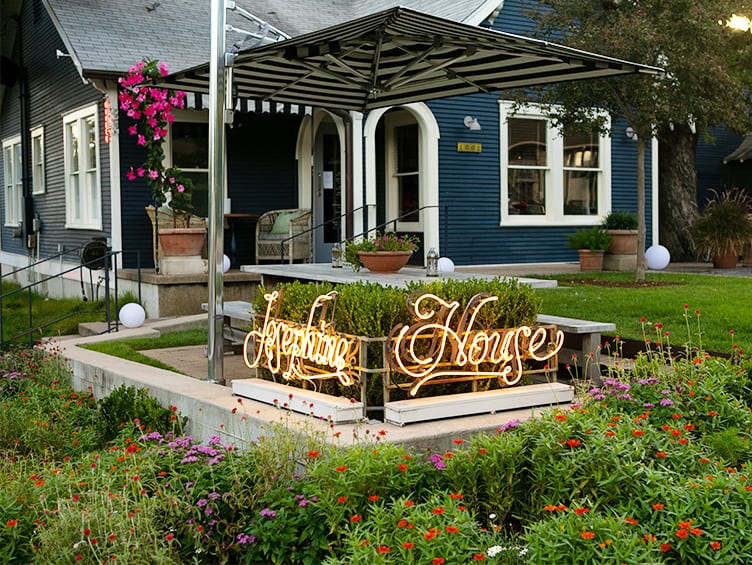 Charm Offensive
With its charming exterior, white-washed tables, and country-cool vibe, Josephine House was the perfect venue for a gathering of Texas tastemakers. Echoing the laid back and serene dining room, simple striped linens by Heather Taylor Home lent a lovely informality to each place setting. For an extra pop of color, guests were treated to a deck of notecards featuring designs from the Chairish Print Shop, and a tote to take them home in.
Eye-Catching Arrangements
The stunning floral arrangements dotting the long tables were the work of Carly Blair, owner and creative director at House of Margot Blair. "We wanted the flowers to complement the venue's simplicity while still bringing something to the table that would stand out in the decor," she explains. The soft blush palette of the blooms was punctuated with stems in a standout wine hue.
Cheers-Worthy Cocktails
To mark the special occasion, the team at Josephine House served up two signature cocktails: The Drunk in Love and a Spicy Paloma (you can snag both recipes HERE!). Given that this was a Chairish event, only the best in vintage glassware would do. Houston-based Chairish seller Jodi Bishop of Bird Dog Interiors, who specializes in barware, provided the vintage coupes and double old fashion glasses that made the evening's festivities all the more special.
A Stylish Squad
In attendance were loads of luminaries on the Texas design scene, including Sarah Wittenbraker, Meredith Ellis, Jennifer Fisher, Shannon Eddings, Callie Jenschke of Supply Showroom, Maya Nairn of de Buci Baby, Sara Malek Barney of BANDD Design, George Elliman, publisher of Austin arts magazine Tribeza, along with Domino Chief Revenue Officer Beth Fuchs Brenner, and Mugs Buckley and Brita Muller from team Chairish.
Photos by Sarah Moore