Known for her signature "California eclectic" style, Amber Lewis brings a sense of nuanced, neutral sophistication to all her projects—wherever they are. As founder of Amber Interiors as well as the blog All Sorts Of, she's passionate about creating welcoming, laid-back spaces full of plenty of vintage and antique finds. She's also known for her sleek lighting line with Visual Comfort, enabling everyone to get that perfect California light in their spaces.
We spoke with Amber about how she got her start, how she works with found objects, her favorite vintage searches, and much more. See what she had to say below, and be sure to shop her curation of uber-cool Chairish finds.
Firstly, how would you describe your personal aesthetic? How is this reflected in the spaces you design?
I would describe my aesthetic as elevated, chic, and comfortable. I want spaces to feel unique, lived in, and personal.
What are some ways that people can translate a California aesthetic (or California eclectic) into their homes, even if they don't live in the Golden State?
It's interesting that my style is defined as California eclectic, but the majority of my current projects are outside of California! I think it's all about having that laid-back feel and spending time on the special details.
You have an affinity for found objects in your designs. How does that come about in your work, and how do you incorporate them?
I've always loved vintage, from being a kid at swap meets, flea markets, and even on Craigslist searching for items. When you have vintage or antiques in a space, I find it adds a layer of interest and character.
Tell us about your blog, All Sorts Of. How did it come into being, and what kinds of things do you cover there?
All Sorts Of really started to grow during 2020 (a time when we were all looking for more creative outlets!). I've been working with my team to create an ever-evolving space where I can share my inspiration, and hope it inspires others as well. While design is always going to be at the forefront, it's also a destination where I can highlight, well, all sorts of things I'm passionate about, like travel, fashion, and telling the stories of amazing artisans and entrepreneurs my team and I have the privilege to work with every day.
You have a book of your work coming out, named Call It Home. Congratulations! Tell us a bit about it… What were the inspirations for it, and what kinds of projects can people expect to see inside?
Thanks so much; I'm beyond excited to share this new book with everyone. I'm always growing and wanted to find new ways to inspire and help guide readers on their journey to discover their personal style when designing spaces in their homes. The book features never-before seen imagery, inspiration, and ideas, going into details far beyond what you see on social media.
What would be a dream project for you and why? What's something you would just absolutely love to design?
Restoring a historical house. I'm also currently developing fabric and wallpaper, which I'm very excited about.
What do you find most compelling about Chairish?
I appreciate the inventory of rare vintage and antique pieces which blend seamlessly alongside well-loved brands like Visual Comfort and Loloi.
Are there any dream vintage/antique "gets" you wish you could have?
I'm currently searching for a giant old leather trunk.
Some Design Favorites…
Favorite way to create a statement-making moment in a room:
A really beautiful vintage piece, or beautiful art, is always the way to go.
Favorite decorating "cheap thrill:"
Flowers and stems
Favorite paint color:
I can't choose just one, but right now I'm loving Dunn-Edwards' Swiss Coffee in many of my personal projects.
Favorite piece of decor in your home:
Any photos of my daughter Gwyneth and I.
Favorite designer or artist from the past you most often turn to for inspiration:
Ironically, though her style is completely different, I've always loved Dorothy Draper.
Favorite style icon:
Françoise Hardy
Design destination every creative should visit at least once:
Best piece of career advice you've ever received:
Either to just focus on yourself or don't look back.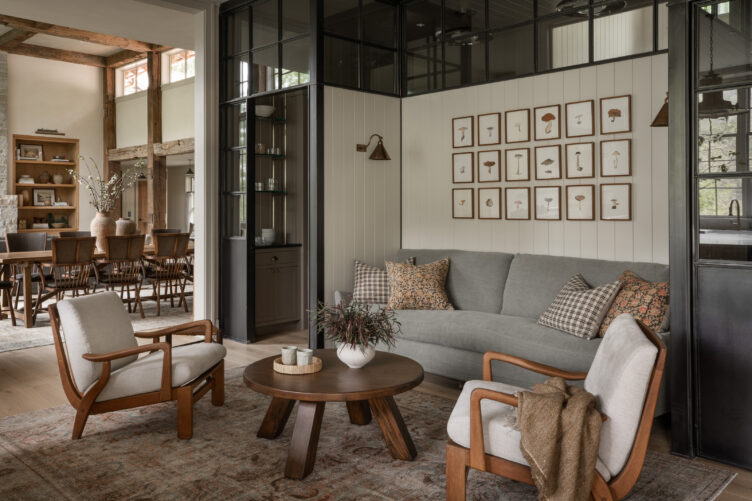 Some Lifestyle Favorites…
Favorite vacation destination:
Italy
Favorite hotel that's inspired your work while traveling:
There's too many to choose from, but I am dying to stay and visit Reschio in future adventures.
Favorite restaurant:
Anywhere with a stellar seafood tower.
Favorite museum:
Favorite podcast:
Favorite Instagram accounts to follow:
Favorite hostess (or thank you) gift:
It really depends on the person, but candles and incense in a beautiful vessel are usually a good choice.
Favorite adult beverage:
A dirty martini with extra olives—extra dirty
Favorite way to unwind at home:
Spending time with Gwyneth and our rescue cats.
All photos by Shade Degges