Amanda Jesse and Whitney Parris-Lamb, the duo behind interiors firm Jesse Parris-Lamb, go way back. They first met as grad students at the Pratt Institute before embarking on their design careers with some of New York's top firms. It wasn't until 2014 that they combined their design powers and struck out on their own. As their firm's name implies, their approach lies largely in collaboration. From working face to face (literally—their desks face each other!) in their Brooklyn studio to "texting at all hours of the day and night," Amanda and Whitney remain hands-on throughout every project they tackle. It's their design ethos that "together their design work is greater than the sum of its parts" which guides Jesse Parris-Lamb to turn out stunningly layered and livable spaces.
We were recently able to steal some time with Amanda and Whitney (between project hopping up and down the east coast, not to mention toddler-wrangling) and learn about a few of their favorite things. Keep reading to learn how the ladies of Jesse Parris-Lamb like to bring a bit of drama to their rooms, which IG accounts they consider must-follows, and their go-to escapes from NYC!
SHOP JESSE PARRIS-LAMB'S CHAIRISH FAVORITES >>
Favorite 3 items on Chairish right now?
French Rattan Child's chair: We frequently design for young families and like to include one or two kids' chairs in living rooms around big coffee tables for art projects, reading, and playing.
We're both parents ourselves and we know how special a child feels when they have their very own spot within a room. Rather than feeling alienated and asked "not to touch" in a fancy room there is a spot designed just for them!
Spanish Chair by Borge Mogensen: The low leather sling seat and super wide arms make for a minimal construction that still supports your frame. The Spanish Chair can be purchased as a new production item, but we prefer the aged wood and leather patina of vintage versions.
Architectural Pottery Lamp by David Cressey: A pair of matching lamps can feel stuffy and old fashioned. But introducing an interesting single lamp as part of an overall composition of accessories adds texture and function to a modern space.
What do you love most about shopping on Chairish?
We love designing with vintage pieces, and Chairish has an amazing inventory of affordable options. The best finds often come from unexpected places; in a perfect world, we'd be able to travel all around the country scouring flea markets, estate sales, and antique stores hunting for them, but that's obviously not possible. In a way, we're able to outsource that work to Chairish.
Is there any particular product category where Chairish is your go-to
Pairs of vintage chairs! They're frequently a component of our furniture plans, and Chairish is always the first place we look.
Design
Favorite thing about designing with vintage pieces?
Vintage pieces add instant patina, texture and charm to a space. There are so many oddball, one-of-a-kind vintage pieces that can really make a room. It's hard to find that quality in new production furniture. For some of our more budget-conscious clients, vintage is also the best way to get good quality for a great price. Often for the price of a new chair from a big box store you can buy and recover a vintage piece that will last much longer and be SO much more interesting and unique—you can be pretty much guaranteed that your neighbor isn't going to have it, too.
Favorite way to add drama to a room?
We use a lot of black in our work to punctuate other color schemes. It's a neutral but adds a certain drama and polish that we love.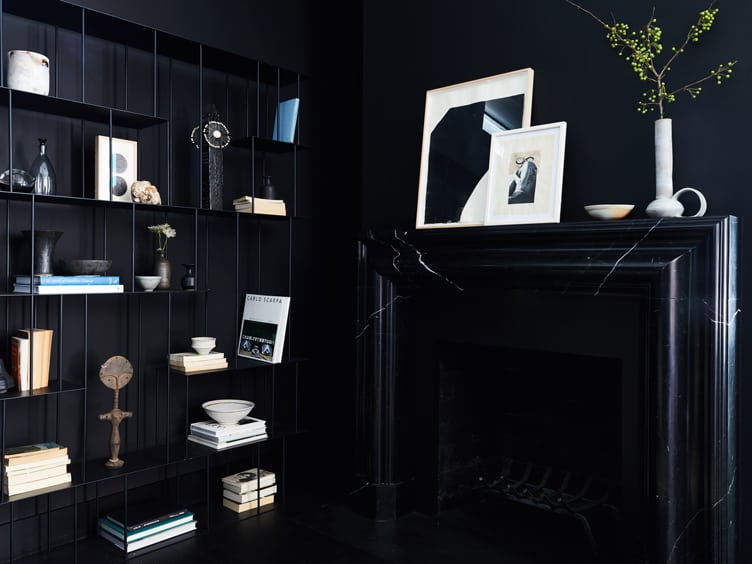 Favorite source for design inspiration?
Our clients! (No, seriously). We are lucky to have worked with a diverse group of smart, talented, creative and sometimes totally weird people! Every client brings a different design challenge to the table and wants a different solution. For example, we have clients who are originally from Miami but now live in Connecticut, and they wanted a taste of Florida in the New England countryside, so we spent hours combing through the online archive of John Jay Audubon's paintings of "Birds of North America" looking for native tropical birds for a site-specific mural we commissioned for the space.
Favorite paint color?
We are big proponents of white walls! We often use vibrant, saturated fabric schemes with a lot of pattern, so we like to keep the surrounding walls quiet and let the materials do the talking.
Favorite pattern (and how you love to use)?
An overscale black and white stripe on a main upholstery piece. We just finished a project in East Hampton where we covered a big curvilinear 70's style sofa in a wide stripe from Clay McLaurin. It adds a graphic punch to the mostly neutral scheme and anchors the room.
Favorite design rule to break?
We love to mix metals and wood finishes! Many clients (and some designers) feel tied to one metal finish or wood species in a room. That can end up feeling too planned and uptight! We love the rich layering that occurs when multiple finishes are deployed throughout a space.
Favorite color combo?
Black and ivory. It's classic, sophisticated and bold.
Favorite way to mix high and low?
A good inexpensive rug with high quality furniture. So many of our clients have young kids or pets (or both) and don't want to spend a fortune on a rug that's going to get a ton of wear and tear. We often specify inexpensive rugs that can be easily replaced once the kids are older and instead encourage our clients to invest in good quality furniture pieces that will last a lifetime.
Favorite way to work a bit of vintage into a room?
Speaking of rugs: we love layering vintage rugs! We often do a base layer of sisal or another textured neutral and layer in vintage Moroccan and tribal rugs as little pops of color and pattern that punctuate the furniture plan.
Can you share with us any big projects you're working on in 2018?
We are grateful to be so busy this year: 10,000 sq ft ground up home in Westport, CT, 3,000 sq ft renovation of a Soho Loft in NYC, Entertainment "Barn" in CT and a rambling old Victorian in Ditmas Park, Brooklyn.
As a design duo, how do you divide and conquer…or do you?
We are extremely collaborative in the design process. We spend a lot of time together (maybe too much; our desks face each other, we are rarely apart between the hours of 9 and 5, and we drive our husbands crazy by texting at all hours of the day and night). That said, we also take time to work independently to develop certain ideas or schemes before getting back together to integrate everything and we never duplicate work. We think our work is better because it involves multiple points of view and opinions—not only ours, but our clients and staff as well. The best design solutions are born out of collaboration.
3 Favorite interior design Instagram accounts?
Studio Shamshiri: Pam Shamshiri is a design goddess! We loved her work at Commune and are so excited to follow her incredible projects now that she's out on her own. Her work is timeless, interesting and complex.
Studio Love is Enough: An old friend and mentor, Loren Daye curates a collection of gorgeous images – her own and others. She's a master of the neutral palette!)
Carmen Dapollonio: A gifted ceramics artist based in LA – she makes the most incredible, organic, one-of-a-kind lamps.
Lifestyle
Favorite travel destination?
Whitney: I spent four months living in an Earthship outside of Taos, New Mexico in the summer of 2014. It gave me the opportunity to explore the American Southwest and develop a love for the incredible natural beauty found there. I'm a big national parks nerd and feel proud to live in a country of such immense natural beauty and diversity.
Favorite emoji?
Right now we are actually obsessed with Bitmoji (we're like 4 years behind the rest of the world, because somehow we just recently discovered them!) We both have avatars that are dead-ringers for us, and we use them to communicate around the office. Our younger employees think we are total dorks, needless to say.
Favorite weekend activity?
Getting out of the city! Whitney has a little spot upstate in the Catskills. Originally a hunting cabin, we use it as a cozy weekend retreat for family and friends. It's a great place to unwind, shop for antiques and spend time outside with our son!
One side of Amanda's family is based on the North Fork so she and her crew pack it up every weekend and head out east! Orient is peaceful and beautiful and also happens to be where Amanda met her husband nine years ago.
Favorite morning beverage?
COFFEE!!! As parents of toddlers we both need a lot of coffee to get us moving in the mornings. That first cup of coffee is the most delicious moment of the day—and best enjoyed alone. We both set our alarm early just so we can have a cup before the kids are up.
Favorite saying/quote?
Whitney: Be your own number one fan. It sounds a little corny, but when you're a young woman starting your own business it's easy to listen to the naysayers and second-guess yourself and your work. You really have to believe in your own capabilities and have faith that others will see value in what you do. It's also really important to take a moment to recognize and acknowledge your own successes—large and small—when they do occur. We try to do this for ourselves, and for our employees, on a regular basis. Everyone benefits from a positive acknowledgement of their hard work and effort.
Amanda: One of our mentors once told us that no matter what kind of work we were doing and no matter how small it felt we should always "design the hell out of everything you do". He felt pretty strongly that doing so would eventually lead to success. It's a great message and reminder to treat every project and client as if it's your most important and take pride in your work at all levels.
Favorite artist?
We're so inspired by the drawings that Jean Cocteau did on the walls of Villa Santo Sospir —we often work with artists to create custom murals and installations in client residences and those installations really speak to us.
Favorite thing to collect?
Amanda: I'm actually kind of a minimalist and find myself constantly editing my personal belongings. I think this sensibility bleeds over into our work. A lot of clients approach us because they say our work feels clean and edited but still has life and warmth. We're definitely a "less is more" design duo.
Shop Jesse Parris-Lamb's Chairish Favorites >>
Feature photo by Nicole Franzen