Necessity may be the mother of invention… but evolution must be her other child. The home office has evolved. No longer a forgotten room that doubles up as storage, the home office has swiftly become the most vital room in the home. And what about those of us without a separate office? Large corners, hallways, and various other nooks and crannies have had to step in to fill the void. Again: necessity.
Designers are working on more home offices than ever for clients, and the industry has evolved quickly to support this need. As a result, there are many more stylish options on the market, for everything from desks and consoles to chairs you'll actually love. With that in mind, we put together an edit of some of our favorite pieces for home offices of all styles. Think of your home office in the same way that mattress companies advertise: You're going to spend at least eight hours a day here, so shouldn't it be a comfortable space you love?
Browse through some choice office furnishings and accessories below, and be sure to shop our full home office collection for even more work-from-home ideas.
Upgrade Your Seat
Office chairs have come a long way — you no longer need to choose between a mechanical black mesh swivel chair and a dining chair you've stolen from the table. Select a beautiful office chair that's supportive and also chic at the same time. Believe it or not, there are office chairs you'll actually love these days.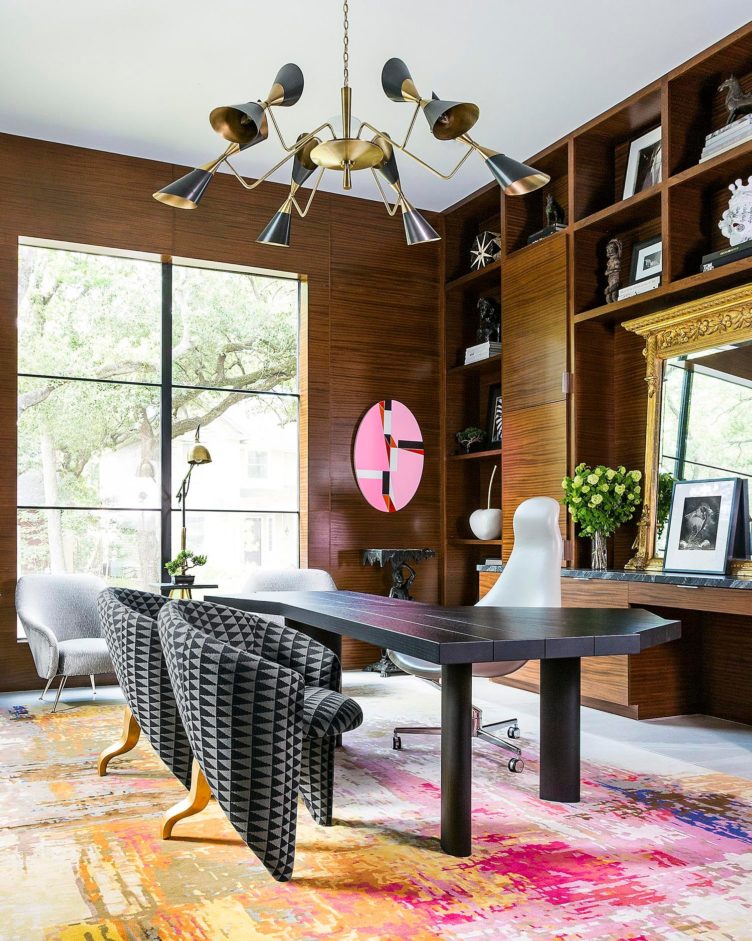 Be Our Guest
If you're lucky enough to have a fully dedicated home office, you might need seating for occasional guests (even if it's just your kids or partner in the current climate, rather than any kind of business associate). Here you can choose something plush and different from traditional desk chairs.
Decide on a Desk
The size of your space will likely determine the type of desk you'll need. A full room designated as a home office allows you to choose a traditional desk, though many homes don't have this type of space (particularly if multiple people need to work from home). In this instance, consider a writing desk or even a colorful console.
Let There Be Light
If you can't be near natural light, you'll need to invest in good desk lighting to make your home office a usable space. If you find yourself going elsewhere to work during the day, it may be a sign that your work area isn't well lit. Select a chic table lamp or a floor lamp that can fully illuminate your office.
Get Noise-Cancelling Necessities
No, not headphones. Invest in a good rug (or set of rugs) to drown out noise in your home office and also preserve your floors. If your home office furniture is more restrained, try a colorful or richly patterned rug to add extra visual interest to the room.
Design Great Walls
One of the many advantages of working from home (in addition to the reduced wardrobe requirements) is that you won't have to speak with HR if you plaster the walls with a vibrant green paper. Go big! Find something that inspires creativity and lifts your spirit. You can always rely on a Zoom background if you need to tone it down, after all.
Organize Your Ideas
The way we've worked has changed — physical inboxes and file cabinets are positively retro. Consider the way you need to organize the things you do need these days — laptops, phones, cords — along with any essential documents. Consider a colorful tray, elegant etagere, or any number of other ways to keep things in order.
Don't Skimp on the Details
Since you don't have to share your space (at least not with anyone who's not already related to you), you can incorporate lots of little touches you love. Personal pieces, beautiful tabletop accessories, and even beautiful trash bins — yes, really — can make your office feel complete.
Lead Image: Design by Morgante-Wilson. Photo by Michael Robinson Photography.