Decorating a dining room table with a centerpiece is a certain kind of art. It can be difficult to come up with an arrangement that's perfect for each season, especially if you're trying to impress guests and visitors. Fortunately, dining table centerpiece ideas are plentiful due to the variety of ways you can enhance and decorate your table – from classic setups to the more abstract and visually impressive. Whether you just need ideas for your centerpiece, are looking for a certain kind of inspiration or are even just getting started decorating, here are some everyday simple dining table centerpiece ideas.
Plants and Flowers are Classic for a Reason
When it comes to centerpiece ideas that work for any season, it's hard to beat a fresh potted plant. Whether you're investing in a beautiful flower arrangement or a living green plant that fits well on your dining room table, plants and flowers can add a feeling of life anywhere they're placed. Plants and flowers also give you the opportunity to decorate with vases and pots, which can be used to add an extra design element or accent color to your table that unifies your entire dining room theme. It's worth remembering that living plants have the potential to die – so if you're adding flowers or a plant to your table, remember to take care of it!
Light Things Up with Beautiful Candles
Another classic option for an everyday dining table centerpiece idea is a candle display. These sorts of displays can come in a variety of forms, ranging from a classic or antique candelabra display to several wax candles aligned on a tray to create a varied look that adds interest and intrigue. An especially nice benefit of using candles as a centerpiece is their ability to light up a room, something that can add a sense of relaxation or romance to your dinners. Similar to flowers, however, candles may need to be replaced often depending on how they're used.
Go Classic with a Bowl of Fruit
The bowl of fruit might be the most classic of all of dining room centerpieces. This look is iconic for a reason; the varied color of fruits and feeling of life that the bowl provides can enhance your meals and impress guests with a simple yet fulfilling look. These days, a lot of fruit bowls will use wax fruits so that the fruit always looks its best and doesn't need to be replaced often, but if you're particularly fond of bananas, apples and oranges you can opt for fresh fruit – just make sure to replace it when you eat it!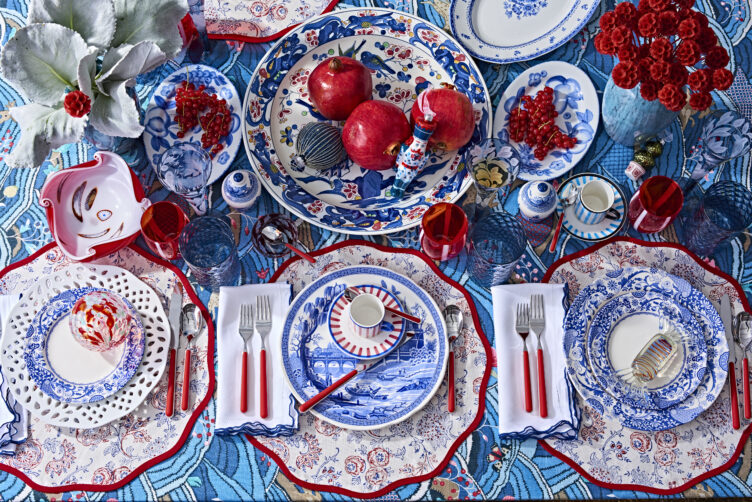 Invest in a Miniature Sculpture with Style
Of course, beyond the simple classics, there are other artistic ways to decorate your dining room table. Utilizing a small or miniature sculpture to decorate your table can add a creative feel to your dining room that allows you to show off your unique style and taste. These sorts of sculptures can range from the abstract to the elaborate and can easily draw the attention of anyone in the room. However, utilizing a statue as a table centerpiece can often be difficult, as artistic statues can sometimes bridge into the tackiness or distraction.
A Large Bowl Centers the Room
One option is to go with a bowl of fruit – without the fruit. A large bowl as a table centerpiece can serve multiple purposes ranging from offering a place to set decorative elements and get creative with your own centerpiece ideas to being a piece of art itself. Decorative bowls are a great way to add sculptural elements to your table that add distinct style or color to your room without the need to be careful to not add a tacky or unfashionable design. Bowls allow you to express yourself and can be practical outside of decoration as well.
Fill the Table with a Runner
If you own a rectangular dining room table, you may want to consider using a table runner as a centerpiece. Table runners allow you to section off your dining room table into eating areas and a decorative area, which expands the area you're able to use for a centerpiece. This allows you to use multiple objects across the table without it feeling overstuffed or overwhelmed. With a decorative table runner, you can go on to add other elements like potted plants, flowers, candles, trays and much more – allowing for you to get creative with what elements you want to add. This is a great option for those of us who have multiple centerpiece ideas that we want to incorporate.
A Tray is Perfect for Displaying
Somewhere between a large bowl and a table runner, a large tray allows you to add display elements and act as a decorative element itself. Vintage trays come in many unique shapes, sizes and designs and it's easy to find one that speaks to you. They also offer the opportunity to fill them with other items like candles, sculptures, vases, flowers or a combination of all of the above. Trays also come in varying materials as well, and you can find trays made of marble, wood, plastic and even handwoven basket trays.
Of course, these are just a few centerpiece ideas that you can utilize when designing your dining room. When it comes to centerpieces, you'll need to ask yourself what it is you're trying to say and how you want to express your unique style through your decorations. You might want to invest in a single centerpiece or maybe even several to switch things up when one is feeling stale or overused. Everyday simple dining room centerpieces are a thing of art and a thing of beauty, so while it may feel overwhelming to come up with a perfect choice, remember – it's all about self-expression.