In a city known for its fog, the designers behind this year's San Francisco Decorator Showcase have taken a lively stance against it, employing vibrant color, popping prints, and statement-making materials to create a vivacious family home. With twenty-six (yes, twenty-six!) rooms, this year's showhouse involves more than two dozen of the Bay's best designers. Tickets, on sale here, benefit the San Francisco University High School financial aid program, which means that getting your style fix also comes with a good cause. For those looking for a preview, or for anyone who can't swing an in-person visit, we've cued up the ultimate mini-tour below.
The Entry
Citing the "glint of the water that can almost be touched" as her inspiration, Molie Malone of Molie Malone Interior Design swathed the home's entry in a palette of warm golds. After cocooning the walls in silk de Gournay wallpaper, she carpeted the stairs in a shimmery runner, that subtly hints at an animal print, from The Rug Company.
The Rosé Lounge
"Feminine edginess" and "French rosé wine" served as Melanie Coddington's muses for the home's sweetly named "Rosé Lounge". While we were partial to the space's pink tufted sofa, Coddington's favorite pieces in the room include a crystal clear safe, as well as an ellipse mirror that "evokes the rings of a lavish bracelet."
The Living Room
Aiming to blur the lines between indoors and out, Mead Quin of Mead Quin Design washed the home's main living room in a palette of oceanic blues and bright, coastal whites. A corner bar adds dual functionality to the space, while also acting as a segue to the home's backyard terrace.
The Tangerine Lounge
It goes without saying that time will just melt away in this creamsicle-inspired lounge, designed by Susan Lind Chastain and Willem Racke. Dubbed the "Tangerine Dream Lounge," the space features a 1950s settee found at Almond & Co. and gauzy ombre curtains made of cashmere, not to mention a sweetly petite desk.
The Kitchen & Breakfast Nook
With the kitchen's tuxedo palette, it seems only fitting that Ian Stallings of Ian Stallings Design took his inspiration from 1930s cinema ("1930s screwball romantic comedies" to be exact). High-end finishes include a watery-patterned marble counter and chef-approved Bluestar appliances, all of it coated in a high-gloss deep blue by Farrow & Ball.
The Dining Room
When asked about his inspiration for his art salon style dining room, David Bjørngaard of Bjørn Studio credits "the beauty of the Marin Headlands," visible from the home's large picture windows. With nature as his guide, Bjørngaard coordinated the room's materials and colors to match sand, driftwood, sage and sky. Among the dining room's most striking elements is a mobile from Julia Condon.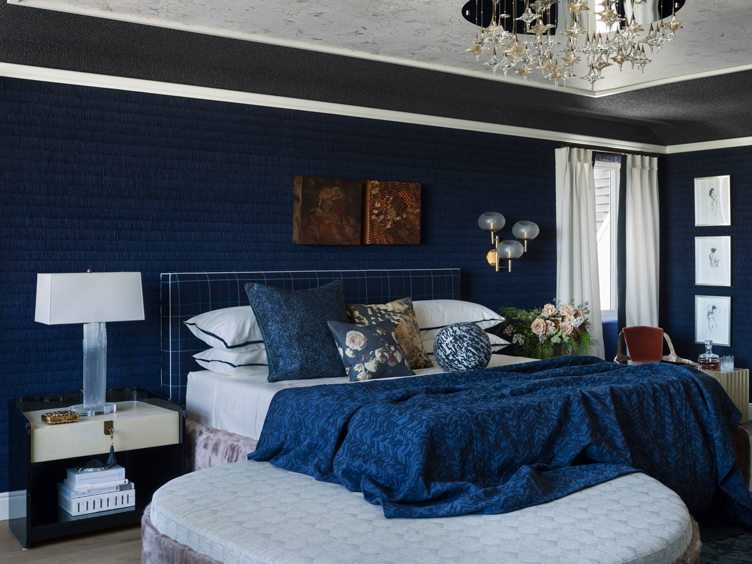 The Master Bedroom
"For the master bedroom we aimed to create a retreat in the home—a space for romance, abundance and comfort," says Jeff Schlarb of Jeff Schlarb Design Studio. Among the many stop-and-stare moments in the master are the tiers of fringe in the indigo wallpaper, a custom-built bookcase that doubles as a planter, and a seriously starry chandelier.
The Master Bath
FIRECLAY's Hunter Green tile was the springboard for Adele LaPointe, who designed the home's master bath. "The color was so rich and really set the tone for our theme," says LaPointe. A mix of brass, stone, unfinished oak, and marble was used throughout the bath to offset the deep green tile. The mix, which includes fixtures and faucetry by Kohler, gives the room an organic glamour, helped along by the huge soaking tub famed by an entire wall of marble.
The Dressing Room
Ensuring that her dressing room would feel anything but typecast, Gretchen Murdock of MODtage Design outfitted every wall in a different material. One wall (and the ceiling) is clad in blackened wood paneling, while another features artisan-made tile imported from a remote island location. A minimalist, custom-made wardrobe located on the remaining wall finishes off the space, all lit from above by a beautiful Apparatus fixture.
The Nursery
Lemons get the sweet treatment in the nursery designed by Dina Bandman of Dina Bandman Interiors. Deemed the "Lemondrop Lullaby Nursery," the space is a très chic take on a gender neutral nursery. It comes complete with hand-painted de Gournay wallpaper, custom drapery to match, and a custom Lucite crib by Plexi-Craft, all perfect for a budding aesthete.
The Lady Cave
Jon de le Cruz tapped his inner child in order to design his downstairs "Lady Cave," which "recalled our favorite pillowed fortresses and bed linen tents," he says. In addition to tented walls, the hideaway-worthy space is padded with fuzzy Moroccan rugs and a deep channeled sofa. It's the kind of room where lounging isn't just a suggestion, it's a like-it-or-not side effect.
The Powder Room
Taking cues from both a luxury yacht and the sea itself, Beth Daecher of BD Home turned the home's main powder room into an emerald jewel box. A massive stone vanity and shimmery wallpaper conjure up kelp-strewn waters, while a series of porthole mirrors and buoy-style pendant lights recall a luxury ocean liner. The malachite-patterned surfboard inside the shower is a must-see.
The Reading Room
Elan Evans and Cynthia Spence of Cynthia Spence Design intentionally designed their downstairs reading room to be "bohemian chic." Inspired by the movement's approachability and comfort, they employed a noise-absorbing cork floor and sectional to give the room function, then added a layer of kilim rugs and decorative pillows to punch up the cozy factor.
DJ Getaway
Turning a sliver of space into the kind of space you never want to leave, Sarah Bashford of Bashford Design fashioned one of the house's upstairs rooms as a "DJ Getaway". The Bashford team describes the room as a retreat that "asks not that we tune it out, but that we turn it up." Helping to turn things up are a custom mural, bookcase by Noir Trading filled with old records, and a chair designed by the endlessly imaginative Christian Astuguevieille from Holly Hunt.
The Bath
A hand-painted ceiling mural takes center stage in a serene bathroom designed by Stephan Blachowski of Blankwalls Design. The alternating gray and white stripes of marble on the walls create a cool counterbalance to the mural's vibrance, as does the minimalist clapboard vanity.