Chances are that if you follow interior design, Paloma Contreras is on your radar. Since launching her award-winning blog La Dolce Vita in 2007, Paloma's star has been seriously on the rise, leaving her job as a high school Spanish teacher to open her own firm, Palomas Contreras Design, amassing a portfolio of high-profile clients, and authoring her forthcoming book, Dream. Design. Live. When you consider Paloma's youthful and accessible approach to traditional elegance (i.e. you'll find Lucite and French bergères cohabitating in her spaces), her success really snaps into focus. Lucky for us, Paloma is hosting an exclusive sale of her personal treasures right here on Chairish! To go along with it, she's giving us the low down on her best design tricks and tips, along with her favorite haunts in her hometown, Houston.
SHOP PALOMA'S CHAIRISH FAVORITES >>
You designed a bedroom for the Southern Style Now/Traditional Home Showhouse in New Orleans. What did you learn from that experience, and any tips for first-time showhouse designers?
It was great to express my design point of view without having to work around any parameters from a client. It's one of my favorite rooms that I've designed, and it continues to generate a lot of interest, which is so lovely. The process of participating in a showhouse was less difficult than I had imagined, but in the end, it cost more than I had expected. I had no idea that labor was so expensive in New Orleans! If you plan to do a showhouse, be realistic about your budget and remember to factor in travel, labor, and clerical time into your overall cost.
Of all the items you're selling, is there one (or two) items that are hard to part with?
There are a few gorgeous antique mirrors that I have found on various trips to Paris that are hard to part with. There's also a super chic pair of lacquered Chinoiserie chests with gilt doors that are absolutely stunning. I just wish I had a place for them!
Your book is coming out on September 4. What was your inspiration, and tell us about that title!
My book, Dream. Design. Live. is the culmination of everything I love about design. It's filled with practical advice and never-before-seen photos from over a dozen client projects I've designed. The first section, "Dream," is all about finding inspiration and culling through it to find a point of view. The second section, "Design," is filled with my design advice, while the final section, "Live," is all about sharing the ideal home you've designed with the people you love, so there is a bit of entertaining and lifestyle content included. My goal for the book is for it to be beautiful and inspiring, but to also be a valuable resource for readers that they can turn to again and again.
Design
Favorite thing about designing with vintage pieces:
It adds instant patina and personality to a space and can serve as a great conversation starter.
Item you're currently coveting on Chairish:
I am currently loving this gorgeous Framed Chinoiserie Panel as well as this Draped Rattan Table.
What do you love about shopping on Chairish?
I know that we can always find fabulous antiques and vintage items to round out the spaces we design for our clients.
Favorite way to add drama to a room:
A beautiful, oversized mirror.

Favorite source for design inspiration:
It's cliché, but travel is the number one source of inspiration for me.
Favorite paint color:
Benjamin Moore's White Dove is my go-to white paint.
Favorite pattern (and how you love to use it):
This is like choosing a favorite child! I love using ikats in my projects. They feel both glamorous and exotic and work in just about any space.
Favorite color combo:
I don't know that I have a signature color combination, but you can never go wrong with classic black and white paired with rich colors such as moss green, chocolate, or raspberry in a sumptuous texture like mohair velvet.
Favorite way to mix high and low:
I always advise clients to go with good-quality upholstery, as it really makes a difference in the level of comfort and the durability of the piece. You can get away with spending a little less on things like accent tables. Natural fiber rugs are a great way to add texture to a room and make an otherwise glamorous or traditional space feel more grounded. They're also really cost-effective and go with just about anything!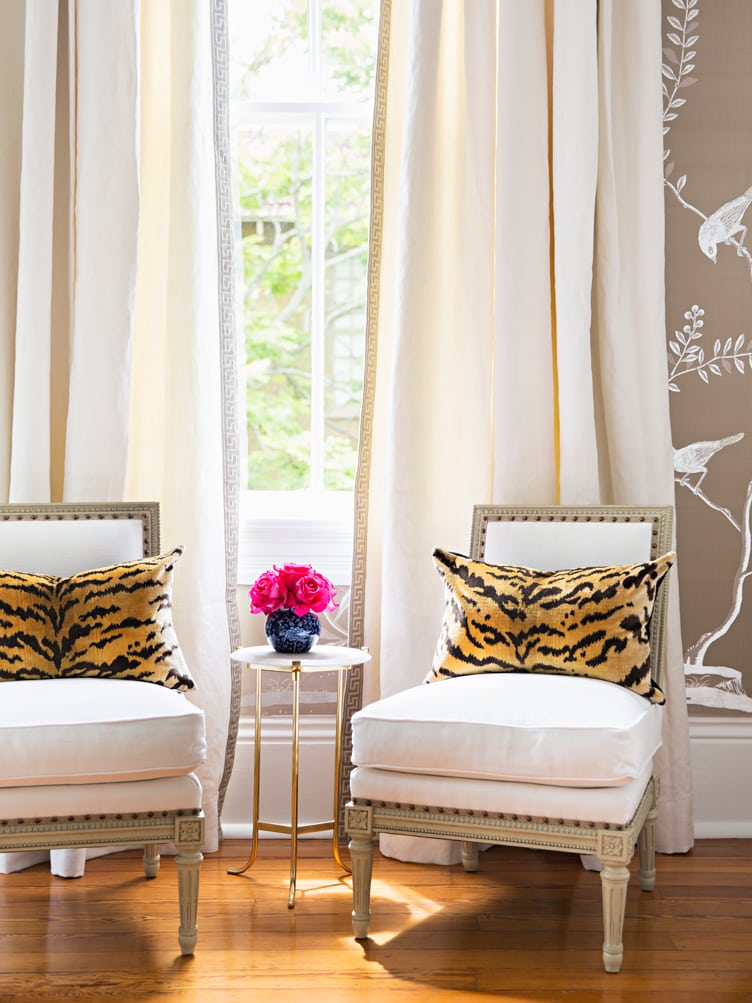 Favorite way to work a bit of vintage into a room:
I love to use vintage chairs and mirrors.
Favorite small space decorating trick:
Embrace it! Paint the space a dark color to make it feel cozy.
Is there a particular design element or style that you're really into right now?
I've been traveling to Paris more and more lately and have really fallen in love with French antiques and incorporating them into projects in fresh ways.
Lifestyle
Favorite travel destination:
Paris for a long trip and Napa Valley for a long weekend.
Favorite design sites or magazines:
ELLE Decor, World of Interiors, and Instagram.
Favorite hotel to check in to:
Auberge du Soleil in Rutherford, CA.
Favorite thank you/hostess gift:
Fresh flowers with a hand-written thank you note.
Favorite saying/quote:
"Whatever you can do, or dream you can, begin it. Boldness has genius, power and magic in it." – Goethe
Favorite entertaining essential:
Good booze and great music.
Favorite artist:
Cy Twombly, Mark Rothko, Pablo Picasso
Favorite thing to collect:
Books
Local Favorites: Houston, TX
Favorite restaurant:
Tiny Boxwoods
Favorite hotel to recommend to visiting friends:
The Four Seasons, Houston

Favorite local culture hub:
We have incredible museums here and I am lucky to live within walking distance of most of them. The Menil Collection, Cy Twombly Gallery, and Rothko Chapel are our city's treasures.
Favorite local activity:
Driving around my favorite neighborhoods to admire the beautiful architecture.
Favorite local flea market/vintage hunting ground:
Round Top!
Lead photo by Brittany Ambridge