Of all the modernist movements, we deem California modernism among the most marvelous. Inspired by the indoor-outdoor Case Study houses that began popping up in the 1960s, California modernism is all about easy breezy interiors that exude understated cool. So what are the secrets to California modernism? To get the details, we asked Bay Area interior designer Lisa Staprans, known for her show-stopping Cali-inspired interiors, to share five details every California modernist abode needs. From warm woods to chic monochromatic palettes, Lisa breaks it all down, Cali style.
SHOP MODERNIST FINDS ON CHAIRISH >>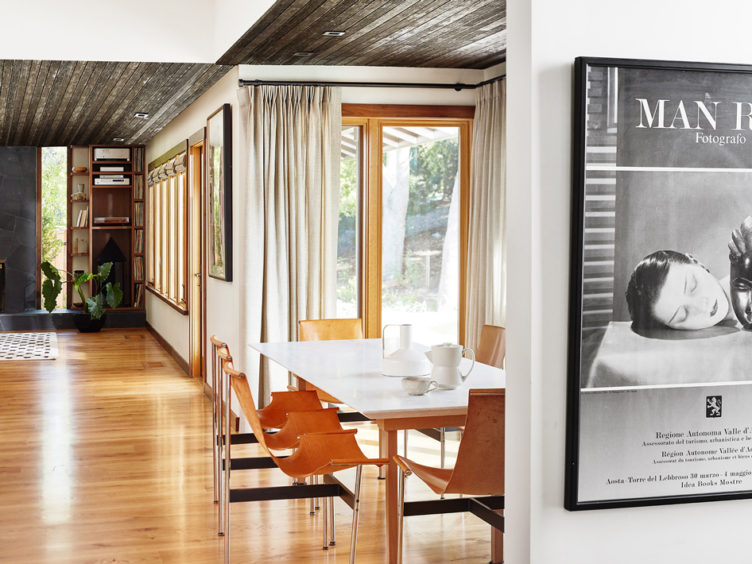 Into the Wood
Lisa's paramount piece of advice for those looking to get into the California modernist game? Invite the outdoors in! For Lisa, nothing does this quite like hunky hardwoods. "Wood brings warmth and depth to a space," she explains. "Wood celebrates nature." Lisa is partial to applying it not just to floors and furniture, but door and window casings, walls, and even ceilings (attagirl!) If you're worried about all that wood looking more dated than modern, consider working a technique like shou sugi ban (Japanese wood burning) into the equation, as Lisa did above. The lovely charr-y color helps cool down the other woods' warmer tones, while also working to diversify the space's palette.
Make Way For MCM
California modernist interiors are all about the architecture, which makes sculptural Mid-Century Modern furniture the ultimate partner in crime. "All the materials have integrity," says Lisa. "They're simple and have clean lines that all live together in harmony." While it's unlikely you'll go wrong with any Mid-Century Modern pieces, Lisa does have a few tips for materials that feel especially true to California modernism's mellow vibes. "I love natural and solid woods like walnut and white oak," she says. "I love natural handmade fabrics made from natural materials like wool, silk, and cashmere." The MCM designers she goes bananas for? George Nakashima, Eero Saarinen, George Nelson, Hans Wegner, Isamu Noguchi, and Eileen Gray are all on her break-for list.
Get Stoned
When you consider California modernist Albert Frey literally built a house into the side of a Palm Springs boulder in the 1960s, there's no denying stone's fixed role in California modernism. Stone runs the gamut though, and not all specimens are a shoo-in. "Simple, square lines and clean details that repeat" is Lisa's recommendation for scouting stone. In other words, hefty monochromatic slabs of geometric slate. As for multi-colored river rock? A bit too raucous. Just like wood, Lisa notes that the trick with stone is striving for "harmony with the surrounding nature."
Take Minimalism to the Max
There's a quietness to California modernism, best exemplified by its aptitude for minimalism. White walls let window views do the talking, as do walls devoid of art or built-ins like upper cabinetry. If you're thinking that making white walls look intentional is tricky, heed Lisa's advice: "There needs to be a color reference throughout the space to balance the color and materials used in the space," she says. "For example," she says of the above kitchen, "we used a honed white marble behind the range to tie into the white plaster around the fireplace and surrounding white walls." As for built-ins and shelving, Lisa adheres to the principles of Japanese ikebana. "I keep it simple and larger in scale and very intentional with asymmetry, scale and texture," she says.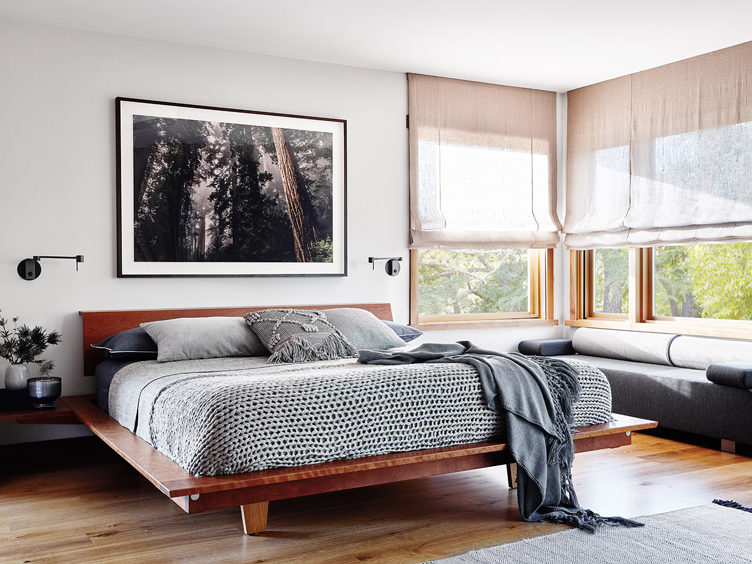 Consider a Cool Palette
When it comes to the California modernist palette, think the three C's: cool, calming, and Cali-inspired. In contrast to the more boisterous palettes that Mid-Century Modernism is known for, California modernism is all about those foggy grays, mossy greens, and luscious shades of redwood. As Lisa notes, a muted palette also allows for textures to get in on the fun; a hallmark of the 60s and 70s from which California modernism sprung. "When you have a neutral and natural palette you need texture to give depth and balance to a space," she says. "A subtle and layered effect gives a space soul and makes it comfortable. The more richly detailed a space is, the more you see it reflects the human spirit." Which is all to say: keep calm and Cali on!