As both the founder of her eponymous design firm and as a successful author and blogger, Erin Gates would have plenty of reasons to rest on her (well-earned) laurels. The Wellesley, Massachusetts-based creative launched her own businesses 15 years ago and swiftly followed them with uber-successful brand collaborations, including her best-selling collection of rugs with Momeni. Today, her pieces are popular with designers and consumers alike, offering everyone a taste of her fresh, classic-with-a-twist style.
We spoke with Erin about how she does it all, how she launched her line of products, and how to properly layer rugs (yes, there is an art to it). See what she had to say, and be sure to shop her curation of Chairish favorites while you're at it.
First and foremost, how would you describe your personal style?
A mix of old and new, modern and traditional, high-end and budget finds—I love juxtaposing modern art with traditional upholstery and antiques, and always love incorporating things with personal provenance and history.
In 2007, you started your own design firm, Erin Gates Design. When did you know it was time to start your own business and how were you able to build your brand?
I was at a crossroads of pursuing my passion and taking a risk or staying the safe course by doing a job I disliked and keeping my passions for a hobby. I gave myself one year to see if it worked out being a full-time blogger and designer and, let's just say, it worked out pretty well. Building a solid business takes time, patience, investment in yourself and steady, smart expansion. Going big out of the gate will only cause you a ton of issues and stress. I kept doing what was working very consistently and taking on work that made me excited, and only grew when I really needed more help to do what I do best. I tried to keep my overhead low and trust that word of mouth would bring me the best kind of clients.
At what point in your career did you begin designing home accessories and rug collections and how did that passion begin?
It wasn't until after my first book was published that that came about. Which was about seven years after starting my business. I had made a name for myself and had dabbled in small collaborations with local ceramicists and furniture makers but then a home accessory licensing company approached me about doing a collection of pillows and accessories. After I launched that collection a year later, I was approached to do a rug collection with another vendor. And then things started building upon that success as well. I have always loved product design—everything from the feel and look to the packaging and branding. It was such a mind-blowing thrill to see my name on mass produced products in a store!
We love your Momeni collection! Tell us a bit about how you developed these pieces and what your inspiration was for creating this collection.
My inspiration is always my clients, readers, and followers. I have always wanted to have my approach to product be recreating the custom, high-end items I design for my clients into something similar at a more accessible price point. Also, it's amazing to have a following that tells you what they want, like, and need in the name of product research. So for the rugs, I thought hard about quality, price, and good classic design in combination with what I noticed my clients and readers loving, and came up with designs I think are easy to use in almost any type of home—classic and not too expensive but still great quality.
You have such a great eye for patterns. What are some of your favorite ways to incorporate different popular patterns into your pieces?
For the rugs I had to make a few in animal prints, as that seems to now be a signature of mine! I had a gorgeous cheetah stair runner in my last home that became a Pinterest favorite, so we riffed off that for the new collection. Other patterns that are easy to mix with patterned fabrics and wallpapers are larger-scale block prints, stripes in various scales, and great bold borders, like our best-selling Ripple rug.
We see a lot of people layering rugs lately, whether they're designers themselves or just design lovers. What are your tips for layering rugs?
When layering rug it's all about the right combination of materials. If you are layering a wool Persian, Oushak, or hide rug in a room, make sure the larger base layer rug is a flat weave jute, sisal, or wool. I'm not a big fan of layering over plush cut pile carpets. Also make sure the location and placement of the layered rug makes sense by helping define a seating area, or centered under a bed or foot of the bed.
What design trends are you loving at the moment? Are there any trends you wish would go away?
I am loving the re-introduction of traditional details—lots of piping, tufting, ruffles, trims, upholstered walls, intricate window treatments. I love them the most when they are in combination with modern accents, creating a cool push-pull between old and new. It feels the most fresh to me.
I really dislike all things 70's and 80's for the most part—terrazzo, macrame, bamboo and rattan overkill, uncomfortable seating, primary colors.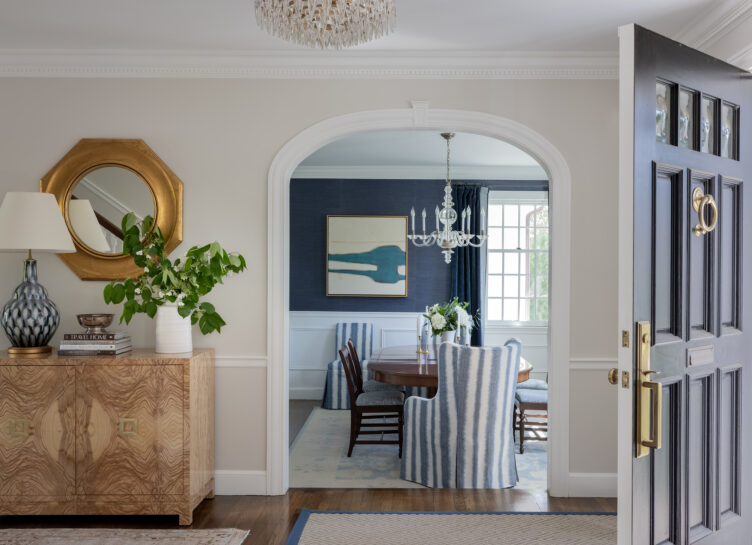 On Chairish & Vintage Shopping…
What do you find most compelling about Chairish?
I love the mix of great vintage finds with curated new pieces and art prints. You can still find a good deal on Chairish, but also find really special and rare high-end pieces too.
How does sustainability factor into your design choices and love of vintage?
I love that we aren't making new items when something made already works just as well. I also love that there is patina to those items—not everything should be perfectly new in a house; that would be so boring! Vintage items are often much more well-made for the price than newer items so reusing them benefits us all.
Are there any dream vintage/antique "gets" you wish you could have? What's a dream piece for you?
I'm chasing a large-scale antique French Louis-style mirror for my formal living room, which has 11-foot ceilings! I'm also searching for the most perfect Beidermeier-style walnut sideboard or buffet for my dining room. And an original Cy Twombly would make me pretty happy!
What are three of your favorite pieces on Chairish now?
I love this 18th-century Georgian sideboard, this 18th-century Swedish sofa bench, and this 1930s Indian Dhurrie rug.
Some Design Favorites…
Favorite way to create a statement-making moment in a room:
Custom window treatments
Favorite decorating "cheap thrill:"
Dramatic cut branches from my yard in a big vase
Favorite iconic piece of vintage design:
I can always work a Saarinen tulip table into just about any home.
Favorite paint color:
My go-to neutral is always Benjamin Moore Wind's Breath.
Favorite piece of decor in your home:
My panoramic grisaille mural in my dining room
Favorite designer or artist from the past you most often turn to for inspiration:
Favorite style icon:
Lee Radziwill
Design destination every creative should visit at least once:
Paris
Best piece of career advice you've ever received:
Stay true to yourself and be authentic.
Some Lifestyle Favorites…
Favorite vacation destination:
The Ritz-Carlton Half Moon Bay
Favorite hotel that's inspired your work while traveling:
Favorite restaurant:
Mistral in Boston's Back Bay
Favorite small museum:
The Isabella Stewart Gardner Museum
Favorite podcast:
Favorite Instagram accounts to follow:
@heidicaillier, @markdsikes; @andrewjhow; @celestebarber
Favorite hostess (or thank you) gift:
A great candle and fancy matchbook
Favorite flower:
Lilacs
Favorite adult beverage:
Lime basil gimlet
Favorite way to unwind at home:
See above… drunk outside on my patio watching my kids play.
Favorite entertaining essential:
Store-bought appetizers plated on nice dishes because if the hostess is stressed, ain't no one gonna have a good time!
Lead image: Michael J. Lee