When it comes to sophisticated color palettes, pastels may not be the shades that first come to mind. Let's be honest: they get a bad rap. When you hear the word "pastel," you probably think of Easter bonnets and baby clothes before thinking of exceptional design. But when used correctly, they can truly make a space sing, whether they're the lead performer or simply working in the background.
We spoke with nine designers to get their takes on these classic hues and how to use them most effectively. See how they make pastels work and get inspired by a bevy of soft, charming colors below.
Incorporate Pastels in the Classics
This may seem counterintuitive, but one way to keep pastels upscale is to use them in classic pieces of furniture—not simply as pops of color in accent pieces like pillows, as you might expect. Maureen Stevens suggests going for it. "While I'm a big fan of deep, bold colors, sometimes a space calls for a fresh, soft and calming feel where muted and pastel hues take mainstage," Stevens says. "Some may think pastels look infantile but boosting up the sophistication of these colors is easy. Use them in classic furniture and traditional patterns with longevity. In this space, wishbone chairs in mint paired amazingly with the Saarinen tulip table in white. Pastel pinks and blues are on a vintage rug with a striped pattern, while more blues and mint are repeated in the patterned tiles with a global feel."
Pastels Can be Powerful
Don't count pastel shades out when it comes to making your color scheme sing. "Never underestimate the power of a pastel color scheme," says Andrea Martoccia-Fava of Motivo Home. "It's a great way to make a room bold in a delicate way." In this soft but statement-making bedroom, pastels bring the drama in the upholstered headboard, pillows, artwork, and even the light fixture.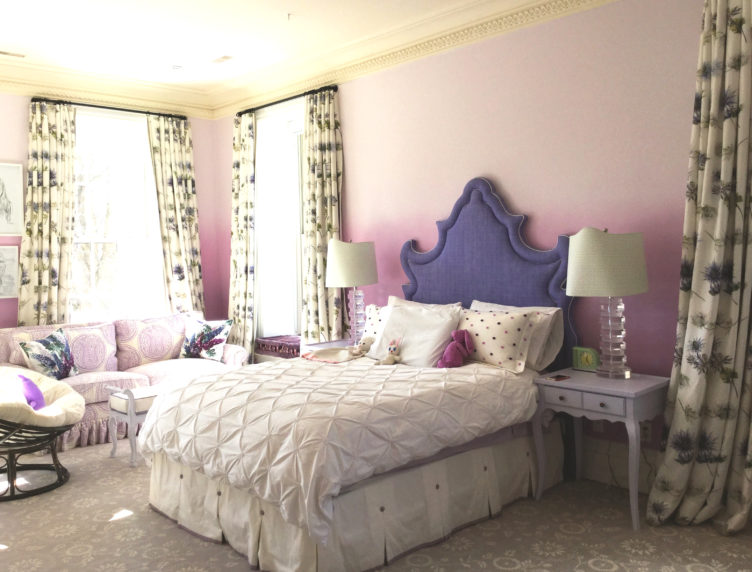 Colette van den Thillart suggests fully going for it when it comes to using pastels in a successful, eye-catching fashion. "As is generally the case, the path to success is committing fully to the idea—to embrace the idea rather than proceed with caution," she says. "Pastels don't need to be timid or meek or sweet if used daringly. Case in point: In this child's bedroom, the extensive use of shades of violet purposely clash with shades of fuchsia to keep the vibe dynamic and original."
Even when pastels are used in a more subdued way, it doesn't mean that they should look drab or old fashioned. "Neutral doesn't have to be boring," says Carl Wesley of Wesley-Wayne Interiors. "Even if your design plan doesn't call for bold accents, subtle changes or additions to color tones and textures can take a room from pretty to amazing every time."
Embrace Your Clients' Environment
Sometimes the key to using pastels correctly is to simply know your audience. Do they work appropriately for the type of client you're designing for? Do they feel natural in the space based on the home's location?
"I often use a pastel palette in my interior designs. With so many of my clients living near the ocean or waterways, the pastel palette enhances and blends perfectly with the views," says West Palm Beach-based Gil Walsh. "I also understand that the colors are soothing and easy to live with, and most importantly, they help the shapes and forms of the furnishings make a statement."
That statement can also be amplified by a designer's best friend: light. Scott Sanders used this to his full advantage. "When I was designing this Palm Beach estate, I was very aware of the natural light throughout. At sunrise, the glowing soft blue skies accentuated the pastel walls of the bedrooms. In the evenings, the pale pink and blue sunset hues blended gracefully with the pastel color palette, creating a chic and sophisticated ambiance. In the dining room, the pale blue lacquered walls with gold accents sparkled in the view of the evening's setting sun."
Use Pastels to Create a Calming Sanctuary
Finally, let pastels simply… do their job on the color wheel. Soft shades invoke a sense of peace and tranquility, and nowhere is that more important than in a bedroom design. "The soft peachy-pink tones in this master bedroom create a calm and serene mood that is modern in a whole new way," says Eve Robinson. "The palette is luxurious and clean-lined and is a favorite of both the husband and wife who share it."
Designer Fiona Leonard let soft shades of blue guide the design of this calming, beach-inspired bedroom. To create a restful room, she suggests looking inward and identifying and selecting the palette that most puts you at ease. "Your bedroom should be your sanctuary. If you are soothed by the sea choose the colors and textures connected to it," Leonard says.
And finally,  if you're looking to create a relaxing, vacation-inspired vibe… let an actual vacation be your guide. Select colors that remind you of your favorite destinations and enjoy them year-round. Armina Kasprowicz of Armina Interiors did just that with this resort-inspired space. "This bedroom, with its blues and whites, has a relaxed, beach house feel and is reminiscent of tropical vacations," Kasprowicz says. "Crisp white linens and finishing touches including the sophisticated lighting and accessories add to the tranquil atmosphere."