Known for its hospitality and well-preserved architecture, Charleston, South Carolina is home to incredible people, views, food and so much more. Bursting with Southern Charm, this is a city best explored on foot, allowing you to soak up inspiration, culture and history around every corner. To help you plan the perfect itinerary, we asked some of our favorite Charleston locals to share their favorite places to eat, shop, and get inspired, plus the one thing you shouldn't leave town without doing! Start planning your next trip with our Design Insider's Guide to Charleston.
DISCOVER CHARLESTON'S HOTTEST FINDS >>
Where to Stay
"I love the The Dewberry Hotel. It's chic and sophisticated. It has a great lounge and bar for hanging out with a cocktail or coffee day or night. And they just unveiled the roof top Citrus Club. It's mainly for guests of the hotel, but if you make a reservation in advance you might get a spot to enjoy a citrus cocktail and one of the best views in the city." — Angie Hranowsky
"I may be biased because it's one of my projects, but 86 Cannon is the epitome of updated Southern luxury. My team and I worked meticulously to preserve the history of the property while incorporating modern elements throughout. Furnishings evoke classic, clean Southern style paired with monochromatic touches, hand-painted floors, custom stencil art by local artisans and grass cloth wall coverings, as well as unexpected hues of deep blues, soft reds and large scale patterns. Plus, the location can't be beat! It's just a bike ride away from the best bars and restaurants in town." — Betsy Berry
"The Spectator Hotel right in the pulse of downtown Charleston—especially for design lovers! The Spectator's spin on Southern modern design and prime location are wins in my book. You definitely know you're in the South once inside, but the designer behind the project (and my friend!), Jenny Keenan, definitely took risks with bold use of color and materials, especially in the front lobby and cocktail den. Your eyes literally jump from one pretty moment to the next." — Cortney Bishop
"For a larger hotel with high design, a good restaurant and lovely lobby bar, we love The Dewberry Hotel. It's truly my personal favorite with Mid-Century Modern details! There is an amazing rooftop bar with sweeping views of the city as well. We like it's proximity to areas to explore – like some historic house museums or King street for shopping. For a smaller boutique style hotel, I love The Spectator. The interiors were designed by a former bride of mine, and is close to lots of areas for exploring. The rooms and lobby are very cozy and stylish." — Tara Guerard
Shop Charleston Furniture Finds
Where to Eat & Drink
"Chez Nous is a chic French restaurant tucked away in a historic home off Coming Street. It's perfect for an intimate dinner with friends or a romantic date night. The menu is handwritten by the owner and changes daily—they haven't had a repeat menu in three years!—so I recommend ordering a little of everything and sharing with the table." — Betsy Berry
"I have quite a few favorites, but here are my top three: 1. Basic Kitchen and their Tempura Fried Cauliflower Wings with Cashew Ranch. 2. Leon's Oyster Shop and their Siam Salad. 3. Xiao Bao Biscuit and their Okonomiyaki." — Angie Hranowsky
"Trattoria Lucca. I get the tuna pasta every time!" — Cortney Bishop
"A few regular spots I typically go include: The Ordinary to sit at the bar and eat lots of oysters, Fulton Five for great Italian food in a space that's so romantic and cozy, and Fast and French for lunch. Their cold cucumber soup is a favorite." — Tara Guerard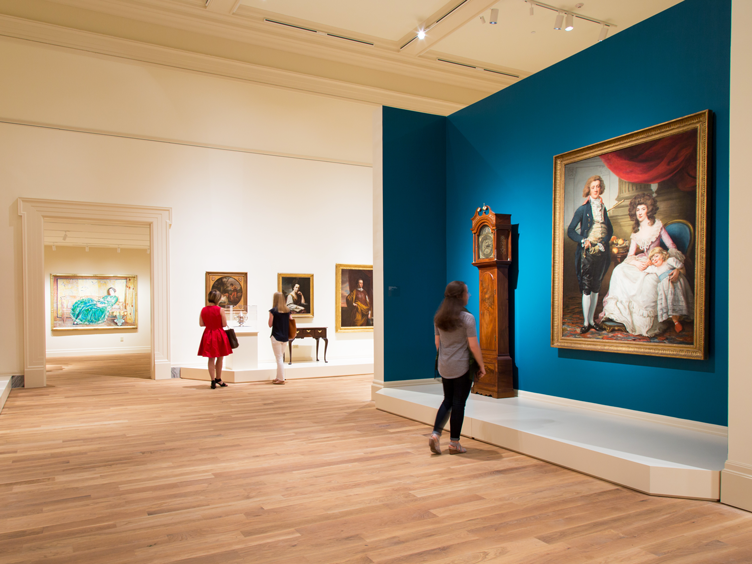 Where to Get Your Culture Fix
"Our local art museum, The Gibbes, is not only lovely in and of itself but has an interesting permanent collection and rotating exhibits. Being a board member of Historic Charleston foundation, I have to tout our museum houses, and the Aiken-Rhett House is my husband's great great great grandmother's house, so it is especially special. If you are lucky enough to be in town during our house tours, it's a no brainer." — Tara Guerard
"The Halsey Institute of Contemporary Art." — Cortney Bishop
"I never miss the opening ceremony for Spoleto Festival USA, the international arts and cultural festival that brings acclaimed artists, operas, ballets and more to Charleston every spring. The Spoleto kick-off takes place at City Hall on Broad Street every year, and features the symphony orchestra and preview performances from the upcoming Spoleto lineup. The event concludes with a cannon blast of multi-colored confetti into the sky. It's the best." — Betsy Berry
"Charleston Music Hall on John Street. You can hear indie rock concerts, see the Charleston Symphony Orchestra perform, or enjoy a night featuring the movie Casablanca." — Angie Hranowsky
Shop Charleston Decor Finds
Where to Go for Vintage Goodies
"Fritz Porter is an oasis for one-of-a-kind finds in downtown Charleston. In addition to high-end antiques, you can also find rotating work by local artisans, modern treasures and statement pieces you can't get elsewhere." — Betsy Berry
"I love the South Windermere Antique Store (I am there quite often), right over the bridge in West Ashley." — Tara Guerard
Looking for more places to shop? Check out a few of our favorite Atlanta-based Chairish Sellers:
Acanthus Antiques
The Jewelry Collection from Acanthus Antiques
Jacques Antiques
Trovare
Parham & Co.
Antique Liquidators of Charleston
Oyster White Interiors
Where to People Watch
"Vintage Lounge is another project of mine that I'm very proud of; Architectural Digest named it the "Most Beautifully Designed Bar in South Carolina." It's an amazing spot for people watching, because there are huge bay windows looking right out onto King Street. You can see all the action!" — Betsy Berry
"Head to The Battery to see people of all kinds walking, riding bikes and taking in the sites of Charleston Harbor and Rainbow Row. For the locals we get good night time people watching at the chic Dewberry Hotel bar and lounge." — Angie Hranowsky
"Halls Chophouse. It is a happening place EVERY night." — Tara Guerard
"Sullivan's Island Beach… sunnys on!" — Cortney Bishop
Shop Charleston Lighting Finds
Where to Get Inspired
"One of the most inspiring architectural treasures in Charleston is the iconic staircase in the Nathaniel-Russell House. It's a cantilevered spiral staircase that ascends to the third floor. You just don't see that kind of grandeur anymore, which is what makes it so special." — Betsy Berry
"The Lowcountry Waters. We are surrounded by it in Charleston and I find instant calmness and clarity in the rippling waters and lush landscape. New ideas start churning in those moments." — Cortney Bishop
"Peeping in gardens in the South of Broad neighborhood…I am so nosey." — Tara Guerard

"Sullivan's Island, Folly Beach and Second State Coffee on Beaufain Street." — Angie Hranowsky
Don't Leave Town Without…
"Forget your GPS and start walking. Begin at The Battery and head up the peninsula. Stop for a tour at the Nathaniel-Russell House or the Aiken-Rhett House. When you get tired grab a rickshaw and tell them to drop you at Chez Nous for a mid-afternoon lunch. From there walk over to Sugar Bakeshop for cupcakes." — Angie Hranowsky
"Grab a bottle of wine and hail a pedi-cab for a real view of the town. You may have to sneak the wine – but it definitely adds to the experience." — Betsy Berry
"Rooftop cocktails downtown. Right now, The Dewberry's Citrus Club is doing it for me. The panorama views of Charleston from above are pretty surreal… you'll feel on top of the world." — Cortney Bishop
"Spending the day out on a boat, shrimping, drinking a cool one… and riding through our beautiful rivers and marshes. My favorite thing to do." — Tara Guerard
A huge thank you to our Charleston experts! Be sure to check out their amazing work.
Betsy Berry
Tara Guerard
Angie Hranowsky
Cortney Bishop