When it comes to creative uses of color, few designers can hold a candle to Summer Thornton. The Chicago-based pro has a knack for one-of-a-kind color combinations that create an unmistakable mood and leave a smile on your face. Her vibrant work has been featured everywhere from Architectural Digest and Elle Decor to The New York Times and The Wall Street Journal, solidifying her reputation as one of the top designers to follow. And one of our other favorite things about Summer? Her enthusiastic use of creative vintage finds, pairing favorite pieces with just a smattering of newly made products.
We spoke with Summer about her current favorite color obsessions, the projects she'd love to take on some day, and her new Rizzoli book, Wonderland: Adventures in Decorating. See what she had to say below, and be sure to shop her personal curation of Chairish favorites.
Firstly, how would you describe your overall design philosophy and personal aesthetic? How has that changed over time?
It is no surprise that I love color. It elicits mood and feeling in a room and I love a space that says something. My creative philosophy is to design with passion and joy in mind and let function follow fun! I have learned to lean into stories, eras, and moods to really make each project stand out.
In terms of your use of color, what are some of your go-to combinations? What are some favorites, and are there any shades or pairings you never thought you'd use but ended up enjoying?
I love to experiment with new color combinations but there are some that I tend to come back to as pairings. Melon oranges and soft pinks. Plums and lipstick red. And I love mixing different shades of green, especially some very acidic greens. One surprising combo we did used a few shades of brown that ended up being quite powerful and striking!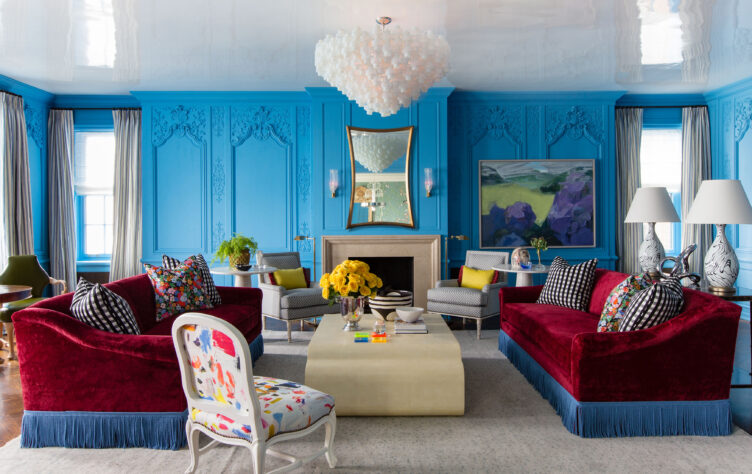 What's your point of view when it comes to working with antiques and vintage pieces? Do you like to incorporate them with contemporary items as well?
I love them! I could do entire homes with only antique and vintage. I joke that my house has like four pieces of new furniture. The more the merrier, but yes, most of our projects combine antique and vintage with new pieces as well.
Your firm is headquartered in Chicago, but you do work all across North America. How does geography impact your projects, and where is your favorite place to design?
We are based in the Windy City and I love its beautiful turn-of-the-century architecture, but there is always something exhilarating about working in a new location. Right now, we are working on homes in Florida, Michigan, San Francisco, and Mexico. Building a home in Mexico is a completely new experience (which I love)—not only are the light and climate so different, but the building methods are completely different as well. For example, the house is very open to the exterior, and many parts cannot even be closed up. I love designing for warmer climates where the landscape is integral to the home. In fact, I love designing in warm climates so much, we are building a new business around it!
What would be a dream project for you? What's something you've always wanted to take on, whether it's a particular type of space to design or a place?
I actually fantasize about designing for movie sets. I religiously watch movies for design ideas (pausing every five seconds to snap a picture). I am really into the storytelling aspects of set and costume design and try to incorporate that into our homes. It's really a full lifestyle experience.
Congratulations on your first book, Wonderland: Adventures in Decorating, which came out this spring. Tell us about it.
This is the most fun decorating book you will read all year if I do say so myself! We worked really hard to make this book entertaining to read. We want people to find a sense of escape in the pages of Wonderland and be inspired to go down their own rabbit holes of design! This book is filled with so many beautiful unpublished projects that we have been dying to show, including my personal home.
On Chairish & Vintage Shopping…
What do you find most compelling about Chairish?
I love to go down a rabbit hole with Chairish. I love that I can start looking for a chair and before I know it, I've purchased an entire collection of porcelain fruit!
How does sustainability factor into your design choices and love of vintage?
Buying vintage is one of the most sustainable things you can do. Reuse is key: Not only are you keeping things out of landfills, but you are lowering the demand for new items to be produced.
Are there any dream vintage/antique "gets" you wish you could have? What's a dream piece for you?
Yes, I would love to own a Claude Lalanne mirror.
What are three of your favorite pieces on Chairish now?
I love this Modern Chandelier with Palm Leaves in Murano Glass and Brass; this 1970s Vintage Angelo Mangiarotti Italian Eros Console Pink Marble for Skipper; and this 1980s Tyra Lundgren Vase 'Calla' for Venini.
Some Design Favorites…
Favorite way to create a statement-making moment in a room:
Favorite decorating "cheap thrill:"
Painting the trim a color other than white
Favorite iconic piece of vintage design:
Anything Jansen
Favorite paint color:
It changes constantly, but I love all the pinks by Farrow & Ball.
Favorite piece of decor in your home:
My Braquenie fabric on the walls of my bedroom
Favorite designer or artist from the past you most often turn to for inspiration:
Madeleine Castaing—I love her sense of color and how she combined patterns
Favorite style icon:
I love Latin design and I love the work of the Argentine designer Daniela Bustos Maya.
Design destination every creative should visit at least once:
Palm Springs California…such a beautiful time capsule!
Best piece of career advice you've ever received:
Nothing worth having is easy.
Some Lifestyle Favorites…
Favorite vacation destination:
Mexico
Favorite hotel that's inspired your work while traveling:
I'm way more into renting homes when I travel but I love Kit Kemp's work and was very inspired by the Covent Garden Hotel in London.
Favorite restaurant:
RL for obvious reasons but also for the french fries
Favorite small museum:
Deyrolle in Paris
Favorite podcast:
Favorite Instagram accounts to follow:
Luke Edward Hall, Cabana Magazine, Vsoetrain, Mestizmx
Favorite hostess (or thank you) gift:
Vase with flowers
Favorite flower:
Too many to name, but right now really into Fritillaria
Favorite way to unwind at home:
Baths
Favorite entertaining essential:
Colorful glassware and a pretty tablecloth
Lead image: Josh Thornton